Do you know what Search.searchotva.com is?
Search.searchotva.com is a hijacker that might take over your browsers unexpectedly or with some of your acknowledgment. Depending on the browser and the installer location you use, you might let in the hijacker without even knowing it. For example, this hijacker could appear out of nowhere if you install an extension offered at chrome.google.com/webstore/detail/online-tv-access/acmbkdcplacpdifblbmlghndlegnbiha. This extension is called "Online TV Access." When acquiring this extension from the Chrome web store, you will be informed that it can modify your browsing history and your data on websites, but it does not mention anything about a hijacker. Despite this, you will face this hijacker as soon as you launch your Chrome browser because the hijacked New Tab page will replace your regular startup page. All in all, we advise deleting Search.searchotva.com from your browsers, regardless of how it has taken over your browsers.
Some users do not realize that they agree to install Search.searchotva.com when clicking the download button on onlinetvaccess.com. Nevertheless, a disclaimer right below this button warns that homepage, search provider, and new tab tools can be replaced. Of course, it is strange that the name of the hijacker is not mentioned, and this could be a method to conceal this infection. It is also important to mention the interference of third-party installers. It is possible that malicious installers will be used to distribute this hijacker, and they could conceal it completely. If you are 100% sure that this search tool was installed against your wishes, you must delete it ASAP. Needless to say, you must remove Search.searchotva.com even if you have agreed to install it, and there are several reasons behind this. For one, this search tool cannot help you find any information because it shows modified Yahoo Search results that cannot be trusted.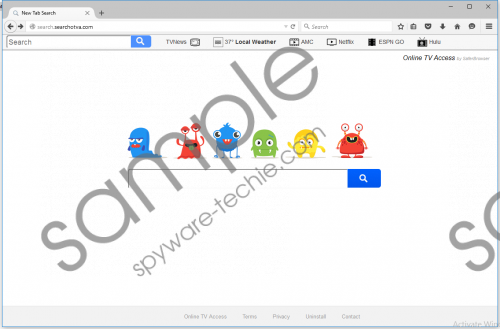 Search.searchotva.com screenshot
Scroll down for full removal instructions
We have recently seen quite a few different hijackers that work just like Search.searchotva.com. Whether your browsers are corrupted by Search.mycurrentnewsxp.com, Search.mydrivingdirectionsxp.com, or some other malicious hijacker, you are going to face the same issues. These hijackers must have been created by the same company because they follow the same privacy policies and they are operated in the exact same manner. What is more, these hijackers are associated with specific browser plugins that are identical as well, besides the fact that they promote different services. Both extensions and hijackers have been found to collect, store, analyze, and share information that might include personal information as well. Do you want information that could be personal leaked to who knows who? If you do not, delete tv@jetpack.xpi, Access_settings.json, and all of the Files in the acmbkdcplacpdifblbmlghndlegnbiha folder. If this is the route you choose – and it is not your only option – do not forget to remove registry entries, extensions, and unwanted search tools as well.
You do not need to take the complicated route when removing Search.searchotva.com. If you do not want to worry about files and registry keys – which is understandable, considering that uprooting malware is very difficult – you can choose the easier, quicker option. Uninstall the unwanted extension via Control Panel – if installed on IE – or delete it directly from the browser, and then modify the unwanted search tools if they remain active. Although it is most likely that the hijacker will disappear as soon as you eliminate the extension, we have added removal steps that will help you change the unwanted search tools just in case Search.searchotva.com travels independently. Another option you have is to employ automated malware detection and removal software. You should install and use this software without any hesitation if you are dealing with other infections and you understand that more threats could invade your vulnerable operating system in the near future.
How to delete Search.searchotva.com
Windows 10 or Windows 8
Launch RUN (tap Win+R).
Type Control Panel into the dialog box and click OK.
Select Uninstall a program (in the Programs menu).
Right-click and Uninstall the undesirable program.
Windows 7 & Windows Vista
Click the Windows logo on the Taskbar.
Open the Control Panel menu and move to the Programs menu.
Navigate to Uninstall a program and find the unwanted app.
Click the Uninstall button to eliminate this program.
Windows XP
Click the Start icon on the Taskbar.
Open the Control Panel menu.
Double-click Add or Remove Programs.
Identify the unreliable program and Remove it.
Google Chrome
Launch the browser and tap Alt+F.
Select More tools and open the Extensions menu.
Click the recycle bin next to the unwanted add-on and choose Remove.
In the menu on your left choose Settings.
Go to On Startup and select Open a specific page or set of pages.
Click Set pages and overwrite the URL representing the hijacker. Click OK.
Mozilla Firefox
Launch the browser and tap Alt+T.
Select Add-ons and open the Extensions menu.
Click the Remove button next to the undesirable extension.
Tap Alt+T again and select Options.
In the General menu overwrite the undesirable Home Page URL.
Internet Explorer
Launch the browser and tap Alt+T.
Select Internet options.
Click the General tab and move to the Home Page section.
Overwrite the URL of the unwanted tool and click OK.
In non-techie terms:
If you do not delete Search.searchotva.com, get ready for intrusive web cookies, misleading search results, and worthless services. This hijacker is not only useless but also dangerous, and this is why you must get rid of it as soon as possible. Although there are several different ways to eliminate this infection, we believe it is best to use automated malware removal software. While testing this infection in our internal lab, we have found that it can be introduced to you along with many other infections, and, if they slither in, using software that can eliminate all threats automatically is the smartest move.