Do you know what Search.searchmoose.com is?
Search.searchmoose.com is a rather amusing name for a would-be search engine. However, it is just a browser hijacker that is set to display promotions in its search results window. so you ought to remove this program because its developers are unreliable, and their promoted content can compromise your computer's security with malware. In truth, this hijacker was created with its developers and stakeholders in mind because its main and only purpose is to generate advertising revenue. The users are important only as long as they view the ads and clicks on them. Therefore, we do not recommend that you install or keep this infection on your PC as it can only do it harm.
In all honestly, this is a rare browser hijacker to come across, and there is not much information about it. However, we will attempt to provide you with as much factual information about it as possible as well as share our experience about similar browser hijackers to compensate for the lack of factual information regarding this particular hijacker.
Search.searchmoose.com might have several different versions. Some hijackers have a supporting browser extension that is necessary to hijack Google Chrome's new tab page. We do not know for a fact whether this hijacker has this extension, but our research leads us to believe that it does not. In any case, we have found that it can hijack Chrome, as well as Firefox and Internet Explorer. Moreover, it is set to change the homepage for the two latter browsers. Also, it should change the search provider for all three browsers. However, the good news is that it is not likely to hijack the Target line, so you should not have any trouble removing it.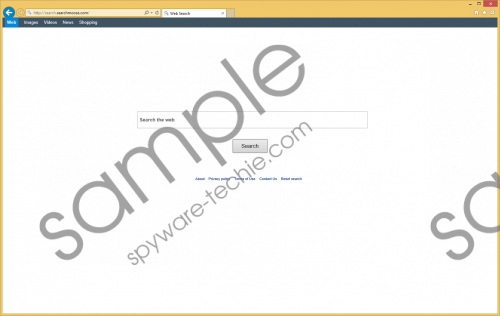 Search.searchmoose.com screenshot
Scroll down for full removal instructions
The reason Search.searchmoose.com is set to hijack your web browser is to force you to use it for performing searches. The problem is that its search results window may also include promotional links featured on the right side of the window. Moreover, did we mention that it uses Yahoo's search engine to process all of the search queries? Yes, indeed. This search engine uses third-party technology to compensate for the lack of its own. So effectively, you are using Yahoo.com with ads supplied by Search.searchmoose.com. Because the ads come from unknown sources, we cannot rule out the possibility of this infection-promoting malicious downloads and websites disguised as legitimate software. Malware developers like to tailor their infections as Flash Player, Java, and Windows security updates to convince you to click them. Therefore, we have deemed this search engine as malicious, and it is not called a browser hijacker for nothing.
We are not exactly sure how Search.searchmoose.com is distributed, but based on our experience with similar hijackers we think that it is safe to say that it is distributed with malicious software bundles found on shady software hosting websites. The website that distributes this infection remains unknown to us. Therefore, we ask our readers to help us out by providing information about Search.searchmoose.com's distribution methods in the comments section. Your input would be highly appreciated.
So that is all we have to say about this particular browser hijacker. These days, browser hijackers are very popular since they are a great way to make easy money, but this comes at the expense of security since the developers do not care about making your computer vulnerable to cyber attacks. So we advise you to remove Search.searchmoose.com, and we want to help you in doing so. So please consult the instruction we have provided at the end of this description.
How to reset your web browser
Microsoft Internet Explorer
Press the Alt+T keys.
Select Internet Options.
Open the Advanced tab and click Reset.
Tick the checkbox.
Click Reset and Close.
Mozilla Firefox
Press the Alt+H keys.
Select Troubleshooting Information.
Click Refresh Firefox.
Once the window appears, click Refresh Firefox.
Click Finish.
Google Chrome
Press the Alt+F keys.
Click Settings.
Select Show advanced settings.
Click Reset settings and click Reset again.
In non-techie terms:
Search.searchmoose.com functions like any other search engine, but this is so only thanks to Yahoo's search engine that this hijacker uses to process the search queries. This hijacker is distributed using dishonest means and once on your computer it will modify your browser's settings such as change the homepage address. It generates revenue by showing you ads from questionable sources, and it is likely that some of those ads are malicious. Therefore, you you might want to delete this browser hijacker.