Do you know what Search.searchmab.com is?
Search.searchmab.com might replace your homepage, new tab page, and even default search engine if you install it on the computer. Our researchers say that because of this behavior on the system the applications falls under the category of browser hijackers. Also, we believe it might be rather easy to install it unknowingly since it could be spread with bundled installers. Thus, if the threat appeared on the system without you even realizing how it happened, we urge you to read the rest of the article and learn how to guard the system against such threats in the future. To help users who want to get rid of this Search.searchmab.com we are placing a removal guide too; it is located at the end of the main text.
Just as we said in the beginning, Search.searchmab.com might be distributed with bundled installers of other unreliable software. If you wonder where you could have downloaded such setup file from, we can tell you that usually users get them from suspicious file-sharing web pages, e.g. torrent sites. The browser hijacker would be among other possible suggestions, so you might not notice it instantly after the installer is launched. Therefore, when you open the setup wizard, it is important to check all suggestions and terms it provides. Additionally, it is advisable to select the advanced installation settings as they should allow you to see more options.
Moreover, if you do not want to end up with a hijacked browser again, you should learn not only how to deselect unwanted suggestion on the setup wizard, but also learn how to choose trustworthy applications. Firstly, it would be wise to do a little research before clicking the download button. Try to determine if the software was published by a reputable company or whether it has any bad reviews from other users and IT specialists. Plus, keep it in mind that it is not enough to pick a reliable program as it is the same important to choose a trustworthy source to download its setup file.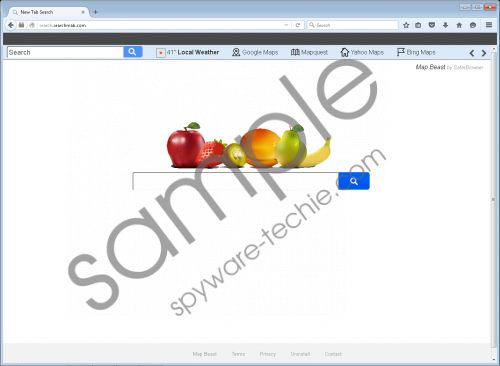 Search.searchmab.com screenshot
Scroll down for full removal instructions
The main reason our researchers advise to avoid browser hijackers is not only because they alter browser preferences, but also because they can display suspicious pop-up advertisements, banners, sponsored links, and other unreliable ads. Talking about Search.searchmab.com, while researching the application, we found out it could use yahoo.com to gather the main results and then redirect them to extsearch.maxwebsearch.com server to inject the additional content. This content could be clickable third-party ads, so they might have links to other web pages. At this point, it is important to mention that after clicking such ads it is possible you might land on web pages created for malicious reasons, for example, to distribute malware, steal your personal data, etc. There could be other risks as well, and if you do not want to take any chances, you should not allow the hijacker to stay on your browser.
If you decided to get rid of the application manually, we could offer the removal guide placed at the end of this article. The deletion process is different for separate browsers, so you should choose from the provided steps accordingly. The Internet Explorer users should find the threat on Control Panel and uninstall it. As for the Mozilla Firefox and Google Chrome users, they would have to search for and erase a browser extension related with Search.searchmab.com. Naturally, some of you might find the manual removal rather complicated, and in that case, it might be better to use a reliable antimalware tool instead. Once it is installed, you should simply set it to scan the system and click the deletion button once it is displayed.
Erase Search.searchmab.com from Internet Explorer
Windows 10\Windows 8
Press Win+R, insert Control Panel and press Enter.
Choose Uninstall a program, select the application and click Uninstall.
Windows Vista\Windows 7\Windows XP
Open Start, click on Control Panel and select Uninstall a program (Windows Vista\Windows 7) or Add or Remove Programs (Windows XP).
Mark the application and press Uninstall.
Delete Search.searchmab.com from other browsers
Mozilla Firefox
Press CTRL+SHIFT+A combination and select Extensions.
Mark the undesirable application and select Remove.
Google Chrome
Tap ALT+F, click on More tools and choose Extensions.
Select the extension, click the trash bin button, and select Remove.
In non-techie terms:
Search.searchmab.com is a bad choice for users who cannot stand annoying ads or do not want to keep any suspicious software on the system. The application was classified as a browser hijacker because it can modify particular browser preferences and show users suspicious third-party advertising. For instance, some of the ads could lead you to web pages with malicious content. Under such circumstances, we do not think it is worth to keep the application on the system, especially when you can replace it with another search engine. Thus, we recommend erasing it either with the instructions placed above or with a trustworthy antimalware tool.