Do you know what Search.searchm3f.com is?
Search.searchm3f.com is yet another questionable search website with features coming from the Polarity team. This large family of browser hijackers also include Search.searchtmpn.com and Search.searchgmfs.com to mention a few from the dozens. This new hijacker provides you with quick links to IRS pages where you can download certain forms. Please note that this feature is totally unnecessary because you can always bookmark such pages using the built-in function of your browsers. This malware infection can present to you potentially unreliable third-party ads and links through the search results it displays to you. This is the main reason why our researchers think that it is best to remove Search.searchm3f.com from your computer as soon as possible. Please read our full report to learn more about this threat and how you can avoid similar attacks.
When your computer is infected with such a browser hijacker, it is quite likely that you previously clicked on web content that you should not have. A lot of victims use, for example, suspicious file-sharing websites as a source for downloading free files, such as movies, audios, and software. However, these torrent and freeware sites mostly promote bundles created by cyber criminals whose only purpose is to spread all kinds of potentially unwanted programs as well as malware infections like adware programs, browser hijackers, Trojans, and fake alerts. But there are still unsuspecting users who do not know that it is usually possible to stop such a raid if you are cautious. For example, you need to read the license agreement to figure out what you are actually installing as it may mention browser setting changes and additional tools. Similarly, if you choose the custom option when offered, you are normally shown these browser setting changes and the rest of the content. Yet, most inexperienced users tend to go for the quick installation option and end up with a bunch of threats on their system. This is exactly when even if you delete Search.searchm3f.com, your computer will not be completely clean.
But there are other ways for you to infect your computer with such a browser hijacker, too. You may click on corrupt third-party ads and install it even without realizing or noticing it. Such ads could be presented to you by suspicious websites generally known to be associated with online gaming, betting, dating, file-sharing, and porn, or by adware applications that may be hiding on your computer. This is why we recommend that you try to stay away from suspicious pages with a lot of flashy banner and pop-up ads. It is also important that you run a reliable malware scanner after you delete Search.searchm3f.com so that you can see the extent of infections on your system.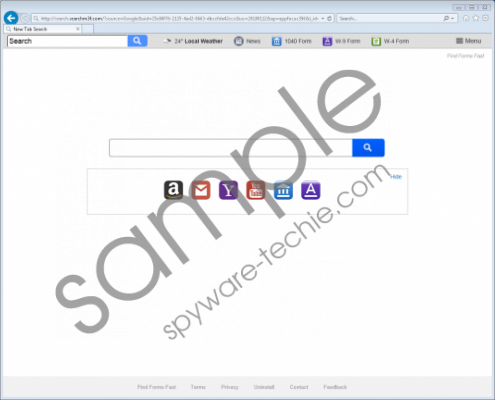 Search.searchm3f.com screenshot
Scroll down for full removal instructions
This new featured search website does not offer you anything beneficial or useful at all. It simply gives you easy access to certain IRS forms on the usual fake toolbar at the top of the page as well as on a panel of thumbnail links below the main search box. Apart from these few links, you will also find the basic elements, such as the search tool, News and Local Weather links on the toolbar. We do not advise you to use this search website because chances are you may be exposed to unreliable web contents and you could put your system security at risk when or if engaged with them. This browser hijacker may spy on you and use the collected intel to show you tailored advertising. Unfortunately, this search page redirects all your search keywords to a modified Yahoo results page where you could be presented with affiliated content, such as ads and sponsored links, which may be risky to click on. Thus, we recommend that you remove Search.searchm3f.com from your computer right now.
You may try to simply restore your homepage settings to eliminate this threat but it may not be sufficient. Since this browser hijacker may also change your default search engine setting, you need to reset that one as well. We believe that it is best to reset all your affected browsers because it could also take care of other browser-related threats you may not even know about. Please follow our instructions below if you are ready to protect your machine. If you really care about your virtual security,, you may want to consider installing a reliable anti-malware program, such as SpyHunter.
Remove Search.searchm3f.com from your browsers
Google Chrome
Tap Alt+F to open the menu.
Select Settings.
Click Advanced at the bottom of the page.
Click Reset at the bottom.
Press Reset in the confirmation window.
Internet Explorer
Tap Alt+T to open the Tools menu.
Select Internet Options.
Move to the Advanced tab and press Reset.
Select the Delete personal settings checkbox.
Click Reset and click Close.
Mozilla Firefox
Tap Alt+H to open the Help menu.
Select Troubleshooting Information.
Press Refresh Firefox at the top of the page.
Press Refresh Firefox again in the confirmation window.
In non-techie terms:
Search.searchm3f.com is a new search website with features from the Polarity team who have created dozens of very similar browser hijackers posing as search pages. This new hijacker offers you links to forms, such as 1040, W-4, and W-9 apart from the constant tools (News and Local Weather). Although these links may work alright, the search engine cannot be trusted as it can redirect you to modified Yahoo search results pages. In other words, you may find yourself on a legitimate-looking Yahoo results page that may contain questionable content. Clicking on such content could cause further system security issues. Therefore, it is important that you remove Search.searchm3f.com as soon as possible. If you do not believe that you can keep your computer clean of such threats, it could be a good reason for you to install a reliable anti-malware program.