Do you know what Search.searchlwr.com is?
You might be surprised by the entrance of Search.searchlwr.com if this search tool comes pre-packaged with a browser extension. The sample we have tested in our internal lab has been linked to the Local Weather Radar extension by SaferBrowser, but there is always a possibility that other extensions could be used for the representation of this browser hijacker. Have you heard of SaferBrowser before this? This company is responsible for a number of suspicious add-ons and browser hijackers, including Search.searchlen.com, Search.yourinstantfileconverter.com, and Search.searchglnn.com. These hijackers are associated with different browser extensions, but they are basically identical. Even the privacy policies are identical, which suggests that they have been created using the same engine or that they were created by the same company. Whatever the case is, you must delete Search.searchlwr.com from your browsers as soon as possible, and our removal tips will help you get through it all smoothly and quickly.
The Privacy Policy that supports Search.searchlwr.com and other SaferBrowser hijackers informs that personal information can be recorded and shared with third parties. Unfortunately, there is no information that reveals who these third parties are, and whether or not their intentions are harmless. What if the threat records sensitive data and leaks it to a malicious schemer? If that happens, a scam could be designed to target you personally, and that, of course, increases the chances of the scam being successful. Unfortunately, most people do not get familiar with privacy policies or other legal information because they find this information too boring and incomprehensible. Well, it is unlikely that you would have let Search.searchlwr.com in if you knew that it was capable of recording personal data, and that is proof that you always need to review legal information before installing software. Needless to say, if you were careful, you would not need to worry about the hijacker and third-party malware that could have been installed along with it.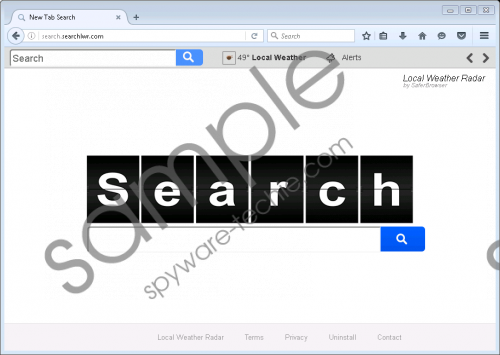 Search.searchlwr.com screenshot
Scroll down for full removal instructions
Some users think that Search.searchlwr.com is completely harmless because it provides quick-access links to authentic websites, such as weather.com, weather.gov, wunderground.com, and google.com/maps. Of course, these links are legitimate, but that is not what you need to focus on. You need to focus on the fact that this hijacker might have been installed without your permission, that it can perform undesirable activity without your notice (e.g., record personally identifiable information using HTTP cookies), and that it can redirect you to a third-party search engine. Sure, this hijacker redirects to Yahoo Search, but that does not make it any less unreliable. Just the fact that the hijacker can redirect you to a third-party site without your permission is shocking enough. What is more, it can use a harmless-looking search engine – such as Yahoo Search – to expose you to sponsored links. Yes, it is possible that the hijacker will modify the results shown to you via this popular search engine, and that is another reason to remove it ASAP.
Our guide shows how to modify the homepage not directly via your browsers but the files of your browsers. If you learn how to do that, you will be able to defeat all kinds of hijackers in the future. Of course, if you do not want to encounter malware again, you need to implement a reliable security tool. Download a legitimate anti-malware tool, and you will not need to worry about existing or incoming infections. We are particularly supportive of the automatic removal option because of third-party malware that might exist along with the hijacker. If you need help selecting the right tool, start a discussion in the comments section.
Delete Search.searchlwr.com
Google Chrome
Simultaneously tap keys Win+E to access Explorer.
Type %LOCALAPPDATA%\Google\Chrome\User Data\ into the address bar at the top (Windows XP users need to enter %UserProfile%\Local Settings\Application Data\Google\Chrome\User Data\).
Open the Default folder or your unique Chrome Profile folder.
Using Notepad, open the file named Preferences.
Overwrite the URL of the hijacker with the desired URL and save the file.
Modify the Secure Preferences and Web Data in the same way.
Internet Explorer
Simultaneously tap keys Win+R to launch the RUN dialog box.
Type regedit.exe and click OK to open the Registry Editor menu.
In the pane on the left move to HKCU\Software\Microsoft\Internet Explorer\Main.
Right-click the value called Start Page and choose Modify.
Overwrite the URL of the hijacker with the desired URL and click OK.
Mozilla Firefox
Simultaneously tap keys Win+E to open Explorer.
Type %AppData%\Mozilla\Firefox\Profiles\ into the address bar and tap Enter.
Open the unique Firefox Profile folder.
Using Notepad, open the file named prefs.js.
Overwrite the URL of the hijacker with the desired URL and save the file.
In non-techie terms:
There is absolutely no reason to postpone the removal of Search.searchlwr.com. This hijacker is useless and unreliable, and these are the main reasons to delete it. Keep in mind that if you keep using this search tool, you could expose yourself to unreliable links or unwanted advertisements, and your virtual security could be jeopardized by tracking cookies capable of collecting personal information. If you cannot handle the removal manually, we suggest deleting Search.searchlwr.com with the help of a trusted anti-malware tool that will simultaneously erase all other threats active on your operating system.