Do you know what Search.searchlff.com is?
Search.searchlff.com can show up in your browsers without your knowledge. This questionable search engine can sneak onto your system and you may not even notice it only when it is too late. This search engine website is clearly different from the ones trying to resemble Google or other major engines since it has a characteristic toolbar at the top. Yet, you may not consider it a threat thinking "this is just another search engine." Well, our researchers beg to differ and say that even this infection is capable of causing you some headaches. As a matter of fact, this threat has been categorized as a browser hijacker, which, by the way, belongs to an infamous family that has given "birth" to Search.directionsandmap.com, Search.searchbuscar.com, Search.searcheazel.com, and dozens more. If you would like to browse the web without any risk of clicking on unsafe content coming from this browser hijacker, we recommend that your remove Search.searchlff.com as soon as possible.
It is really not that difficult to infect your system with such a hijacker when your computer is not defended by a decent up-to-date security program. In fact, if your PC is not protected, you need to be very careful with every click you make on websites whenever and wherever you go online. We do not say that you need to become paranoid to be able to avoid malicious attacks but you definitely need to become alert and know where you can safely click and what sites you can safely visit. Well, unless, of course, there are malware infections already on your system that can put your virtual security at risk from behind the scenes. In other words, if there is even one single adware program, for example, you may be exposed to hijacked third-party ads on reputable pages. This clearly makes your surfing experience a nightmare as you cannot click on any content really with 100% safety. This is why we tell you to use a reliable malware scanner right after you delete Search.searchlff.com from your browsers.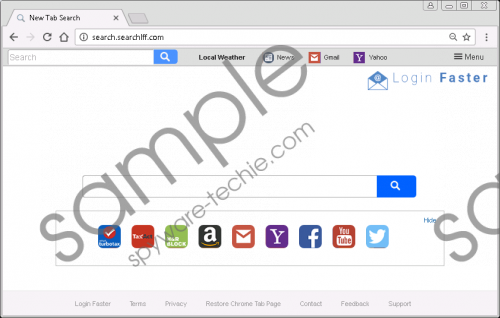 Search.searchlff.com screenshot
Scroll down for full removal instructions
If you are one of the few lucky ones whose system is clean, you can still easily drop a malicious package when you download files from questionable websites, such as torrent and freeware sites, or click on unsafe third-party ads on suspicious sites including the ones we just mentioned. In order to avoid this you can simply try to stay away from unfamiliar or suspicious-looking websites and download programs and updates only from official and legitimate vendors' pages. Because if you end up with a bundle on board that may contain a couple of browser hijackers, fake alerts, Trojans, ad-supported programs, and potentially unwanted programs, chances are you are going to install the whole lot. In fact, you could still save the day if you are alert while installing the bundle. The installation wizard usually offers you a chance to deselect the browser changes or certain components of the package so that these would not be installed. If you fail to do so, you have no choice left: You need to scan your system with a proper online malware scanner if you do not have such software installed. But first, delete Search.searchlff.com as one infection that you have managed to identify already.
Finding this search engine website in your browsers may not bother you as you may think that it is quite useful to have a toolbar with a search tool and easy access to important pages, such as local weather, news, Gmail, Facebook, and Google Maps. But what if we told you that this hijacker might inject questionable third-party ads into these pages. For instance, the local weather widget page is typically one that you should not engage with as it is filled with annoying and potentially harmful third-party ads. This search page also displays a banner of quick-link buttons below the main search field. This banner can be hidden and shown if you click on the respective link in its top-right corner. This banner contains a few links to websites associated with tax as well as well-known sites, such as Facebook, YouTube, and Twitter.
The real problem is mainly caused by the search engine because it is capable of gathering information about you regarding your online activities and browsing habits, which in turn can be used to display tailored information, ads, and links to you. Do not be misled by the fact that you find yourself on a Yahoo search results page because this can be manipulated by this browser hijacker to included customized content. However, this content may include unreliable third-party ads and links possibly coming from cyber criminals. There is no doubt that it could be risky for you to click on any content on such a page since you cannot know where you can safely click. Since clicking on corrupt ads and links could lead to further infections or being redirected to malicious pages, we advise you to remove Search.searchlff.com right away.
So here we are with the solution finally. Since this malware infection may only change your home page URL address in your browsers, such as Mozilla Firefox, Google Chrome, and Internet Explorer, you should overwrite these changes to fix this issue. If you are unfamiliar with this process, you can use our guide below, which can be easily accomplished even if you are an inexperienced computer user. We must also remind you that this will not necessarily clean your whole PC; therefore, we recommend that you employ a trustworthy malware removal application, such as SpyHunter, and the headache of potential malicious attacks will be gone from your life.
Search.searchlff.com Removal from Browsers
Internet Explorer
Tap Alt+T and select Internet options.
Go to the General tab and press the Use default button.
Click OK.
Mozilla Firefox
Tap Alt+T and choose Options.
Select General on the left.
Press Restore to Default.
Google Chrome
Tap Alt+F and select Settings.
Click Open a specific page or set of pages in the On Startup section.
Click Set pages and add a new home page you prefer.
Delete the unwanted page.
Press OK.
In non-techie terms:
Search.searchlff.com is your new time bomb in your browsers since this browser hijacker may pose a potential threat to your virtual security. On the one hand this infection may present to you questionable third-party content in the form of altered search results; on the other hand, this malware can come on board along with other malicious installers. All in all, if you keep this search engine and all the related infections on your system untouched, you may experience anomalies of some kind and system performance drops as well as further infections, let alone money draining from your bank accounts if you were to fall for online scams. We advise you to act now and remove Search.searchlff.com from your system. If manual removal is not your forte, we suggest the use of a reliable anti-malware program.