Do you know what Search.searchlen.com is?
Disguised as a search engine, Search.searchlen.com is nothing more than a browser hijacker configured to change your browser's new tab page, homepage, and search provider, so you should remove it. However, that is not all, our security analysts have tested this fake search engine and determined that it is configured to show you promotional links in its search results, as well as collect information about your browsing preferences and other information to personalize the advertisements. Nothing good will come from Search.searchlen.com if you decide to keep it, so we invite you to read this description that will prove to you that this search engine is a potential security threat.
Even though you can use Search.searchlen.com as a search engine, is it far from being one as its distribution method diminishes its status as such considerably. Furthermore, it uses Yahoo.com to process the search queries that you enter in its search box, so this hijacker only redirects them to Yahoo because it is unable to perform this task. Still, the search results it presents to you are not the same as those found on the regular Yahoo.com search engine. Our security experts have observed that Search.searchlen.com is set to modify the search results and inject additional promotional links that fall under the radar of most users. It must be said that in some cases, the search results can feature links to shady and even dangerous websites that pose a security threat to your computer. In the worst case scenario, this hijacker can get your computer infected with malware such as adware, spyware, Trojans, and so on.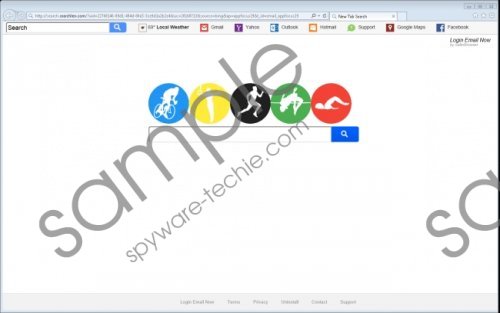 Search.searchlen.com screenshot
Scroll down for full removal instructions
We also want to inform you that this browser hijacker is set to gather certain information about you to personalize its targeted ads. According to Search.searchlen.com privacy policy, it will collect information such as your Internet Protocol (IP) address, Internet Service Provider (ISP) domain name, geographical location, browsing history, entered search queries, and so on. All of this information is used to personalize the promotional links you see, but this will not benefit you, of course, but this hijacker's developers.
Our malware analysts say that this hijacker was created by the infamous SaferBrowser, a malware developing company that specializes in creating browser hijackers. We are well aware of this company as it has released dozens of hijackers in the past. Some of its newer releases include but are not limited to Search.yourweatherhub.com, Search.yourspeedtestcenter.com, Search.yourrecipescenter.com, and Search.youremailcenter.com. Therefore, there is no doubt about Search.searchlen.com's real purpose because it comes from a company that specializes in deceptive online advertising.
We say that it is deceptive because this hijacker can enter your computer without your knowledge or approval. Security experts say that its download is being promoted via pop-up ads presented by adware-type software, so if this hijacker might enter your computer using other malware. However, you must click the pop-up advertisement to initiate the download of its accompanying extension which might not indicate that it comes with a search engine. Apart from this deceptive distribution tactic, it also has a dedicated website at Loginemailnow.com that hosts the browser extension that can be called LoginEmailNow for Internet Explorer, Login Email Now for Chrome and simply Email for Firefox. Testing has shown that this add-on is set to change the search the homepage settings for all three browsers, search provider for Firefox and the new tab page for Chrome. Downloading this extension from Loginemailnow.com is not an infection. However, when it is set to enter your PC without your knowledge or consent, we regard this as an extension.
If you want to keep your computer safe and secure, then you have to delete Search.searchlen.com because there is no telling what kind of content it will subject you to using its search results. Regardless the mere fact that its accompanying extension can be installed on your computer without your knowledge or approval is unacceptable. You can use the instructions below to remove this hijacker.
Uninstall LoginEmailNow from Control Panel (Internet Explorer only)
Windows XP
Open the Start menu.
Click Control Panel.
Select Add or Remove Programs.
Find the software and click Uninstall.
Windows 7/ Vista
Click Start.
Select Control Panel.
Click Uninstall a program.
Find the application and click Uninstall.
Windows 8/8.1
Simultaneously press Windows+R keys.
Type Control Panel in the dialog box and click OK.
Select Uninstall a program.
Find the software and click the Uninstall button.
Windows 10
Right-click on the Start menu.
Click Control Panel and go to Uninstall a program.
Find the program and click Uninstall.
Remove from the browsers' list of extensions
Mozilla Firefox
Launch the browser and press Ctrl+Shift+A.
Select Extensions.
Find an extension called Email and Remove it.
Google Chrome
Simultaneously press Alt+F and click More tools.
Select Extensions and locate Login Email Now.
Remove the add-on.
In non-techie terms:
Search.searchlen.com is a fake search engine that is set to hijack your browser's homepage, new tab page, and search provider when its browser extension is installed on your computer. Research has revealed that this hijacker can display promotional links in its search results, so you should remove it because some of them can jeopardize your computer's security if clicked.