Do you know what Search.searchleasier.com is?
Search.searchleasier.com is an untrustworthy search tool that tends to set itself on all users' browsers without permission. Due to the fact that it is capable of changing the settings of browsers without a user's consent, it has been called a browser hijacker by specialists. The ability to appear as a homepage and default search engine on all browsers that are installed on the computer is not its only drawback. Our team of specialists is now sure after carrying out research that Search.searchleasier.com might be quite dangerous too. It does not perform any activities that would put it into the category of malicious software, but it, as has been found, might still expose users to potential threats. It might especially cause trouble to those users who use it as a default search provider. If you are reading this article because you have discovered it set too, you should go to get rid of this dubious search provider. In the meantime, be sure that you do not enter anything in its search box and do not click on quick access buttons available on the bar at the top of the page. We do not promise that the deletion of this browser hijacker will be an easy task, but you should still go to eliminate it in any event.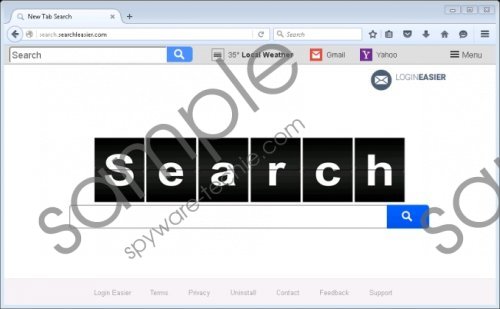 Search.searchleasier.com screenshot
Scroll down for full removal instructions
It is recommended to delete Search.searchleasier.com from browsers and then set another website as a homepage and search engine not without reason. Recent research has revealed that this search tool displays more advertisements and promotional links than decent search results based on the entered search query. The promotional content itself is not dangerous if a user does not click on it; however, it is impossible to avoid these ads and links if this dubious search tool is used to search for the information on the web every day. Stop doing that as soon as possible if you do not wish to encounter malicious software. No, these ads/links will not download bad applications on your PC, but they might redirect you to pages promoting unreliable software. Not all these websites respect the privacy of users too. Some of them might even try to obtain personal details by asking users to fill in some kind of form. Do not provide any details about yourself on third-party websites if you are not sure that they are fully reliable because this information might be recorded and then even sold to disreputable companies/people. Specifically speaking, privacy-related problems might quickly arise if you do that.
We know that you have not set this dubious search tool on your browsers willingly. In the opinion of our researchers, you see it because you have installed freeware from the web. No, its presence is not the fault of a free application. Instead, malicious applications often hide behind good programs and travel together with them so they would not be spotted. Carefully download freeware from the web, e.g. double-check whether you click on a real Download button and be sure that you install those free applications attentively because you might be allowed to choose whether or not to allow the installation of certain programs. Unfortunately, being cautious during the installation process does not always help to prevent undesirable software from slithering onto the computer, so, in the opinion of our researchers specializing in cybersecurity, users who surf the web on a daily basis should have a reputable security application installed on their computers too.
Even though Search.searchleasier.com looks like an ordinary search tool, the truth is that it can only cause trouble, so you should go to replace it with a search engine that can be fully trusted. Before you do that, you need to eliminate Search.searchleasier.com from all your browsers. Instructions provided below this article will guide through this removal process, but if they still do not help you to remove this dubious search provider fully, use SpyHunter – a reputable malware remover. It will make sure that there are no computer infections left on your system within seconds.
Delete Search.searchleasier.com
Internet Explorer
Open your browser.
Tap Alt+T to open the Tools menu.
Click Internet Options.
Click the Advanced tab.
Click Reset.
Check the Delete personal settings box.
Click Reset.
Mozilla Firefox
Launch your browser and go to the Help menu (Alt+H).
Click Troubleshooting information.
Click Refresh Firefox.
Click on this button again when you see it in the pop-up confirmation window.
Google Chrome
Open Google Chrome.
Press two buttons Alt+F to open the menu.
Select Settings.
Scroll down.
Click Show advanced settings.
Find the Reset settings button and click it.
Click Reset.
In non-techie terms:
It does not mean that there are no computer infections installed on your PC if you do not know about them. Yes, what we want to say here is that your system might contain other untrustworthy programs or even malicious components. It is extremely hard to detect and remove them manually, so you should let an automatic security application do this job for you. Just scan your computer with it once.