Do you know what Search.searchjmt.com is?
Your homepage may have changed in your main browsers and now Search.searchjmt.com appears whenever you launch them. It is also possible that you have not noticed this change because this search page may look similar to other, reliable ones. However, our researchers say that this just another annoying browser hijacker from the notorious Polarity family that has given us Search.hyourweatherinfonow.com, Search.hgetsports.net, and Search.searchedd.com among dozens of others. These search websites are basically identical with minor differences. But they all provide you with modified search results in order to promote affiliates and thus generate income. Unfortunately, these affiliates are not guaranteed to be always trustworthy. This means that the content you could be presented with by this browser hijacker may be potentially harmful to engage with. Therefore, we suggest that you act now and remove Search.searchjmt.com from your browsers immediately.
When you find a browser hijacker like this in your browsers, it is quite possible that you have installed a freeware bundle recently. Maybe you wanted to install a single free application but when you search for it on the web, you landed on an unfamiliar file-sharing site like filewon.com, malavida.es, and descargar.es. Please note that there are lots of fake and malicious P2P websites like torrent sites, which are infamous for promoting questionable software packages as well as unsafe third-party ads. Clicking on any content provided by these sites can result in your infecting your computer with all kinds of threats. Such a package may contain browser hijackers, Trojan programs, keyloggers, and ad-supported programs as well, in addition to a possibly legitimate free program you may want to install. You need to make sure that you know exactly what you are installing every time you install free software. You need to read all the screens carefully not to miss out any important details like checkboxes notifying you about browser setting changes. These installers are rather tricky and may direct your focus somewhere else while you may overlook such notifications. This is how you can install malware infections by default. And, this is why you should delete Search.searchjmt.com. Once it is gone, you should scan your system with a trustworthy malware scanner to see what else needs to be taken care of.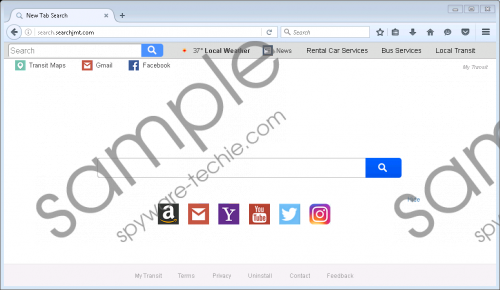 Search.searchjmt.com screenshot
Scroll down for full removal instructions
This browser hijacker operates exactly the same way as its predecessors. It shows you a fake toolbar at the top of a search webpage. This toolbar offers you easy access links to third-party websites associated with traveling and car rental. Remember that you can use the built-in bookmarking function of your browsers if you want to have a website available from your bookmarks bar. Even if these promoted sites may be reliable, they may host third-party content, which might be hijacked by this browser hijacker. Just like it can show you manipulated Yahoo search results, which can contain unreliable third-party ads and links. One click on the wrong ad or link and you could infect your system or get redirected to a malicious website where cyber criminals may scam you to share your personal or banking details. Hopefully, you do not need more to want to remove Search.searchjmt.com from your PC.
We have shared our removal guide with you below this article. Please follow these steps to reset your browsers if you want to manually eliminate this browser hijacker. But do not believe for a second that this could be all. In fact, it is more likely that you will find a number of other threats on your computer. Would you like to go online without the fear of clicking on something you are not supposed to and infect your PC again and again? Or, would you prefer to surf the web in peace of mind? So make up your mind and install a reliable malware removal application, such as SpyHunter, to defend your computer against all known threats.
Remove Search.searchjmt.com from browsers
Internet Explorer
Tap Alt+T and go to Internet Options.
Move on to the Advanced tab and press Reset.
SelectDelete personal settings and press Reset.
Press Close.
Google Chrome
Tap Alt+F and navigate to Settings.
Click Advanced at the bottom.
Click Reset at the bottom.
Press Reset to confirm.
Mozilla Firefox
Tap Alt+H and open Troubleshooting information.
Press Refresh Firefox and press Refresh Firefox in the pop-up.
In non-techie terms:
Search.searchjmt.com is a useless featured search site from the notorious Polarity team who has been flooding the web with their potentially unwanted programs and browser hijackers in the past years. This browser hijacker looks very similar to the previous ones, it has the fake toolbar with easy access buttons leading to traveling-related websites and other usual tools like News. This hijacker can sneak onto your system in freeware bundles, which also means that there could be all kinds of other threats on your system already. Its presence can bring you questionable web content on your screen. If you engage with such content, you could drop further infections or end up scammed by cyber crooks on malicious and fake websites. Therefore, we recommend that you remove Search.searchjmt.com from your PC ASAP. If you take the security of your computer seriously, you may consider installing a powerful anti-malware program to protect your PC.