Do you know what Search.searchitknow.com is?
If you want to search the web now, do not ever think of using Search.searchitknow.com, especially, if it shows up in your browsers unexpectedly. In fact, this is an intrusive browser hijacker that sets itself as your homepage in all major browsers, including Google Chrome, Internet Explorer, and Mozilla Firefox. Therefore, you will be haunted by this questionable and unreliable search engine whichever browser you launch. It is quite possible that you did not even authorize this search engine to make the necessary changes in your browsers. That is an unmistakable act against your privacy. Practically, this browser hijacker takes over the control of your browsers. In other words, you lose control of your own browsers. Since you may be exposed to dangerous third-party websites this way, we recommend that you remove Search.searchitknow.com from your browsers; otherwise, you may risk your system health and security. Leaving such malware infections on your computer might result in slow performance or continuous disruption by advertising, but the worst is definitely a crippled operating system that may require a total reinstallation.
According to our researchers who have tested this browser hijacker in our internal lab, this infection usually spreads in free software bundles. The worst thing such a software package can do to your computer is to infect it with several malware programs. Therefore, it is important to be able to make a difference between a legitimate bundle and an infected bundle. One clue could be the website where you download the installer from. If you end up on a suspicious-looking and unfamiliar freeware site and you click on a download button or third-party ad there, chances are you infect your computer with malware. Or, you might be redirected to an even more questionable site that is full of misleading third-party ads that try to scam you in all kinds of ways. One of the tricks criminals use is to make you believe that you urgently need to download a driver they offer because otherwise you cannot watch an important video, or you are warned that your system may be exposed to criminals so you need a free security tool right away. But clicking on these ads or fake warning messages will actually expose you more than you think.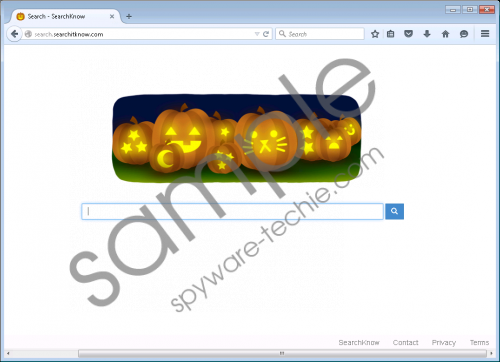 Search.searchitknow.com screenshot
Scroll down for full removal instructions
If you happen to download such a package, it is essential that you do not rush with the installation. If you go on with it at all, you need to know that most installation wizards offer you an opportunity to opt out of certain components by unticking the designated checkboxes. Failing to do so would result in the whole package being installed onto your computer by default. This is when deleting Search.searchitknow.com will not solve all your security issues. You will have to identify and eliminate all other threats as well. You can use an online malware scanner for that, but it will only detect the infections. After the report is generated, you will have to handle all the infections that are found.
This search engine is rather unreliable and has no benefit to you whatsoever. It was most probably developed with the sole purpose of marketing certain affiliated third parties and generating web traffic to their websites. However, these third parties can be anyone. What if criminals pose as third parties and send misleading ads or links to your screen? Since this hijacker is capable of modifying the search results, even if it redirects to a legitimate-looking Yahoo! page, you can never trust those results. Clicking on the links might lead you to malicious websites. In order to save yourself from the unfortunate consequences of such visits, we advise you to delete Search.searchitknow.com now.
This browser hijacker does not make it easy for you to make it disappear; it does not have an uninstaller that you could run in Control Panel. But it is still not a too complicated process. You have to manually change or restore the homepage URL settings in your browsers; that is all. If you require assistance, please use our guide below or leave us a comment further below. If you want to protect your PC effectively from all the infections, you may want to consider installing an up-to-date antimalware application.
Search.searchitknow.com Removal from Browsers
Internet Explorer
Tap Alt+T and select Internet options.
Click the General tab.
Click Use default or change the homepage URL.
Click OK.
Google Chrome
Tap Alt+F and open Settings.
In the On Startup section, click Open a specific page or set of pages.
Click Set pages.
Add a new homepage URL and remove Search.searchitknow.com.
Click OK.
Mozilla Firefox
Tap Alt+T and access Options.
Choose General on the left.
Click Restore to Default or change the homepage URL.
In non-techie terms:
Search.searchitknow.com is a useless search engine that may emerge in your browsers without your knowledge. Because of its intrusive behavior, it has been labeled a browser hijacker. This hijacker may present to you unreliable search results filled with sponsored links and ads, which may redirect you to questionable websites. This infection may also arrive with other malware programs; therefore, you will have to take care of several threats if you do not want to harm your operating system. We recommend that you use a reliable antimalware tool to detect and remove Search.searchitknow.com and all the threats that may be present on your PC.