Do you know what Search.searchipdf.com is?
Search.searchipdf.com is an untrustworthy web page that might affect your Internet Explorer, Google Chrome, and Mozilla Firefox browsers one day. It is often called a browser hijacker by specialists for its ability to change the browsers' settings. To be more specific, you will find Search.searchipdf.com set as your homepage and default search engine. On top of that, Search.searchipdf.com might also become visible if you open the New Tab page. Even though this web page does not differ much from trustworthy search tools the way it looks, it is definitely not worth trusting it. Also, users should not use it as a default search tool too. Continue reading to find more about this website and what security risks its presence might pose. The knowledge you get might help you to recognize similar untrustworthy websites too, e.g. search.yourinterestscenter.com and search.yourclassifiedscenter.com. According to our research team, it might be very true that the developer of Search.searchipdf.com has released hundreds of similar websites that look like beneficial search results because a bunch of similar websites exist. They all promote third-party websites and generate revenue.
Search.searchipdf.com is really made to look like a trustworthy search provider. First of all, it contains a search box which returns Yahoo! search results when users enter a search query. Secondly, quick access buttons leading to websites offering useful service, e.g. a PDF and DOC converter, online translator, thesaurus, etc. are available on the bar at the top of the page. Many users find this feature quite useful. Even though you find Search.searchipdf.com a useful page too, you should still delete it because it is not as trustworthy as it might seem at first glance. It has been found that it might show a bunch of promotional links on the search results page no matter that it is powered by a reputable search provider Yahoo!. All these links might quickly put the system in danger because they are not verified by anyone and thus might promote malicious websites. Malicious websites are those that promote malware, for example, they might attempt to install malware onto users' devices when users are taken there. Some of these websites might look harmless at first glance but contain untrustworthy software inside or links leading to it. Of course, users do not end up on bad websites every day, but we are sure you will find it annoying to be often taken to a website that is not based on your search query and does not contain any useful info. If you agree with us that there is no point in keeping a tool that does not work very efficiently, you should go to get rid of Search.searchipdf.com right now. Postponing the deletion process is not recommended since Search.searchipdf.com is quite dangerous despite its harmless appearance.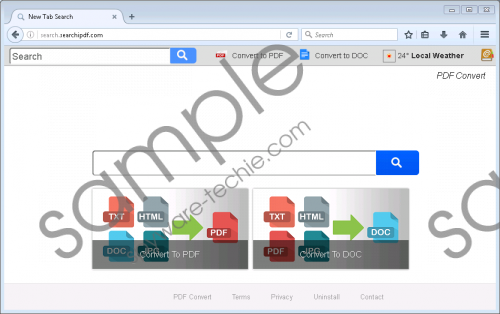 Search.searchipdf.com screenshot
Scroll down for full removal instructions
According to researchers who have tested Search.searchipdf.com, this search tool does not respect users' privacy too. It has been found that it might gather the users' personal information. As can be found in the Privacy Policy, it collects only those details that are entered as search queries in the search box, but this still does not change the fact that it, unlike trustworthy search tools, collects this type of information. Of course, the developer of Search.searchipdf.com is not the only one who will find out about you. The gathered information will be shared with third parties as well. You cannot change the way it acts, but you can make sure that it no longer gathers information about you. You just need to delete Search.searchipdf.com from browsers ASAP. Go to install security software after its deletion to protect your browsers from unauthorized changes browser hijackers belonging to the same family might apply in the future again.
The deletion of Search.searchipdf.com is not very easy since this untrustworthy website has to be deleted from all browsers, including Internet Explorer, Google Chrome, and Mozilla Firefox separately. Users can go to set a new website as homepage, search tool, and the New Tab, or they can reset browsers to their default settings. An automated malware remover, e.g. SpyHunter would eliminate Search.searchipdf.com too.
Delete Search.searchipdf.com
Internet Explorer
Open your browser and press Alt and T buttons simultaneously on your keyboard.
Click Internet Options.
Click Advanced to open the Advanced menu.
Click Reset.
Mark the Delete personal settings box.
Click Reset.
Mozilla Firefox
Launch Mozilla Firefox and press Alt+H.
Click Troubleshooting Information from the Help menu.
Locate and then click the Refresh Firefox button.
Click Refresh Firefox once again to reset your browser.
Google Chrome
Launch your browser.
Click the button in the top-right corner.
Select Settings.
Scroll down.
Find Show advanced settings at the bottom and click it.
Click Reset settings.
Click the Reset button.
In non-techie terms:
There are hundreds of untrustworthy search tools that look trustworthy but might cause harm to the computer. Of course, they do not do that directly, but they might cause redirections to third-party websites that cannot be trusted at all. Therefore, getting rid of Search.searchipdf.com is highly recommended. Do not forget to take care of other untrustworthy applications too. They might be working behind your back without your permission.