Do you know what Search.searchinsocial.com is?
Search.searchinsocial.com is a questionable search engine that may be set as your new home page and default search engine as a result of a freeware download attempt on a shady file-sharing website. This browser extension offers you "enhanced search experience" that enables you a "one-click search to find friends, stores, websites and companies in social media." But our researchers have tested this search engine in our internal lab, and found that it exhibits a few worrisome traits that make it a potentially harmful tool. Therefore, we suggest that you remove Search.searchinsocial.com from your browsers if you want to protect your PC from unreliable content and more malware infections. How you can handle this threat and other possibly related ones, you will see if you continue reading this report.
This search engine provides you with a one-click search possibility, which means that after entering your keywords you can simply click on the icon of the social network site you want to search in; and there you go – or not, because it is also possible that the link will give you an error page instead of what you are expecting. Theoretically, you can search in Facebook, Twitter, Google+, Linkedin, Tumblr, and Pinterest. However, if you decide to search the web instead, you will be redirected to plusnetwork.com. Unfortunately, you cannot trust the results since Search.searchinsocial.com may change the normal results to include sponsored links, for example. It is also possible that you will see targeted links or even third-party ads that seem to match your taste. This search engine may collect information about you regarding your browsing habits, and that is how you may start seeing relevant ads.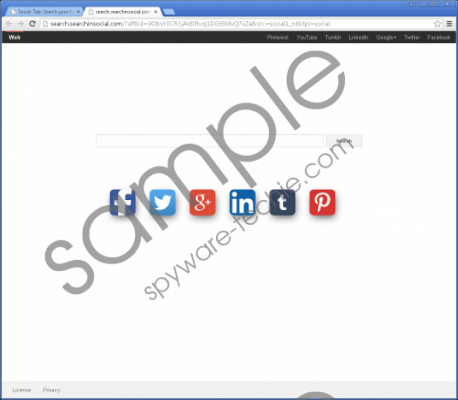 Search.searchinsocial.com screenshot
Scroll down for full removal instructions
We advise you not to click on anything that is related to this search engine because you cannot be sure where you end up. You might find yourself on some unreliable third party's website and god knows what might happen there. You could be scammed to download a useless but harmful fake software update or worse, you might be scammed out of your money. None of these scenarios would end well for you, so if you do not want to experience these, we suggest that you delete Search.searchinsocial.com right away.
Although this browser extension has an official website at socialnewtab.com where you can directly install it from, we do not believe that too many computer users would find this site at all. Well, have you? It is most likely that you wanted to download free software from a shady shareware site, such as filewon.com, and you clicked on a pop-up ad. According to our researchers, that is how most users get infected with this search engine. But you might also find it in free software bundles that may contain other malware infections that could be more dangerous. Letting such a lot onto your computer could cause you a lot of headaches and system security issues. That is why we recommend that after you delete Search.searchinsocial.com, you run a full system scan in order to see the threat situation on-board. Failing to act in time may have its price.
Since this search engine can only affect two of your browsers, Mozilla Firefox and Google Chrome, you simply need to reset these in order to make sure that all components and setting changes are history. If you need assistance with that, please use our guide below. Nevertheless, you cannot be certain that there is no other infection on-board unless you scan your computer. Once the malware scanner returns with the results, you need to take action. We would not suggest hunting down each and every malware program manually. If you want effective action, we advise you to install a trustworthy malware removal tool, such as SpyHunter. Keeping this tool updated can ensure you full-time protection from all known threats.
Search.searchinsocial.com Removal from Browsers
Mozilla Firefox
Press Alt+H and select Troubleshooting Information.
Press Reset Firefox and press Reset Firefox again in the pop-up.
Click Finish.
Google Chrome
Press Alt+F and select Settings.
At the bottom, click Show advanced settings.
At the bottom, click Reset settings.
Click Reset.
In non-techie terms:
Search.searchinsocial.com is an unreliable search engine that may show up in your browsers as a result of visiting suspicious file-sharing websites. This search engine might present to you questionable search results, third-party ads, and links, which might all expose you to unsafe web content. Since this potential may result in more infections on your computer or you might even become a victim of an online fraud, we believe that you need to remove Search.searchinsocial.com if you want to protect your computer.