Do you know what Search.searchicc.com is?
Search.searchicc.com is not a simple website. It looks exactly like an ordinary search tool, but the problem with it is that it only pretends to be one. Search tools belonging to Polarity Technologies Ltd are sometimes even referred to as browser hijackers because they show up on users' browsers and change their settings without their knowledge. Search.searchicc.com does not look harmful, and it is far from a malicious application, specialists say, but keeping it set on browsers and using it as a default search engine is still not advisable. They say so not without reason. It has been found that it has drawbacks which outweigh its benefits. These drawbacks might seem to be tiny at first glance, but they make Search.searchicc.com untrustworthy, so it would be best to replace it with a new reputable search tool. The information you find in this article should help you to decide whether to keep this search tool set or not.
We should not criticize those users who do not understand immediately that Search.searchicc.com is not a trustworthy search provider. This search tool has a search box in the middle of its start page, and it has quick-access buttons opening Amazon, YouTube, Gmail, and other popular websites. The bar at the top of this search tool should also help users to access popular websites, e.g. news.mynewswire.co, couponsimplified.com, retailmenot.com, and others. Some users find this feature quite useful because they can access popular pages with the click of a button, but, sadly, this does not mean that the search tool they have discovered set on their browsers can be fully trusted. The main drawback of Polarity search tools is that they display the modified search results for users. The same can be said about Search.searchicc.com. Although users see the search results page with the Yahoo! label in the top-right corner, they might still be provided with the so-called modified search results too which might redirect to suspicious untrustworthy pages belonging to third parties. Most probably, users help cyber criminals earn money by clicking on those modified search results, which explains why users are generally provided with them.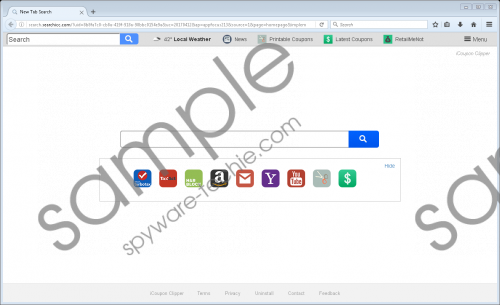 Search.searchicc.com screenshot
Scroll down for full removal instructions
If you analyze the Privacy Policy document of this search tool, you will notice that it tells users in the beginning that personally-identifiable information about them will not be recorded. Unfortunately, it turns out quickly that it is not true. Users are told that information about them will be recorded when they contact the support further in this document. Also, it turns out after reading one of its paragraphs that it is going to record personally-identifiable information as part of search queries: "By using the services, you are consenting to grant Polarity permission to collect your URLs and search data, including search queries that may contain personally identifiable information, share them with third parties, and use search-related cookies." There is no information provided about those third parties the collected information will be sent to, so, theoretically, it might end up in the hands of bad people too. This is one of several reasons you should stop using Search.searchicc.com and go to delete it from the place of your default search engine, homepage, and the New Tab page.
Although Search.searchicc.com does not look malicious at all, specialists tend to classify it as a browser hijacker for its ability to change browsers' settings without permission. It applies changes unnoticed because it enters users' computers in software bundles. In addition, it could replace the default search engine, homepage, and the New Tab URL when a user clicks on any of those malicious pop-up ads. Be more careful in the future because it is not the only search tool Polarity Technologies Ltd has developed.
You can uninstall Search.searchicc.com fully through Control Panel if your default browser is Internet Explorer, but, sadly, this will not work if you use Mozilla Firefox or Google Chrome. It does not mean that this dubious search tool cannot be deleted from those browsers, but this needs to be done slightly differently – a user needs to delete the extension of Search.searchicc.com from them to make the dubious webpage gone. Let our instructions help you.
Delete Search.searchicc.com
Internet Explorer
Windows XP
Click Start.
Open Control Panel.
Click Add or Remove Programs.
Select the untrustworthy application and click Remove.
Windows 7/8/8.1/10
Launch Run (Win+R).
Enter Control Panel in the box and click OK.
Click Uninstall a program and select the undesirable program.
Click Uninstall.
Mozilla Firefox
Open Mozilla Firefox.
Press Ctrl+Shift+A.
Find the extension you need to remove and select it.
Click Remove.
Google Chrome
Launch your browser and tap Alt+F.
Select More tools from the menu and open Extensions.
Click on the extension of Search.searchicc.com.
Click the Trash button.
Click Remove.
In non-techie terms:
Not all the search tools which look trustworthy should be used as default search providers because they might cause problems. You should be extremely careful with those search tools which show up on your web browsers without your consent. They might contain advertisements and provide untrustworthy search results for users. On top of that, online privacy issues might arise quickly if they are kept and used because they tend to collect personally-identifiable information about people who use them.