Do you know what Search.searchhdrp.com is?
If you think that Search.searchhdrp.com is a beneficial search tool, you are mistaken. This search tool does not provide authentic search results, and, aside from that, it can initiate intrusive activity. According to our research, this threat can be implemented to track data and share it or sell it to unknown parties. It is most likely that the developer of this browser hijacker is working with advertisers; however, because the associated parties are not disclosed, there are no guarantees that malicious parties are not involved. The worst part is that the hijacker can collect personal information, and having it leaked to potentially malicious parties could be extremely dangerous. If you fear that your private information could be at risk, you need to strengthen virtual protection as soon as you delete Search.searchhdrp.com from your web browsers. At the moment, this hijacker is primarily compatible with the Google Chrome browser, but our research team warns that Internet Explorer and Firefox users could be at risk as well.
Search.searchhdrp.com is an integral part of the HD Radio Player extension. This extension takes over the New Tab tool, and it represents the search tool along with one-click links to popular media sites, including soundcloud.com, spotify.com, and pandora.com. In the past, this extension was available for downloading from hdradioplayer.com; however, this website is no longer active. Unfortunately, the installer on chrome.google.com/webstore/detail/hd-radio-player-new-tab/lhhojpknlnaeidbldlakgchgkedfkogg (Chrome web store) is still active. Furthermore, third-party software distributors could have been employed to spread this extension along with Search.searchhdrp.com. Third-party installers are unpredictable, and it is possible that they will promote additional threats along with the hijacker. They could even hide malware and install it silently, without your acknowledgment. Users dealing with Search.login-help.net, Search.tv-cmf.com, and other SaferBrowser hijackers (the same family) will face the same security issues. Of course, the real security issues will be initiated once the hijacker enters your operating system, and because it does not look like a malicious threat, many users assume that it is harmless and trustworthy.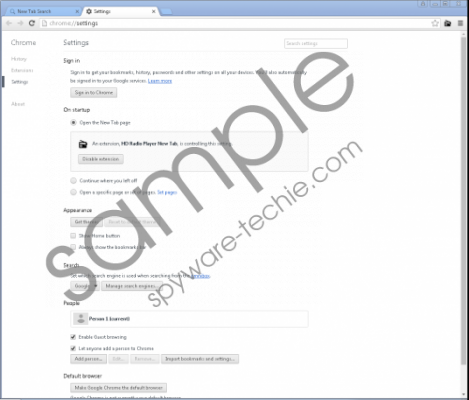 Search.searchhdrp.com screenshot
Scroll down for full removal instructions
Although Search.searchhdrp.com looks like a useful search tool, it does not actually provide web search services. Instead, it presents the search results corresponding to our search queries by opening Yahoo Search page in a new tab. Our researchers have found that query.searchhdrp.com is the server that your search queries go through, and, in the end, the search results are modified. This is done to introduce you to sponsored links that might bring profit to the developer of the hijacker. In order to help advertisers out, the creator of the hijacker also shares information with them and enables third-party tracking cookies to track data about your virtual behavior. Because personally-identifiable information is recorded by this threat, your virtual identity could fall at risk, and this is something you cannot dismiss.
Resetting browsers might seem unnecessary since it is possible to remove Search.searchhdrp.com by eliminating the HD Radio Player extension. Although you can get rid of this hijacker using this one simple step, you need to keep in mind that tracking cookies were installed to spy on you, and they might continue collecting data even after the unwanted software is eliminated. Are you wondering what should the course of action be if other threats are active? In this case, we advise implementing automated malware detection and removal software because of two reasons. First, this software can clean your PC from all threats. Second, it can ensure that you do not need to deal with unreliable software in the future.
Delete Search.searchhdrp.com
Internet Explorer
Launch the browser and tap Alt+T keys together to launch the Tools menu.
Select Internet options and then move to the Advanced tab.
Click the Reset button and choose Delete personal settings.
Click Reset again and restart the browser.
Mozilla Firefox
Launch the browser and tap Alt+H keys together to access the Help menu.
Click Troubleshooting Information to access the reset menu.
Click the Refresh Firefox button on the right.
Confirm the resetting of your browsers and restart the browser.
Google Chrome
Launch the browser and tap Alt+F keys together to access the menu on the right.
Select Settings to access the chrome://settings/ menu.
Click the Show advanced settings button at the bottom of the menu.
Scroll down and click the Reset settings button.
Click Reset again and restart the browser.
In non-techie terms:
You can remove Search.searchhdrp.com from your browsers in several different ways. You can employ an anti-malware tool to clean your PC, and this is the method we recommend because it provides a one-step system for the elimination of malware and the protection against it in the future. You can also erase this threat by following the manual removal guide above. Of course, if this is the method you choose, you must not forget to reinforce your system's protection using reliable security software. If you have any questions about the protection of your Windows operating system and browsers or the removal of unwanted and malicious software, we are here to answer all of them.