Do you know what Search.searchgstt.com is?
You should not install software that is pushing you to accept Search.searchgstt.com as your new homepage. It is most likely that you will be pushed to do that when installing Get Speed Tester, an extension that was developed by Polarity Technologies Ltd. This extension does not have an official download page, but it can be distributed via third-party installers, which is why most users who discover the add-on and the hijacker, also discover a bunch of other threats that also require removal. Needless to say, when deleting Search.searchgstt.com, you have to check if other infections are active, and, if they are, eliminate them immediately. Our research team can show you how to get rid of the hijacker, but we do not know which other infections you might be dealing with. It is recommended that you scan your PC to identify them and then look up appropriate guides on this website.
According to our research, Search.searchgstt.com is mostly spread in the United Stated, but it could corrupt your Chrome, Firefox, or Internet Explorer browser regardless of where you live. Since this hijacker is most likely to be bundled with the Get Speed Tester extension, you might be surprised to learn that your homepage and New Tab pages are modified. Of course, if you learn about this before the installation, you are less surprised, but the fact that the extension pushes to install an unfamiliar search tool should be enough to get you suspicious. Did you know that the interfaces of Search.searchbrs.com, Search.searcheasysta.com, and Search.myspeedtestxp.com hijackers are identical to the one of Search.searchgstt.com? That is because all of them were created by the same company for the same purpose, and it is not to help you test Internet speeds, despite the fact that Speed Test is offered.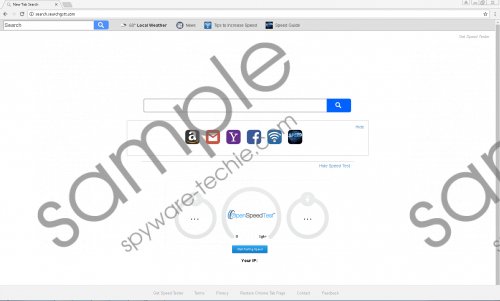 Search.searchgstt.com screenshot
Scroll down for full removal instructions
It is believed that Search.searchgstt.com was created to serve as an advertising platform. First of all, it employs cookies that record information regarding what kind of content you look up and, subsequently, what kind of content you are likely to interact with. Once the advertisers associated with Polarity Technologies Ltd learn about your preferences, more "relevant" and personalized offers can be placed. Where are they placed? You are most likely to encounter them when you browse the web. Have you noticed that Yahoo Search results are shown to you when you enter keywords via Search.searchgstt.com? That is not a mistake, and the hijacker is in no way associated with Yahoo Search. Instead, you are rerouted to this well-known, popular search engine because sponsored links can be added, and you might interact with them unknowingly. Needless to say, this can be risky and dangerous.
Do you trust Search.searchgstt.com? We hope that you do not because this hijacker does not offer reliable services. On the contrary, it can employ data-tracking cookies – which, by the way, can include personal data – as well as exploit a legitimate search tool to showcase sponsored links. If this hijacker is the only threat active on your PC, you are likely to eliminate it manually, but if other infections are found, think about using automated malware removal software instead. If you stick with the first option, you should have no issue removing Search.searchgstt.com using the guide below. Besides showing you how to erase extensions and change the homepage, it also explains how to erase cookies, which is a step you cannot skip.
Delete Search.searchgstt.com
Google Chrome
Launch Chrome and tap keys Alt+F.
Select More tools and then click Extensions.
Remove the undesirable extension.
Restart the browser, tap Alt+F, and select Settings.
Under On Startup mark Open a specific page or set of pages.
Click Set pages and overwrite the unwanted URL. Click OK.
Tap Ctrl+Shift+Delete and choose the desired time range.
Mark the boxes indicating which data you want to erase and click Clear browsing data.
Internet Explorer
Go to Control Panel\Programs\Programs and Features and Uninstall unwanted apps.
Launch IE, tap keys Alt+T, and choose Internet options.
Click the General tab and overwrite the unwanted URL in the Home Page area.
Tap Ctrl+Shift+Delete to open the Delete Browsing History menu.
Mark the boxes indicating which data you want to erase and click Delete.
Mozilla Firefox
Launch Firefox, tap Alt+T, and choose Options.
Move to the Extensions menu and Remove the unwanted extension.
Restart the browser and tap Alt+T.
Select Options and move to the General menu.
Overwrite the undesirable URL in the Home Page section.
Tap Ctrl+Shift+Delete and choose the desired time range.
Mark the boxes indicating which data you want to erase and click Clear now.
In non-techie terms:
If your browser has been corrupted by Search.searchgstt.com, you need to act fast. Though this hijacker looks like a normal search engine, at first sight, in reality, it is a redirector, a data collector, and an advertising tool. To showcase ads, this threat can reroute to Yahoo Search – which is done without your permission – so that you would not pay attention to the content you interact with. Whether this hijacker has been introduced to you with the help of a suspicious extension or another piece of software, we advise removing it ASAP. As you can see by looking at the guide above, removing Search.searchgstt.com is very easy. Despite this, we suggest installing anti-malware software because it can automatically erase every malicious component that is active, as well as keep all other threats away in the future.