Do you know what Search.searchgmfs.com is?
Search.searchgmfs.com is a brand new product of Polarity Technologies Ltd. Just like its older products, it has been categorized as a browser hijacker immediately. It has been placed under this category because it often applies changes to users' web browsers without their knowledge. The appearance of Search.searchgmfs.com in the place of a default search tool and homepage is the first sign showing that the browser hijacker has slithered onto your computer too. Yes, this search tool looks like an ordinary search provider at first glance; however, it is far from a fully reliable search engine, so you should not use it as your main tool for performing web searches. If you need evidence that Search.searchgmfs.com is an untrustworthy search provider, you should carefully read the next paragraph of this article. You will find there information that will help you to decide what to do with this search tool. We hope that your final decision will be to get rid of it.
If you have found Search.searchgmfs.com set as your homepage and default search tool, you must have encountered the browser hijacker. Most likely, you have installed it on your computer together with other programs downloaded from the web. We can assure you that this search tool is not what it seems to be. It is not a legitimate search tool, so you should go to remove it the second you find out about its presence on your browsers. It does look quite a useful search tool because it contains quick-access buttons leading to popular websites. Additionally, it allows users to perform web searches and check the local weather forecast. Unfortunately, these features still do not make it a trustworthy search provider because research has clearly shown that it might present users with the modified Yahoo! search results. They will not differ at all from normal search results, but they will open websites with no information you are searching for because these modified search results are shown to users only to drive traffic to certain websites. Theoretically, they might open dubious websites too, so you must be extremely cautious if you use Search.searchgmfs.com to search the web. Unfortunately, it might be impossible to recognize all modified search results, which means that you will sooner or later click on them if they are shown to you.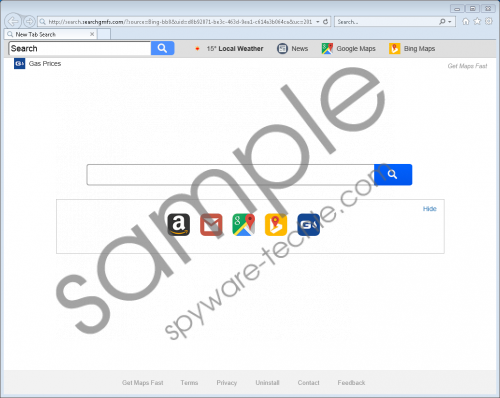 Search.searchgmfs.com screenshot
Scroll down for full removal instructions
There is one more thing we do not like about Search.searchgmfs.com. It has turned out that it collects information about users. It mainly records non-personally identifiable information (e.g. the type of browser used, IP address, ISP, and geographic location) about users, their activities, and their PCs, but if you enter your name, surname, address, or other personal details in its search box and use them as search queries, all these details will be recorded by the search tool together with other search queries you enter. If you do not like how Search.searchgmfs.com acts, you can replace it with a reputable search provider. Continue reading to find more about its removal.
We believe users who say they have not set Search.searchgmfs.com on their browsers willingly because browser hijackers are such threats that illegally enter computers and then immediately apply changes to web browsers installed on affected computers. According to our experienced specialists, it is not very likely that this infection travels alone. The chances are high that it is spread bundled with software promoted on filewon.com, filewin.com, and malavida.es (the list of websites promoting this browser hijacker might be longer). If you have found Search.searchgmfs.com set as your new homepage/search tool, you must have installed a software bundle on your computer too. If you are not going to stop downloading new programs from P2P websites and keep your PC unprotected, you might encounter a new browser hijacker again in the near future.
Remove Search.searchgmfs.com from all affected browsers mercilessly because it is not a tool that could drastically improve your web searching experience. Instead, it is more likely that it will only bring problems to you. Follow the step-by-step manual removal guide provided below to remove it manually. Of course, you can undo the changes applied to your browsers automatically as well by performing a system scan with a powerful antimalware tool.
Remove Search.searchgmfs.com
Internet Explorer
Windows XP
Click Start.
Click Control Panel.
Click Add or Remove Programs.
Select the untrustworthy program and click Remove.
Windows 7/Vista/8/8.1/10
Press Win+R.
Type Control Panel in the box and click OK.
Access Uninstall a program.
Select the program you want to remove.
Click Uninstall.
Mozilla Firefox
Open Mozilla Firefox and press Alt+H.
Click Troubleshooting information.
At the top of the page, click Refresh Firefox.
Google Chrome
Start Google Chrome.
Press Alt+F and click Settings.
Click Advanced.
Click Reset.
In non-techie terms:
Search.searchgmfs.com is not a legitimate search provider. It is usually referred to as a browser hijacker because it usually changes browsers' settings without the users' knowledge. It does look quite trustworthy at first glance, but, in reality, it is far from a reputable search tool, so you should eliminate it the second you discover it set on your web browsers. Its biggest drawback is the so-called modified search results it might show to users.