Do you know what Search.searchglnn.com is?
If you do not know what Search.searchglnn.com is, then this article contains all of the information you need to know about it. In short, it is a browser hijacker, and it is recommended that you remove it because of the fact that it hijacks your browser's search-related settings and imposes its own address so that you would use it for searching online. It is also a fake search engine that is set to subject you to shady promotional links included in its search results.
Search.searchglnn.com is yet another release by the infamous SaferBrowser, a creator of browser hijackers that has been on a roll releasing dozens of new hijackers every week. Not much is known about the company itself because it is somewhere in the gray area in respect to its legitimacy. This same developer is also responsible for releasing Search.searchfcs.com, Search.emailfaster.co, Search.gomaps.co, and dozens of other hijackers. All of them are almost identical regarding function, but are promoted differently and with a tendency to mislead the users into installing the browser extensions that are their integral part.
Search.searchglnn.com also comes with a browser extension, and it is called GetLocalNewsNow in Control Panel (if you install it for Internet Explorer,) Get Local News Now in Chrome, and TV in Firefox. Our researchers have determined the distribution methods of this particular browser extension. They found that it has a dedicated distribution website at http://watchyourtvshowsnow.com that presents this extension as a means of watching TV from your computer. However, this is untrue because all this extension is set to modify your web browser. All of the supposed features enabling you to watch TV from the browser are part of Search.searchglnn.com, and it only features bookmarks to CNN and http://search.searchglnn.com/Widgets/News. As you can see, this is far from enabling you watch TV from your web browser. The other method used to distribute it is illicit. Researchers say that SaferBrowser utilizes adware to promote Get Local News Now and initiate its download automatically when a user click its advertisement. That is how this browser add-on and, by extension, this hijacker can get on your computer.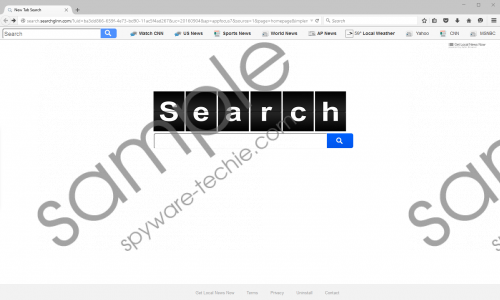 Search.searchglnn.com screenshot
Scroll down for full removal instructions
Once on your computer, this extension will modify its settings and impose Search.searchglnn.com. It will change the homepage for Firefox, Chrome, and Internet Explorer. Furthermore, it will change the new tab page for Chrome and Internet Explorer as well. Now, it performs these undesirable actions for a reason. This hijacker hijacks your browser for a purpose. As mentioned, it is a fake search engine, but it can process search queries because it redirects them to Yahoo.com. However, you get more than Yahoo's search results as the search results are modified to accommodate additional promotional links that are supplied by SaferBrowser. Not only are these links unasked for but unreliable as well. Researchers say that the ads come from unknown sources and feature links to malicious websites that can collect personal information and get your PC infected with malware.
Given the changes that Get Local News Now is set to make to your browser and the degree to which Search.searchglnn.com can put your computer at risk, we recommend that you delete them from your browser as soon as you can. You can use this hijacker to search the web, but it is bound to promote malicious websites at some point, so do not take the risk and get rid of it. Feel free to use the removal guide below. Our researchers say that all you have to do is uninstall an app from Control Panel if you installed in for Internet Explorer or remove the browser extension for Chrome and Firefox However, in some cases, you might have to change the homepage address manually.
Uninstall GetLocalNewsNow
Windows XP
Open the Start menu and go to Control Panel.
Click Add or Remove Programs.
Find GetLocalNewsNow and click the Remove button.
Windows 7/Vista
Click Start and select Control Panel.
Click Uninstall a program.
Find GetLocalNewsNow and Uninstall it.
Windows 10/8.1/8
Press Windows+I keys.
Go to Control Panel.
Find GetLocalNewsNow and Uninstall it.
Remove the browser add-on
Google Chrome
Hold down Alt+F keys.
Open More tools and select Extensions.
Find Get Local News Now.
Click the Remove button.
Mozilla Firefox
Hold down Ctrl+Shift+A keys.
Choose Extensions.
Find TV.
Click Remove.
In non-techie terms:
Search.searchglnn.com is a malicious search engine that our security experts have classified as a browser hijacker precisely because it is set to hijack your browser and modify its settings. Not only that, but it features shady promotional links in its search results, so in some cases the promotions may redirect to malicious websites. Therefore, you should get rid of this hijacker.