Do you know what Search.searchgetlnn.com is?
Search.searchgetlnn.com is a search engine managed by Polarity Ltd, which is also responsible for the promotion of Search.yourmapscenter.com, Search.yourpackagesnow.com, Search.yourinterestscenter.com and some other search engines. All these search providers, including Search.searchgetlnn.com belong to a single family and are very similar in terms of design and default settings. If you here for some information about Search.searchgetlnn.com, the odds are it has been set as the home page of your browsers. Moreover, you probably do not remember setting as the home page or giving your permission to have any changes made. Search.searchgetlnn.com is considered as a browser hijacker because it replaces users' preferences during software installation. It is advisable to remove Search.searchgetlnn.com from the browsers and take preventative measures so that such an incident does not happen again.
Search.searchgetlnn.com, as well as other browser hijacker, spreads alongside freeware programs that are promoted on various questionable websites. In order to prevent malware installation, it is essential to be very attentive to the terms of use and options displayed by every software installer. A single click on a check box may protect you against malware attacks, which might result in serious data loss or system malfunctions. However, sometimes this practice might be insufficient since not all software installers are user-friendly. Keeping a powerful security program on your computer is highly requested in order to prevent adverse consequences. More specifically, if a computer security program detects a malicious program or attempts to modify some settings, it alerts you about the threat straight away. Moreover, it is also advisable to stay away from questionable websites, including filewin.com, malavida.es, filewon.com, and many others. Your interaction with questionable software distributors is your own responsibility, so you should choose software wisely. Before downloading a program, you should make sure that it is reliable and safe to use. It is worth finding some reviews or comments on the product so that you can be sure that you are not getting a cat in the sack.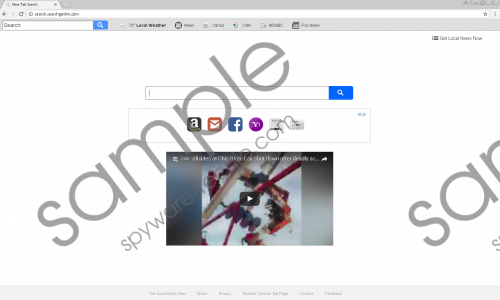 Search.searchgetlnn.com screenshot
Scroll down for full removal instructions
To many inexperienced computer users, Search.searchgetlnn.com might seem a useful tool due to a variety of functions enabled on the startup page. For example, the search engine contains a toolbar with links to a weather forecast website and news websites. One of the links given is CNN, which is a famous news site; however, there is also a questionable news website featuring some deceptive headlines, which, once clicked on, take you to unreliable websites. Additionally, Search.searchgetlnn.com offers you quick access to Amazon, Gmail, and other services, but that does not mean that you can safely use the whole set of services provided by this search engine. Links to reputable website are no guarantee that you will not get affected by ill-aimed third parties.
The very search results are retrieved from Yahoo!, which means that Search.searchgetlnn.com cannot offer you anything authentic. On top of that, you might be provided modified search results to be taken to the third parties associated with Search.searchgetlnn.com. Sponsored links and other forms of advertising are probably with every search engine that is pushed to Internet users, and you should be aware of this type of schemes if you want to prevent unexpected consequences such as computer infections.
Search.searchgetlnn.com should be removed from the computer without hesitation, because it collects information related to your browsing sessions. Search.searchgetlnn.com records your search terms, links preferred, and other non-personally identifiable information. Such data is collected by virtually all search engines, but the reliability of a search provider should be taken into account. Search.searchgetlnn.com has not built up a good reputation and is certainly not going to, so you should remove it from your browser once you find that it as altered your browser settings.
It is possible to remove Search.searchgetlnn.com from your browsers using our removal instructions. If you succeed in eliminating Search.searchgetlnn.com from your Google Chrome and other browsers, you should not leave everything as it is. It is worth running a system scan to make sure that the PC is operating without the interferience of malicious programs.
How to remove Search.searchgetlnn.com
Internet Explorer
Press Win+R and type in regedit. Click OK.
Follow the path HKCU\Software\Microsoft\Internet Explorer\Main.
Find the value Start Page and replace http://search.searchgetlnn.com with your preferred startup page.
Mozilla Firefox
Using the Win+R command, access the %AppData% directory.
Follow the path %AppData%\Mozilla\Firefox\Profiles\[RANDOM FOLDER NAME].
Find the file prefs.js and edit it by replacing the unwanted URL with a new one in the line user_pref.
Google Chrome
Use the Win+R command to access %LocalAppData%.
Follow the path %LocalAppData%\Google\Chrome\User Data\Default and remove or edit the files Preferences, Secure Preferences and Web data by replacing the unwanted URL with a new one.
In non-techie terms:
Search.searchgetlnn.com is a search engine that you should remove from the computer by changing browser settings so that you can surf the Internet as usual. The sooner you restore former settings, the better it is for your online security and privacy, so take action as soon as you can.