Do you know what Search.searchfec.com is?
If Search.searchfec.com comes up as your home page when you open your browser, there are two main explanations for this. One, you have installed a worthless browser extension called Fast Email Checker. Two, you have visited suspicious file-sharing websites lately and you clicked on a third-party ad there. But it is also possible that your computer had already been infected with malware and you clicked on a pop-up ad that was generated by that older infection. But either way, you may get exposed to potentially dangerous web content any time you launch your browsers or go surfing the web. It is not a question anymore whether your computer is infected with malware; the question is how many threats you may be facing. According to our researchers, it is important that you delete Search.searchfec.com from your computer if you want to keep your PC clean and operating. Please continue reading our full report on this malware to learn more about the potential risks and ways to prevent similar attacks from entering your system.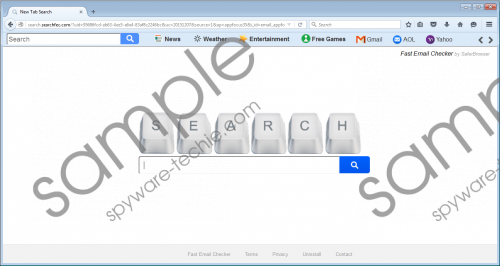 Search.searchfec.com screenshot
Scroll down for full removal instructions
If you are looking for a browser extension to enable you fast e-mail checking, it is unlikely that you will find fastemailchecker.com among the first pages of results since this tool has a name consisting of the most general words possible: "Fast Email Checker." This is one of the reasons we do not think that this website is the main source of this browser hijacker infection. However, it is still worth mentioning that when you click on the download button on this web page or any other page that directly installs extensions, you should always read carefully what the extension can do once you click on the "Add extension" button. You need to be sure you understand the consequences of your action. In this case you give permission to this browser hijacker to do the following:
Read and change all your data on the websites you visit
Read and change your browser history
Manage your downloads
Manage your apps, extensions, and themes
Does this sound like a list of can-dos you would be perfectly happy with? Are you sure you want a totally useless extension to be able to do all that?
Nevertheless, our researchers have found that this browser hijacker is mainly distributed in freeware bundles. Since the kind of infected bundles this tool can be found in are mostly hosted on questionable file-sharing sites, we hope it is clear for you that you need to avoid those if you want to prevent malware infections from landing on your computer. Do not think for a second that it is enough protection that you do not download eventually anything knowingly from those pages. What if you accidentally click on an area on the page where you cannot see any content, yet there is an invisible third-party ad hiding under your mouse cursor? This could easily result in downloading such a malicious bundle. If you do not eliminate all these infections after you remove Search.searchfec.com, you will not be able to feel safe anytime you switch on your PC.
Our research shows that you can either find Search.searchfec.com or home.searchfec.com set as your default search engine. This search page is a modified one that has a toolbar-looking bar at the top of the page. This "toolbar" accommodates a search tool and a number of buttons that are one-click links to the most popular mail servers. But why would you need a browser extension for this, one that is not even reliable? You could simply bookmark your preferred mail providers and make them available with one click from your browser. This proves that this browser extension is totally redundant and useless. As a matter of fact, you can never trust any third-party service Search.searchfec.com offers, not even those quick links because this hijacker may inject its promotional third-party ads and sponsored links into those pages and thus expose you to potentially unreliable websites, not to mention that it can also manipulate the search results. If you do not want to get scammed by cyber criminals or infect your computer with more dangerous malware programs, we advise you to remove Search.searchfec.com ASAP.
In order to get rid of this annoying browser hijacker, we suggest that you uninstall the application via Control Panel first. But this uninstaller leaves leftovers unfortunately; therefore, you need to manually delete the extensions from Google Chrome and Mozilla Firefox. Do not forget about all the other potential threats either. The best solution is to use a professional malware removal tool if you want peace of mind and total protection from similar or even more dangerous attacks.
Search.searchfec.com Removal from Windows
Windows 8, Windows 8.1, and Windows 10
Tap Win+X and choose Programs and Features.
Click on the application and press Uninstall.
Windows Vista and Windows 7
Click on the Windows button on the Taskbar.
Access Control Panel.
Select Uninstall a program.
Click on the application and press Uninstall.
Windows XP
Click Start and open Control Panel.
Click Add or Remove Programs.
Click on the application and press Remove.
Search.searchfec.com Removal from Browsers
Google Chrome
Press Alt+F and open Settings.
Select Extensions on the left.
Pick the unwanted extension and click on the trash can.
Press Remove.
Mozilla Firefox
Press Alt+T and open Add-ons.
Select Extensions on the left.
Pick the unwanted extension and click Remove.
In non-techie terms:
Search.searchfec.com is an unreliable search engine that can appear in your browsers when you install a useless browser extension called Fast Email Checker. This tool has been labeled as a browser hijacker since it can modify browser settings. We advise you to be very careful with any third-party service this tool offers you, including the search tool, because you may be exposed to potentially harmful web content by using them. As a matter of fact, this hijacker may enter your system in a bundle containing several more malware infections, which can also cause harm to your computer. Therefore, we suggest that you remove Search.searchfec.com as well as all the other threats if you want to make your PC secure again. If you are looking for a powerful solution against similar malware attacks, you should install a reliable antimalware program.