Do you know what Search.searchfcs.com is?
Search.searchfcs.com is a browser hijacker that might be spread with a browser extension called Fast Career Search. According to its creators, the add-on is a "time saving product" that can help you easily find a job online. The exaggerated description makes the software sound rather useful, but in reality, it works a little bit differently. It might hijack the browser and replace your homepage, search engine or new tab page with Search.searchfcs.com. This search engine has only basic tools, and the worst part is that it could show you modified results. We cannot explain all the risks that might come with the software in a couple of sentences; thus, we advise users to keep reading the article. Also, if you want to get rid of the application, we can guide you through the process, just scroll below the article and follow the provided instructions.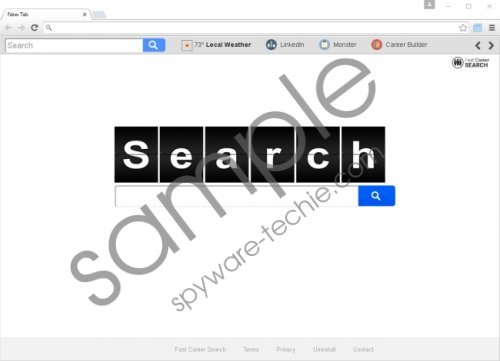 Search.searchfcs.com screenshot
Scroll down for full removal instructions
The extension that allows Search.searchfcs.com to modify the browser preferences is available on fastcareersearch.com. We doubt you found this site on your own as our researchers learned that it could be advertised with malicious pop-ups. Moreover, such pop-ups may appear because of other questionable applications installed on the computer. For example, it could be that you downloaded adware, potentially unwanted programs, or other suspicious software. Mostly, such applications are distributed free of charge on malicious or untrustworthy file-sharing web pages. Thus, the next time you download any installers, make sure they come from a reliable website and most importantly that the program itself is developed by a reputable company.
As we said earlier, the extension is promoted as a tool that should help you find a job online. However, it is difficult to believe that a bookmarks bar with a few links could make any difference. The links can redirect you to LinkedIn, Monster, and Career Builder web pages. Perhaps, they can save a second or two as you do not need to type any addresses yourself, but we doubt the add-on could be described as a "time saving product." Also, if you are looking for a job, you probably already know these sites and can easily reach them without the program.
The main problem is that the add-on travels together with the browser hijacker. Apparently, Search.searchfcs.com could display modified Yahoo search results. It means that it could add third-party ads, sponsored links, coupons, and other annoying content. What's more, as the ads may belong to the third-party, they might redirect you to their original web pages. These websites could advertise similar browser hijackers, adware or other suspicious programs. In the worst case scenario, some of the ads could redirect to sites that distribute malware, e.g. Trojans, viruses, ransomware, and so on.
If you do not want to risk the system's safety, but you also want to keep the provided links, would not it be better to save these links on to the browser's bookmarks bar instead? This way you could delete the browser hijacker with no hesitation. To get rid of Search.searchfcs.com, it is essential to erase the Fast Career Search extension from the affected browser. If you do not know how to do this, there is a removal guide below the text. Afterward, it might be a good idea to scan the system with a trustworthy antimalware tool. As we said, in the beginning, the appearance of the browser hijacker might indicate that there are other questionable applications on the computer. Therefore, it would be wise to check the system and remove other possible threats.
Delete Search.searchfcs.com from Internet Explorer
Windows 8 & Windows 10
Press Win+R, type Control Panel and select OK.
Pick Uninstall a program, mark the application and press Uninstall.
Windows Vista & Windows 7
Go to Start menu, open Control Panel, and press Uninstall a program.
Choose the unwanted program and click Uninstall.
Windows XP
Navigate to Start, launch Control Panel, and pick Add or Remove Programs.
Mark the application and press Uninstall.
Erase Search.searchfcs.com from other browsers
Mozilla Firefox
Press CTRL+SHIFT+A, and pick Extensions.
Select the program and click Remove.
Google Chrome
Press ALT+F, select Settings and click More tools.
Choose Extensions, select the browser hijacker and press the trash bin button.
Select Remove.
In non-techie terms:
Search.searchfcs.com is a browser hijacker that could be promoted in one of the pop-ups shown by adware, or other suspicious programs on the system. Needless to say that if you want to stay away from potentially harmful content, it is essential to delete not only this application but also other possible threats. The browser hijacker could be erased manually with the instructions placed above, but as for unidentified suspicious software, it would be easier to use an antimalware tool. In fact, you can use the same tool to remove the search engine too. You just need to install it, let it scan the computer, and click the deletion button. Once you do this, the antimalware tool will deal with all detected threats.