Do you know what Search.searcheeh.com is?
It is possible that you find Search.searcheeh.com next time you launch your browser and you have no idea how or why it is there. This questionable search engine can appear in your browsers even without your permission. This can happen when a browser hijacker infiltrates your system. Many users do not even notice it or think that it is important to act when such a search page shows up uninvitedly. In all fairness, we must also mention that it is possible that you install this useless browser extension personally and knowingly; however small the chance is. But whatever the case, you must know that there are potential risks having this browser hijacker on your system. According to our researchers, it is important that you remove Search.searcheeh.com from your computer if you do not want to experience more malware issues and online scams related to this infection. For the details, please continue reading.
Our research and user reports show that the most common way to get infected by this browser hijacker is to install it by clicking on unreliable third-party pop-up advertisements. You can be introduced to such ads when you end up on questionable websites that promote a lot of shady third-party content. These pages are most commonly freeware, torrent, gaming, and pornographic sites. It is important to mention that these ads can be disguised and they can show up as buttons (download or next-page) or system notifications. In other words, these questionable third-party ads are all about deception, i.e., to make you click on them. And, this is what usually happens when inexperienced users land on unfamiliar websites that may well be entirely fake, too. It is so easy to believe that one of the three or four download buttons is just as well-functioning as the others; although, in reality, it is quite possible that none of them will result in downloading your targeted file or software. This way you can also download malicious bundles, which simply means that Search.searcheeh.com will only be one of several malware infections that will find a new home on your PC. If this could be your case, we suggest that you run a malware scanner after you delete Search.searcheeh.com.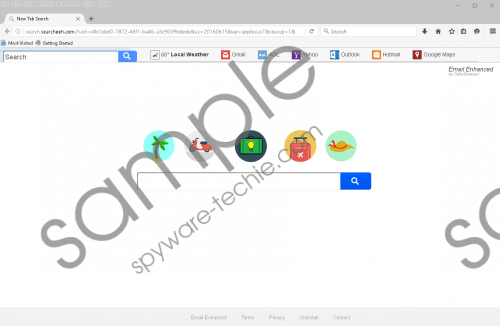 Search.searcheeh.com screenshot
Scroll down for full removal instructions
Identifying all possible infections on your system is vital because another option for you to be presented with such unsafe third-party ads is to have malware (adware programs or browser hijackers) on your computer. This can happen if your PC was previously attacked by such infections. It is also possible, even if not too likely, that you actually install this browser extension yourself through official sources. For this, you need to visit the promotional webpage at emailenhanced.co or the Chrome web store at chrome.google.com/webstore/detail/email-enhanced/ekonkneipdhgcnnboipkiaihdmeaampi. Nevertheless, we believe that you should remove Search.searcheeh.com without a second thought if you want to keep your PC secure.
According to our researchers, this browser hijacker is not a new invention. In fact, it is simply a new clone in the family that includes Search.yourmapscenter.com, Search.youremailnow.com, and Search.yourclassifiedscenter.com. The main goal behind this hijacker is, of course, making money through web traffic redirection. This means that this infection promotes third parties through any content possible. That is why there is a pseudo-toolbar at the top with quick links to mail providers, such as Hotmail and Gmail. It is possible that this tool can inject its advertisements into these pages. Moreover, it has the capability to collect information about you and your browsing activities and potentially alter search results to suit your taste. While some might think it is a good and useful thing, you should think again once you learn that cyber criminals can take advantage of this in order to lure you onto their malicious websites.
Search.searcheeh.com uses the good old redirection method so it does not use its own engine to produce search results for you. Instead, it redirects your queries to a modified Yahoo search results page that may contain potentially unreliable third-party advertisements and links. Since by clicking on such content can result in your landing on dangerous websites, we recommend that you remove Search.searcheeh.com immediately.
Getting rid of this browser hijacker may take a few minutes but it is really not too difficult even for inexperienced computer users. First of all, you need to find and execute the uninstaller in Control Panel. Then, you need to reset Google Chrome and Mozilla Firefox because these browsers seem to be untouched by this uninstaller. We have included the necessary steps below if you need assistance. Since it is possible that there are further infections on your system, we recommend that you use a reliable anti-malware program to protect your computer.
How to remove Search.searcheeh.com from Windows
Windows XP
Click Start and open Control Panel.
Choose Add or Remove Programs.
Select the uninstaller and press Remove.
Windows Vista/Windows 7
Open the Start menu and select Control Panel.
Choose Uninstall a program.
Select the uninstaller and press Uninstall.
Windows 8/Windows 8.1/Windows 10
Press Win+Q and type uninstall a program. Hit Enter.
Select the uninstaller and press Uninstall.
How to reset your browsers
Google Chrome
Press Alt+F and go to Settings.
Scroll down and click Show advanced settings.
Scroll down and click Reset settings.
Press Reset.
Mozilla Firefox
Press Alt+H and go to Troubleshooting Information.
Click Refresh Firefox.
In the confirmation window, click Refresh Firefox.
Press Finish.
In non-techie terms:
Search.searcheeh.com is a potentially risky search engine that may appear in your browsers after a browser hijacker enters your computer. This can happen even without your knowledge or permission. This hijacker poses as a useful tool for you to enable you easy access to your e-mail accounts while browsing the web. Unfortunately, at the same time, it may also expose you to unsafe third-party content and websites. Engaging with such content may cause security-related issues; therefore, we suggest that you remove Search.searcheeh.com from your computer as soon as possible. It is likely that this is not the only malware infection you need to face and act against. If you want full protection from all known threats, we advise you to install reliable malware removal software.