Do you know what Search.searcheasywa.com is?
If you find out that Search.searcheasywa.com has become your homepage, you should know that you are dealing with a browser hijacker. Our researchers say that this infection comes from an infamous family called Polarity. This family has also given us Search.searchtsbn.com and Search.searchidd.com among dozens of other potentially harmful browser hijackers as well as potentially unwanted programs. When such a hijacker shows up on your computer, you should assume that there may be other threats, too. These infections are usually bundled and distributed through suspicious websites. So right now your system could be facing multiple virtual security issues and threats. If you do not want to infect your PC with more threats or end up sharing your banking and personal details with cyber criminals while being scammed, you should not hesitate too much to remove Search.searcheasywa.com from your PC. For the details, please read on so that you learn how you can avoid similar threats in the future.
If you have visited questionable torrent or freeware sites like filewon.com, filewin.com, and malavida.es recently, it is quite possible that this is the reason for your infection. Such file-sharing websites should be avoided at all costs because they do not only promote malicious software bundles instead of single files, but they also host several unsafe third-party banner and pop-up ads as well as malicious scripts running in the background. In other words, either you download files or click anywhere on the page, there is a chance that you drop a bundle of threats on your computer. This bundle containing this browser hijacker may also contain other browser hijackers, adware applications, Trojans, fake alerts, keyloggers, and more. One click on the wrong content, that is all it takes to drop such a package. Of course, you could still save the day if you were cautious enough while installing such a bundle. The installers are usually designed to be deceiving and misleading. So your focus will most likely be drawn to certain elements on the installation screens so that you will not see other elements like notifications of browser setting changes. If there is any chance that this could have happened to you, we recommend that after you delete Search.searcheasywa.com, you also scan your system with a trustworthy malware scanner to find all other harmful programs as well.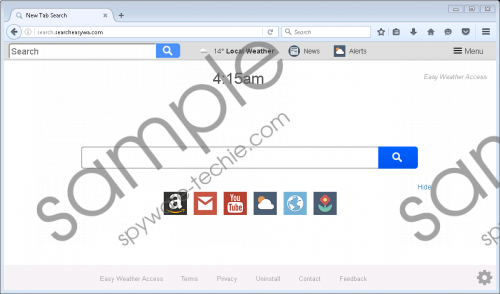 Search.searcheasywa.com screenshot
Scroll down for full removal instructions
Our researchers say that this search page is totally useless and not beneficial to you at all. Just because it provides you with the local time and a few easy access links to websites associated with weather and news, it does not mean it is not redundant and potentially unreliable. Did you know that you can always bookmark any page you would like to return to more frequently? What could be more secure than using your reputable browser's built-in functions? But the biggest issue is not even with these links and thumbnail links on this search page. You cannot trust the search results, that is the real problem. This browser hijacker is used to drive web traffic to affiliated websites and this is how it generates revenue for its creators. However, there is no guarantee that all the third parties advertised by this malware infection are trustworthy. So your clicks can be quite risky if you were to click on unsafe content. Therefore, we suggest that you remove Search.searcheasywa.com from your computer.
It could be enough for you to only change the homepage setting in your browsers to eliminate this browser hijacker. However, we believe that there could be other threats in your browsers so resetting them may serve you better. We have included our instructions below this article if you want to take care of this threat manually. Remember that there could still remain malicious threats on your system even if you reset your browsers. You can also check your installed programs list in Control Panel to uninstall all suspicious applications, but chances are there are still a number of threats hiding on your system. This is why we suggest that you install a reputable malware removal application, such as SpyHunter, which can automatically defend your PC against all known threats.
Remove Search.searcheasywa.com from your browsers
Mozilla Firefox
Tap Alt+H and go to Troubleshooting information.
Press Refresh Firefox.
Click Refresh Firefox in the confirmation window.
Google Chrome
Tap Alt+F and open Settings.
Scroll down and click Advanced.
Scroll down and click Reset.
Press Reset.
Internet Explorer
Tap Alt+T and navigate to Internet Options.
Click on the Advanced tab and click Reset.
Mark Delete personal settings.
Press Reset.
Press Close.
In non-techie terms:
Search.searcheasywa.com is a new scam from the notorious Polarity team disguised as a search page with features. This is a browser hijacker that can change your browser settings to come up as your new homepage. You may not even necessarily realize this change because this page looks very similar to reputable search engine pages. The main difference is that this hijacker has a fake toolbar at the top of the page. This search page offers you easy access to weather-related websites. Please note that you can use the bookmarking function instead if you want to have quick access to any preferred pages. This browser hijacker can sneak onto your system in free software bundles, which also indicates that there could be other threats on your system. We advise you to remove Search.searcheasywa.com as soon as you can unless you want to risk the exposure to questionable third-party ads and links. This may be a good time to install a powerful up-to-date anti-malware program.