Do you know what Search.searcheasyra.com is?
Search.searcheasyra.com is a browser hijacker that is almost identical to Search.watchanysports.com, Search.couponsimplified.com, Search.classifiedseasy.com, and all other hijackers created by Polarity Technologies Ltd. This company creates hijackers, as well as extensions, that are usually meant to introduce you to the hijackers. For example, the threat we are discussing in this report is usually linked to an add-on called "Easy Radio Access." This extension is offered at easyradioaccess.com/Radio?. According to the information on this website, the add-on can provide you with access to many different radio stations that cover every genre. In reality, it was created only to introduce you to the hijacker. Also, it does not offer the services it boasts about. In general, this extension is not useful or reliable, and so we do not advise interacting with it at all. Obviously, if you remove "Easy Radio Access," you will have Search.searcheasyra.com deleted as well. Keep reading for more.
Although you can install the extension representing Search.searcheasyra.com via its official website, more users are introduced to it by third-party distributors. If this hijacker is offered by a malware distributor, you could install it bundled with malware. Do not rush to assume that malware does not exist if you cannot see it because malicious infection can use very clever disguises, or they could install themselves without any of your notice. Even experienced users might have trouble detecting malicious infections; especially because this process is time-consuming, which is why we suggest running a malware scanner. All malicious threats will be uncovered in no time if you use a reliable and up-to-date scanner. Needless to say, if other infections are found, you need to refer to different reports. You cannot rely on the removal guide displayed below to help you clean your operating system from all malicious threats.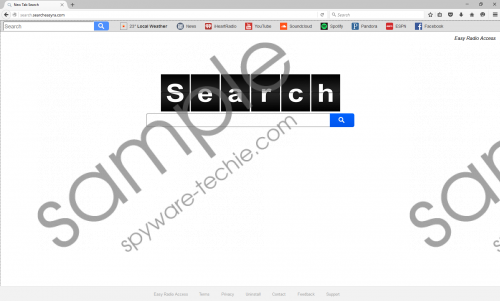 Search.searcheasyra.com screenshot
Scroll down for full removal instructions
Although Search.searcheasyra.com displays legitimate links routing to authentic websites, there are reasons not to trust this hijacker. First of all, it redirects to Yahoo Search at search.yahoo.com. Though you might be familiar with this search provider, you cannot ignore the fact that you are redirected to it without your permission. This is a very big warning signal. Also, the search results could be adjusted to include the offers and links that the creator of Search.searcheasyra.com might have been paid to promote. If that was not enough, your virtual security could fall at risk if you interacted with this hijacker in any way because personally-identifiable information could be recorded. Are you okay with this? You should not be. Hopefully, you realize by now that you should delete the hijacker, and the only question remaining is "how?"
The guides below show how to remove Search.searcheasyra.com-related extension. If an extension is not involved, you need to modify the homepage URL, and we have added instructions showing how to do this as well. All in all, it is most likely that you will get rid of the hijacker by eliminating the undesirable browser add-on. Of course, before you begin with the removal of the hijacker, we encourage you to inspect your Windows operating system to see if other threats are present. If they are, analyze them quickly to see if you can delete them yourself, manually. If you cannot, do not waste your time eliminating some threats manually. Instead, install an anti-malware tool that will automatically erase all threats at the same time.
Delete Search.searcheasyra.com
Google Chrome
Launch the browser and tap keys Alt+F.
Select More tools and click Extensions to open the chrome://extensions/ menu.
Find the undesirable extension and click the recycle bin icon next to it.
Select Remove and then click Settings in the menu on the left.
Go to On Startup and select Open a specific page or set of pages.
Click Set pages and modify the startup page URL. Click OK.
Mozilla Firefox
Launch the browser and tap keys Alt+T.
Select Options and navigate to the Extensions menu.
Click the Remove button on the right of the undesirable extension.
Tap Alt+T again and select Internet options.
Click General on the left and then overwrite the unwanted Home Page URL.
Internet Explorer
Uninstall the undesirable application first (see the instructions below).
Open the browser, tap keys Alt+T, and select Internet options.
Click the General tab and overwrite the Home Page URL. Click OK.
How to uninstall undesirable applications
Windows XP
Click the Start icon on the Taskbar and open Control Panel.
Double-click Add or Remove Programs and then Remove the unwanted app.
Windows Vista/Windows 7/Windows 8/Windows 10
Tap Win+R to launch RUN and then enter control panel into the dialog box.
Move to Uninstall a program and then Uninstall the undesirable application.
In non-techie terms:
Search.searcheasyra.com is an infection that you need to get rid of as soon as possible. This seemingly useful search tool can only redirect you to a different search provider where search results might be modified. Furthermore, it is likely to spy on you and record and leak personal information, which is a great risk. The guide above shows how to remove Easy Radio Access, an extension that usually sets the hijacker, as well as how to modify the homepage URL. If you fail to eliminate the infection yourself, and if other threats are present, we strongly advise installing anti-malware software that can erase all malicious threats from your operating system automatically. If you want to discuss anything further, use the comments section below.