Do you know what Search.searchdp.com is?
According to our cyber security experts, Search.searchdp.com is not just a search engine. They have found that it is distributed in a malicious manner and was classified it as a browser hijacker as a result. You might want to remove this hijacker because of the fact that it can replace your browser's homepage address without your knowledge. Nevertheless, there is more to it than meets the eye. If you use it as a search engine, then you run the risk of jeopardizing your computer's security because its search results can feature links to malicious websites.
Search.searchdp.com is very similar to Search.searchlttrnow.com, Search.searchliveson.com, and Search.yourpackagesnow.com. Coincidentally, all of them were created by a company called Polarity Technologies Ltd. This infamous company is known for creating browser hijackers and their accompanying browser extensions. Allegedly, this company is based in Limassol, Cyprus but whether this is true or not is unknown. All we know is that this company is in the web monetization business and offers its clients advertising solutions that involve its fleet of browser hijackers.
This particular browser hijacker is said to be distributed without a browser extension. Our researchers say that the developers have probably made arrangements to include Search.searchdp.com is third-party software bundles. The bundled installers were most likely configured to inject this hijacker into your browser without your knowledge or authorization. Nevertheless, you can try opting for advanced/custom installation settings and unchecking its respective checkbox if possible. While the websites that can feature those installers are unknown, we suggest you steer clear of shady freeware websites as they are the most likely places where you might come across such installers.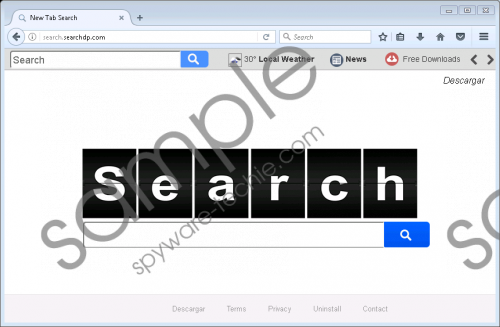 Search.searchdp.com screenshot
Scroll down for full removal instructions
Search.searchdp.com can replace your browser's homepage if you use Google Chrome, Mozilla Firefox or Microsoft Internet Explorer. The developers want to replace your homepage so that you would use this hijacker for searching the web. If you use it for searching the web, then it will redirect all of your searches to a custom Yahoo search engine that can feature modified search results. It is not the same as using the regular Yahoo.com search engine because the customized search engine is linked to Search.searchdp.com. As a result, the search results can feature promoted links, but the problem is that some of them can redirect you to scam websites or sites that feature malicious software downloads. So using this hijacker to search the web is not a good idea.
We also want to point out that Search.searchdp.com will personalize the ads you see in the results to generate more advertising revenue, but it will collect certain anonymous information about you. This hijacker will gather information such as your entered search queries, browsing history, IP address, Internet Service Provider (ISP) name, and so on. Needless, to say this information can also be used to tailor malicious advertisements, so you must not allow this hijacker to obtain this information.
In closing, Polarity technologies have again released another browser hijacker that is nearly identical to most of its previous releases. Search.searchdp.com is its most recent release, and it is distributed in a way that can replace your browser's homepage address secretly and then show potentially malicious links in the search results. Therefore, you might want to remove Search.searchdp.com and to do that you can use the guide provided below.
How to replace the homepage address
Google Chrome
Lunch the browser.
Hold down Alt+F.
Find the On Startup list and select Set pages.
Change the homepage address and click OK.
Mozilla Firefox
Lunch the browser.
Hold down Alt+T and click Options.
Change the homepage address.
Microsoft Internet Explorer
Lunch the browser.
Hold down Alt+T and click Internet Options.
Change the homepage address.
Click OK.
In non-techie terms:
Search.searchdp.com is a malicious search engine that researchers have classified as a browser hijacker because it can replace your browser's homepage without your knowledge. Its search results include promotional links that can be malicious, so if you want to keep your PC safe and secure, then you should remove it.