Do you know what Search.searchdconvertnow.com is?
If Search.searchdconvertnow.com is opened to you when you launch any of your browsers, it must be true that a browser extension Download Converter Now has been installed on the computer. It could have entered your system together with free programs or you downloaded and installed it willingly from its official website downloadconverternow.com. No matter what is the story behind the entrance of this browser extension, it would be best to go to delete it if it has already been set on all web browsers. Specialists suggest doing so not only to help users to get rid of the dubious search tool. It is said so because it has been found that security-related problems might arise if a user decides to keep Search.searchdconvertnow.com set on browsers. This search tool will always be set on your browsers and you will have to use it as a default search tool if you do not do anything to eliminate it. What you can do to get rid of it is to delete the extension from browsers. This is the only way to do that no matter you have willingly downloaded and installed it from its official website or it has somehow entered the computer without your consent.
When the Download Converter Now extension is installed on the computer, it immediately changes all browsers' settings. More specifically, you will find it set on your browsers as homepage, default search engine, and the New Tab page. The appearance of a search tool is not everything. In some cases, a search tool is far from being trustworthy but looks decent. The same can be told about Search.searchdconvertnow.com. It has a search box that returns search results, and it enables users to access such websites as cloudconvert.com/pdf-to-doc, dictionary.com, and cloudconvert.com/doc-to-pdf with the click of a button. Users find these features of Search.searchdconvertnow.com quite beneficial, but, in the opinion of our researchers who have tested this search tool in their lab, users make a mistake by trusting this search engine. The main problem is associated with the search results it shows. Recent research has revealed that the search results page shown by Search.searchdconvertnow.com might contain advertisements. In most cases, they take the form of reputable search results, so it might be impossible to recognize and thus ignore them. These ads are put on the search results page so that many users would click on them and end up on third-party websites they promote. In other words, they are shown to users just to drive the traffic to certain web pages. Unfortunately, there is a risk of landing on a bad website containing malicious software as well. Therefore, specialists say that it would be best to stop using such a search engine.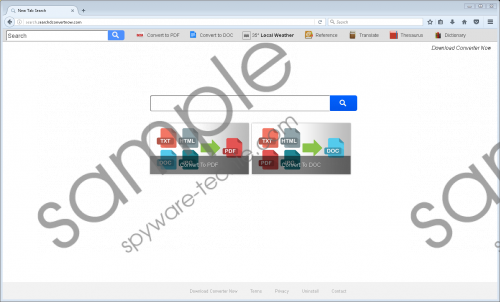 Search.searchdconvertnow.com screenshot
Scroll down for full removal instructions
Even though Search.searchdconvertnow.com looks like a beneficial search provider, our team of security specialists suggests removing it from the system as soon as possible also because they have found that it might record personal information. It gathers these details only if a user enters them into the search box of Search.searchdconvertnow.com; however, this still shows that this search provider cannot be fully trusted. Therefore, users should go to get rid of it as soon as possible. Since there are so many other similar search tools that might appear on browsers, e.g. search.yourpackagesnow.com, search.yourrmapscenter.com, and search.youremailnow.com, you might find a new search tool set without your consent on all your browsers again if you are not careful. In most cases, they travel bundled with freeware, so be extremely careful when installing new software downloaded from the web.
All you need to do to remove Search.searchdconvertnow.com from browsers is to delete the Download Converter Now extension. Internet Explorer users can delete it through Control Panel; however, if you are a user of Mozilla Firefox or Google Chrome, you will have to remove the undesirable extension from these browsers separately. Instructions are provided below this article to help you; however, the manual method is not the only one you can employ. Just like any other program, the extension promoting Search.searchdconvertnow.com can be erased automatically too. This is the quickest undesirable software removal method.
Delete Search.searchdconvertnow.com
Windows XP
Click the Start button.
Click Control Panel and then click Add or Remove Programs.
Select the unwanted program.
Click Remove.
Windows 7/Vista
Open the Start menu and click Control Panel.
Click Uninstall a program.
Select the program you wish to delete.
Click Uninstall.
Windows 8/8.1/10
Press Win+X simultaneously.
Select Control Panel and then click Uninstall a program.
Right-click on the bad program and click Uninstall.
Mozilla Firefox
Open your browser.
Press Ctrl+Shift+A and click Extensions.
Select the extension and remove it.
Google Chrome
Launch Google Chrome.
Open the menu (click the button in the top-right corner).
Click More tools.
Select Extensions.
Select the extension and click the recycle bin icon next to it.
Click Remove.
In non-techie terms:
There are a number of untrustworthy search tools available on the market, but, unfortunately, it is not that easy to say whether the search tool is trustworthy or not. Of course, it is evident that search engines set on browsers without a user's consent usually turn out to be unreliable. To be able to recognize bad search tools easily, install a reputable security application. This tool will not allow questionable search tools to appear on your browsers and let you know if a search tool or software is untrustworthy.