Do you know what Search.searchdcnow.com is?
Search.searchdcnow.com is a browser hijacker that will not allow you to browse the web properly. This program will monitor your online activity, and it will expose you to potentially harmful content. Of course, you may not notice this until it is too late to do anything about it, so it is important to invest in your computer's security by acquiring a licensed antispyware application. Regular system scans will help you protect your system from malevolent exploitation and remove Search.searchdcnow.com for good. Even though it is possible to get rid of the browser hijacker manually, it is always a good idea to acquire a security program.
To be honest, we have dealt with similar applications before. This browser hijacker is very similar to Search.searchmpct.com, Search.searchlypackage.com, Search.searchpackaget.com, and many other intruders that might enter your system when you expect it the least. Therefore, we believe that users have to be informed about all the potential distribution channels that could be used by this program. After all, browser hijackers manage to enter target computers just because users open the door first. It might probably sound odd to you, but such programs often require your intervention if they want to be installed on a target computer.
So how does Search.searchdcnow.com trick users into installing it? That depends on whether users are attentive or not during freeware installation. If you download freeware apps from third-party sources, you have to understand that third-party installers often carry more than just one application inside. For example, if you decide to download some video converter, you have to read all the steps in the installation wizard carefully. Downloading a program from a file-sharing site means that you could download multiple other applications bundled in the same package. And if you go through the installation automatically, skipping all the steps, you might as well miss your chance to deselect the unnecessary programs and features.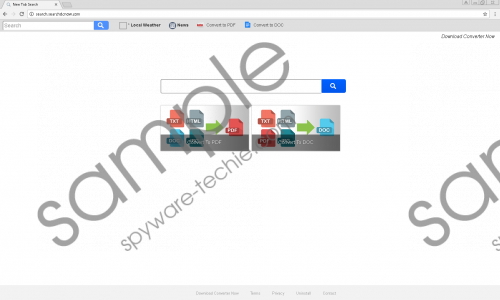 Search.searchdcnow.com screenshot
Scroll down for full removal instructions
Once Search.searchdcnow.com gets installed on your computer, it changes your default homepage and search engine on Chrome, Firefox, and Internet Explorer. In other words, the next time you open your browser, your homepage will be different, and it will look as though you have a new search provider that comes with additional features. In our case, Search.searchdcnow.com also promoted some file converter, offering to "Download Converter Now" on its homepage, although we believe that the promotional material may differ from computer to computer. It also depends on your web browsing habits.
You see, this browser hijacker employs cookies to collect information on what websites you visit, what you look for online, and so on. This information allows the program to figure out what you would like to see on your screen when you browse the web. So it can generate custom advertisements on its main page, hoping that you would click them out of sheer interest. Why does Search.searchdcnow.com need your clicks? This is how the program makes a profit. It cannot steal your financial information or anything of the kind, but it can generate a profit via the pay-per-click system, each time you interact with something it promotes.
Of course, you get nothing in return, and even the pages you get redirected to via Search.searchdcnow.com might prove to be harmful. That is because the browser hijacker does not review the third-party content it embeds in its advertising space. As long as it gets paid for redirecting you to those third-party websites, it does not really care who makes use of its advertising services. As a result, this creates a security loophole that would allow cyber criminals to exploit the hijacker's vulnerabilities for their own purposes.
You cannot afford to risk that, so the sooner you remove Search.searchdcnow.com from your system, the better. When you delete this browser hijacker, you should also get rid of other potentially unwanted programs that could have easily entered your computer with the hijacker. If you do not know which programs have to be uninstalled, scan your PC with the SpyHunter free scanner. A full system scan will help you locate other unwanted applications, and you will be able to terminate them at once.
After manual software removal, please consider acquiring a legitimate antispyware application. You need to do everything you can to protect your system from harm.
How to Remove Search.searchdcnow.com
Internet Explorer
Press Win+R and enter regedit. Click OK.
Go to HKEY_CURRENT_USER\Software\Microsoft\Internet Explorer\Main.
On the right pane, right-click the Start Page.
Select Modify and change your homepage address. Click OK.
Firefox
Press Win+R and enter %AppData%. Click OK.
Go to Mozilla\Firefox\Profiles\[User ID].
Open the prefs.js file with Notepad.
Delete the following string: user_pref("browser.startup.homepage", "http://search.searchdcnow.com");
Save changes before you close the file.
Chrome
Press Win+R and type %LocalAppData%. Click OK.
Navigate to Google\Chrome\User Data\Default.
Delete the Preferences, Secure Preferences, and Web Data files.
In non-techie terms:
Search.searchdcnow.com may seem like a genuine search provider, but this domain is part of a browser hijacker infection, and it means that with this program on your computer, your online activity will always be monitored. Protect your computer and your privacy from malicious exploitation, by removing Search.searchdcnow.com today. If you have questions about this type of software or your computer's security in general, feel free to leave us a comment.