Do you know what Search.searchcpn.com is?
Search.searchcpn.com is a dubious page targeting all popular web browsers. It is a part of iCoupon Clipper application, and it, evidently, pretends to be a legitimate search provider. Do not get fooled by this dubious page because it is far from a trustworthy search tool. Instead, it is usually classified as a browser hijacker by specialists. It has been placed into this category not without reason, of course. A bunch of users cannot explain how and when Search.searchcpn.com has replaced their existing homepages, so it must be true that it changes settings on browsers without a user's consent. If changes have already been applied on your browsers too, it means that you have become a victim of a browser hijacker and now need to go to remove Search.searchcpn.com. Only then you could set a new homepage in its place, so do not wait any longer to remove it.
Search.searchcpn.com is based on the same template as search.yourinterestscenter.com, search.yourmapscenter.com, and search.youremailnow.com. In other words, it does not differ much from other search providers developed by Polarity Technologies Ltd. Researchers have managed to find out that this dubious website, even though it looks like a reliable search tool, cannot be called trustworthy by any means because it might redirect users to unknown third-party websites. This might happen if you click on sponsored links or ads provided by Search.searchcpn.com. Yes, you have understood correctly – this search tool shows the commercial content for users even though it should only display Yahoo! search results. Most probably, it has been developed to generate the revenue for the company that has developed it, meaning that the most important thing is money and not the safety of users. As a consequence, it is not surprising at all that users see these sponsored search results. According to security specialists, some of these search results might redirect to bad third-party websites, so if you wish to surf the web smoothly and safely, you need to go to delete Search.searchcpn.com. If you let it stay, it will expose you to threats and cause a number of problems. And we are talking not only about the entrance of bad software here.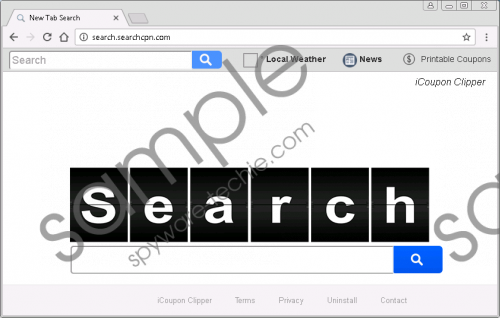 Search.searchcpn.com screenshot
Scroll down for full removal instructions
There is another serious drawback associated with Search.searchcpn.com. This dubious search tool not only sets itself as a homepage on all browsers and then starts generating the commercial content. It has also been found that it records information about users. It is clearly stated in the Privacy Policy document that it records the anonymous information consisting of such details as the type of browser, the type of operating system, geographic location, etc. On top of that, users are told that personally-identifiable information might be recorded as a part of search data too. In other words, personal details entered in the search box of Search.searchcpn.com with the intention of finding the information associated with it on the web will be recorded as well. Unfortunately, this recorded information will be shared with third parties. Nobody knows whether or not these are reputable companies/people, so this collected data might really end up in the hands of bad people too. Put an end to this activity as soon as possible by getting rid of Search.searchcpn.com. This is the only way to make sure that it no longer records important details.
It is very likely that users who see Search.searchcpn.com when they open their web browsers have not set this search tool willingly as their homepages. Unfortunately, it cannot be said either that there is not a tiny piece of their fault here too. According to our specialists, users usually download software bundles and then install them on their PCs before finding Search.searchcpn.com set on their browsers. Of course, they do not know that a new homepage has been set on browsers because they have recently installed software from the web. Keep in mind that suspicious search tools are not the only ones that are spread using this method. Other untrustworthy programs might be distributed using the bundling method too, so it might not be enough to be cautious to protect the PC from harm in the future – specialists highly recommend installing a reputable security application too.
Reset all browsers to their default settings to get rid of Search.searchcpn.com. The manual removal guide which will help you to eliminate it is provided below this article, so you are welcome to use it. If the manual method turns out to be too complicated for you, scan your PC with an automatic scanner. To be frank, it is the easiest undesirable software/search tools removal method that exists.
Remove Search.searchcpn.com
Internet Explorer
Open Internet Explorer.
Click Tools (press Alt before you do that) to open the menu.
Click Internet Options.
Open the Advanced tab and click Reset.
Put a tick in the Delete personal settings box.
Click Reset.
Mozilla Firefox
Launch your browser.
Press Alt+H.
Click Troubleshooting information.
Locate the Refresh Firefox button in the top-right corner.
Click on it.
In the dialog box, click Refresh Firefox one more time.
Google Chrome
Open Google Chrome and press Alt+F.
Select Settings from the drop-down menu.
Click Show advanced settings.
Click on the Reset settings button.
Click Reset.
In non-techie terms:
It is a must to remove Search.searchcpn.com from browsers, but it is also very important to delete all other actively working infections too. It is not very likely that you could find them on the computer yourself manually, so using an automatic scanner is highly recommended. A trustworthy free diagnostic scanner can be downloaded from our website too, so you are welcome to do that if you cannot find a 100% reliable scanner.