Do you know what Search.searchcoun.com is?
If you have experienced a change in your web browser's default settings, it might be an indication that a browser hijacker is active on your computer. Once such invasive application is called Search.searchcoun.com and you should be aware of it as it provides zero valuable features. In fact, this hijacker will only alter your web browsing experience for the worse, to put it mildly. For as long as it is fully active on your computer you will not be able to surf the web way you are used to. Besides such activity, this hijacker is also capable of acting in a quite malicious ways. At times, it could expose your operating system to potentially harmful web content without your knowledge. Keeping this hijacker active on your computer is a risk that you should not take. Only its complete removal will help you regain the default settings of your web browser. Make sure to use comprehensive removal instructions that we present below to terminate Search.searchcoun.com in the simplest way possible. The rest of this report contains further information about the intrusive functionality of this browser hijacker.
During the investigation malware experts at our internal labs have discovered that this hijacker is closely related to other invasive programs of this category such as Search.yourpackagesnow.com Search.yourmapscenter.com Search.youremailnow.com, and quite a few others. So it is not at all surprising that Search.searchcoun.com works in almost the same way as its counterparts. Once it enters your computer, it triggers changes to your web browser. It is imperative to highlight the fact that this invasive piece of software affects all major web browsers such as Google Chrome, Internet Explorer, and Mozilla Firefox, meaning that almost every Internet user is at risk of infecting their PC with it. Changes by it are made to all the mentioned browsers; the hijacker alters your default homepage, search engine, and new tab page without any authorization, whether you like it or not. It goes without saying that such activity is annoying. These modifications will alter your overall online experience for the worse since you will not longer be able to start your web surfing session on your preferred home page as well as your every search query will go through the questionable search engine that this hijacker provides. The same happens with your new tab page as you will be presented with a questionable third-party site every single time you will open a new tab. It is important to terminate Search.searchcoun.com as whole; otherwise, the changes made by it will remain on your web browser, making your web surfing a miserable experience, to say the least.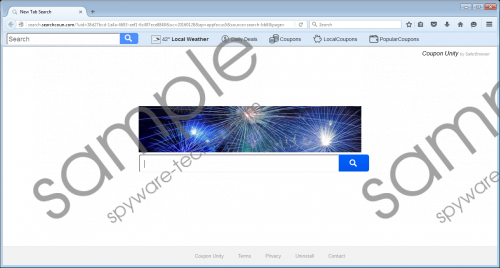 Search.searchcoun.com screenshot
Scroll down for full removal instructions
If that was not enough, it has been found out that in some cases this hijacker could operate in a rather malicious way as well. This is so because the search engine presented by Search.searchcoun.com is a questionable one, to say the least. We highly advise you not to use it since you could come across suspicious results. As the analysis was carried out, our research team noticed that some of the search results presented by this suspicious provider could be modified. This means that some of them might be embed with redirect links. Therefore, by clicking on such a result you risk of exposing your PC to dubious and sometimes even potentially malicious Internet content. All of this could result in you ending up on a site that might be hosting malicious software. Such sites might even be running an arbitrary code execution exploit, which is infamously favored by malware distributors. It is so because entering a website with such an exploit is more than enough to get your PC infected. It should be obvious that Search.searchcoun.com imposes major virtual threats and that running it significantly increases the risk of infecting your Pc with some other unknown malware. Do not take any chances and remove this hijacker as soon as it is discovered running on your computer.
The removal must be executed carefully since just one mistake, or a missed step could mean that Search.searchcoun.com was not terminated entirely. In such a case the hijacker could continue to function in its natural way. In some cases, it could even use some of those leftovers to restore itself silently. This is the reason firmly recommend conducting an in-depth analysis of your entire operating system. By executing such analysis, you will be sure that Search.searchcoun.com has been removed from your PC in its entirety.
How to remove Search.searchcoun.com from your PC
Click the Windows button and type regedit into the search box.
Tap Enter on your keyboard.
Go to HKEY_CURRENT_USER\Software\Microsoft\Internet Explorer\Main.
Double-click the registry value called Start Page.
Replace the unwanted URL in the Value data section.
Now open File Explorer.
Go to C:\Users\[your username]\AppData\Roaming\Mozilla\Firefox\Profiles\[unique Mozilla user ID].
Right-click the file entitled prefs.js, click Open with and select Notepad.
Remove the user_pref("browser.startup.homepage", "http://search.searchcoun.com/") string.
Click File and select Save.
Now go to C:\Users\\[your username]\AppData\Local\Google\Chrome\User Data\Default.
Select and remove files entitled Preferences, Secure Preference and Web Data.
In non-techie terms:
Some users might find manual removal of Search.searchcoun.com too complicated as it involves manual registry editing along with editing files. This is the reason malware researchers at Spyware-Techie.com have created an alternative removal guide. By following the instructions that we present below you will have no trouble removing this hijacker since you will be able to do so in an automatic manner.