Do you know what Search.searchcads.com is?
Search.searchcads.com is not your typical search engine; it is much more than that and not in a good way. Our security analysts have analyzed this seemingly ordinary search engine and classified it as a browser hijacker. Thus, they advise everyone who has set it as their web browser homepages to remove it. We regard it as undesirable because its search results are prone to contain links to promoted websites and, according to our researchers, the links can redirect to some questionable websites that can cause you a lot of trouble. For more information on this browser hijacker, please read this whole article.
Our malware researchers were quick to discover that browser hijacker comes with dedicated browser extensions that are compatible with Google Chrome, Mozilla Firefox, and Microsoft Internet Explorer. Therefore, it affects these browsers in a slightly different way. Testing has shown that their respective browser extension would modify different settings such as in the cases of Firefox and Chrome where Firefox's extension replaces the homepage and search provider while Chrome's extension replaced the new tab page instead of the homepage but modified the search provider settings as well. Internet Explorer, however, was modified in the exact same way as Firefox. Irrespective of these minor differences, the modifications made give Search.searchcads.com a search monopoly on your system. Therefore, everything you get as a result of entering the search queries in this hijacker's search box is suspect to be unreliable.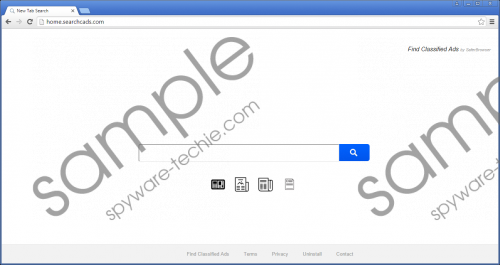 Search.searchcads.com screenshot
Scroll down for full removal instructions
We would like to point out that this hijacker is part of a larger web monetization campaign that involves many more similar browser hijackers that, for example, include Search.youremailcenter.com, Search.searchtmp.com, and Search.searchlcl.com. All of them including Search.searchcads.com belong to the same family of browser hijackers signed with labels such as "by SaferBrowser" and "powered by SaferBrowser." SaferBrowser is a label that is used to distinguish the hijackers of this particular family from other similar browser hijackers. Like so many others Search.searchcads.com and its counterparts use Yahoo.com to process the search queries and present relevant search results. However, there is a small problem. Our researchers think that in addition to promoted links that are injected by Yahoo, SaferBrowser might inject its promotions as well. This is potentially dangerous because we do not know anything about this entity or its advertising partners.
In addition to subjecting you to questionable promotional content, this browser hijacker is set to collect information about you and your browsing habits. Our malware researchers were not surprised to discover that it collects information because its clones do that as well. For example, this browser hijacker will automatically collect information such as your IP address, Internet Service Provider information, your geographical location, browsing and search history, and so on. Personally, identifiable information may also be collected provided that you contact the shady developers via email support@findclassifiedads.co. The most obvious solution for preventing information gathering is to avoid installing it.
However, before we move on to the removal methods, we want to point your attention to how this browser hijacker is disseminated. Our malware researchers have found that this hijacker is being bundled with adware-type software that includes InteliTerm, TermTrident, and SwiftSearch. The installers they come with are set to inject this hijacker without you're your permission, and that is the main reason we have classified Search.searchcads.com as a browser hijacker. Also, researchers have found that it has a dedicated distribution website at Findclassifiedads.co. However, before installing the browser extension, the setup asks you whether you want to replace your browser's homepage or new tab page with the featured shady search engine.
We hope that the information we have put forward in this article has proven useful and now you are ready to delete this undesirable search engine. Please consult the removal guide presented at the bottom. However, we advise that you scan your computer for malware because it comes bundled with adware and is bound to promote the installers of similar software.
Removal Instructions
Windows 10 and 8.1/8
Right-click on the Start menu.
Click Control Panel and go to Uninstall a program.
Find the hijacker and double-click on it.
Click Uninstall.
Windows 8 and 8.1
Simultaneously press Windows+R keys.
Enter Control Panel and click OK.
Click Uninstall a program.
Find the application, right-click and left-click to Uninstall.
Windows 7/Vista
Open Start menu and click Control Panel.
Select Uninstall a program.
Find and Uninstall the software.
Windows XP
Open the Start menu and go to Control Panel.
Click Add or Remove Programs.
Find the unwanted program and click the Remove button.
Get rid of the browser extension
Mozilla Firefox
Simultaneously press Ctrl+Shift+A.
Select Extensions.
Find the extension and click Remove.
Google Chrome
Simultaneously press Alt+F.
Select More tools and click Extensions.
Find the application and click Remove.
In non-techie terms:
Search.searchcads.com is yet another browser hijacker that pretends to be a search engine. It is disseminated via software bundles that install it without your authorization and then it automatically replaces your browser's homepage, new tab page and search provider. Its search results may contain unreliable promotional links and its information collection tactics are unwelcome as well. Therefore, we urge you to remove this infection.