Do you know what Search.searchbuscar.com is?
Search.searchbuscar.com has been confirmed to be a browser hijacker even though its appearance might suggest that it is an ordinary search provider. Our team of experienced specialists does not call this dubious search tool a browser hijacker without proof. It has been given this name because it modifies homepages on Internet Explorer, Google Chrome, and Mozilla Firefox, which suggests that it targets thousands of users using the most popular web browsers that exist. Because of that, it might become a prevalent computer infection in the near future. Do not panic if changes have been applied on your all web browsers too because it is possible to delete Search.searchbuscar.com from them. The detailed information about the deletion of this dubious search engine will be provided in the last paragraph after telling you more about Search.searchbuscar.com and how it is going to act if you let it stay.
Search.searchbuscar.com, which is a product of Polarity Technologies Ltd, contains buttons opening third-party websites, e.g. filebistro.com, news.mynewswire.co, online-convert.com, and other popular pages. Also, it has a search box in the middle of the start page. As a consequence, users believe that it works like an ordinary search provider. Specialists do not agree with that by any means, and they encourage users to take a closer look at Search.searchbuscar.com and the search results page it opens. An experienced user will immediately notice that a modified version of the Yahoo! search provider is used. Yahoo! has nothing to do with Search.searchbuscar.com, but this browser hijacker simply uses it. Specialists say that the developer of this search tool has, most probably, adapted this search tool to its needs because this search tool is full of advertisements. It does not display only the commercial content, but you will definitely discover ads next to ordinary Yahoo! search results sooner or later if you use it as your default search provider. Search.searchbuscar.com needs that you click on these ads badly. It is because the pay-per-click system is used so that the developer could get money. It is not advisable to do that because it might be really dangerous to click on third-party links. Our security specialists say that this might even result in security-related problems because there is no information about these third-party websites and users might be taken to third-party pages which are only used to distribute malicious software. You risk causing serious problems to your system with the every click on sponsored search results. Ignoring these search results is not an effective solution to the problem either because it is not a piece of cake to point out which of the search results displayed will redirect to untrustworthy pages and which will not, so it would be best to fully remove Search.searchbuscar.com from browsers to make sure that untrustworthy search results are no longer shown to you and problems cannot arise.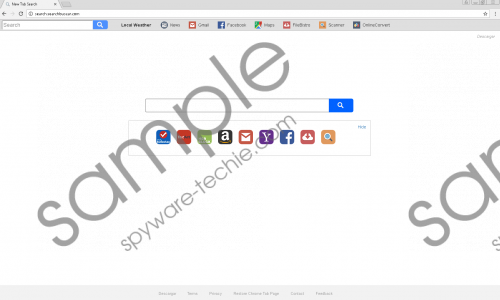 Search.searchbuscar.com screenshot
Scroll down for full removal instructions
Another disturbing finding associated with Search.searchbuscar.com has been made too. There is no doubt that this website monitors the users' online activity. Other search tools might do that too to find out more about users' interests; however, reputable pages never record personally-identifiable information without permission. Yes, Search.searchbuscar.com gathers personal details too. Luckily, only those details entered in its search box by a user will be recorded. It is not a good idea to let it record information about you because it shares collected details with third parties. We do not know anything about them, so bad people/disreputable companies might be among them as well. We really do not want your personal information to end up in their hands.
Users need to go to delete Search.searchbuscar.com from all their web browsers to fully erase this browser hijacker. Please follow the step-by-step removal guide if you are going to erase malware for the first time. Alternatively, you can go to scan your computer with an automatic malware remover. In the opinion of our specialist, SpyHunter is the best choice.
Delete Search.searchbuscar.com manually
Google Chrome
Launch Run (press Win+R).
Type explorer.exe in the box.
Press Enter.
Go to %LocalAppData%\Google\Chrome\User Data\Default.
Find three files and delete them all:
Preferences
Web Data
Secure Preferences
Mozilla Firefox
Launch Run (Win+R), type explorer.exe, and then click OK.
Open %AppData%\Mozilla\Firefox\Profiles.
Check all the folders you find there.
Locate the prefs.js file.
Right-click on it, select Open with, and click Notepad.
Find the line user_pref("browser.startup.homepage", "http://Search.searchbuscar.com); inside this file and delete it.
Save the changes.
Internet Explorer
Launch Run (Win+R).
Enter regedit and click OK.
Move to the registry key HKCU\Software\Microsoft\Internet Explorer\Main.
Find the Start Page value there, right-click on it, and select Modify.
Delete data you find in the Value data field.
Click OK.
In non-techie terms:
There are so many users who cannot understand why settings of their web browsers have been altered against their will and they see Search.searchbuscar.com. The answer is simple – a browser hijacker has found a way to their computers. These threats are usually promoted on untrustworthy file-sharing pages. Most probably, it has been installed on the computer together with other applications, which are not necessarily trustworthy. As a consequence, performing the in-depth system scan with a reputable malware remover is highly recommended if you have got rid of Search.searchbuscar.com manually.