Do you know what Search.searchbtorr.com is?
It is quite possible that when Search.searchbtorr.com appears in your browser when you open it, you will not even notice that there is a new home page that you would not even necessarily recall installing. This potentially harmful search engine page may enter you computer along with other malware infections. This could mean multiple system security threats for you. Due to its capability to modify your browser settings our researchers have categorized it as a browser hijacker. This infection can show you potentially unreliable search results that can pose a threat to your virtual security. If you keep this infection on board, with time it can start misleading your with customized content, which increases the possibility of your clicking on malicious content and you might end up scammed online. We advise you to remove Search.searchbtorr.com from your browsers because this is the only way for you to avoid further malicious threats that may come from this source. Of course, this does not mean that by removing this hijacker your PC will turn entirely secure. Let us tell you more about this infection so that you may be able to avoid the next attack.
If you infected your computer with this threat, unfortunately, it is quite possible that this is not the first time you have done so. In other words, it is likely that there are other malware infections or potentially unwanted programs on your system that entered your system in a previous attack, i.e., you let them in yourself most probably. This can easily happen when you are not a cautious web surfer and tend to click on third-party ads but you can also infect your machine if you download free software from suspicious places like torrent and freeware pages. If you want to stay safe in your virtual world, you need to stick with official and reputable websites for downloading updates and software.
There are a couple of security issues when it comes to downloading free files from shady file-sharing pages. First, your chosen software may not even be a working copy. Second, most likely you will download your program in a software bundle that may pack potentially unwanted programs as well as malicious software installers (adware programs, browser hijackers, Trojans, etc). This can also happen when you click on questionable third-party ads and other contents that may be disguised (fake buttons and fake notifications). So basically, in order to avoid being infected with bundles, you should stay away from suspicious websites, annoying third-party ads, and you also need to make sure that your system has not yet been infected with malware. For example, it is enough that one single adware program is hiding on your computer because this infection may flood your screen with potentially unsafe third-party ads every time you go online. Remember that it is advisable to run a reliable malware scanner after you delete Search.searchbtorr.com so that you can see more clearly about your level of virtual security.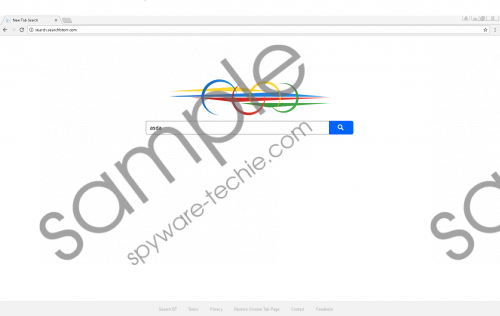 Search.searchbtorr.com screenshot
Scroll down for full removal instructions
This is indeed a very innocent looking search engine without any extra features and fake toolbar. Actually, this browser hijacker looks very much like Google. However, your searches will be redirected to a modified Yahoo search results page. Redirection itself would not be a big problem; the real issue here is that this hijacker may modify the results by injecting its own affiliates' advertisements and links leading to their websites. This is the only way that this search engine can generate revenue for its creators. So you can be sure there will be promoted content to drive web traffic to promoted third-party websites.
Even this would not be a problem if you could be 100% sure that all the affiliates are trustworthy. But since the creators of this hijacker cannot take any responsibility for that, chances are you may click on ads and links that are promoted by cyber criminals. This is how you can drop infections without even realizing or open malicious and fake websites on new tabs and become the next victim of an online scam. The latter is more likely to hit you harder since your money could be stolen from your bank account if you happen to share your details with crooks unknowingly. Hopefully, you understand now fully why we recommend that you remove Search.searchbtorr.com from your PC.
Our researchers say that this browser hijacker only hijacks your home pages in your major browsers, which simply means that it is enough to modify your home page settings to eliminate this threat. We have prepared a guide for you that you can find below this article. Please keep in mind that even if you remove Search.searchbtorr.com, it does not necessarily mean that your PC will be entirely secure for you to use. If you do not want to manually detect all other potentially harmful programs, we suggest that you use a trustworthy anti-malware program, such as SpyHunter to do that automatically for you. This security software can also protect your computer from future malicious attacks.
How to remove Search.searchbtorr.com from your browsers
Internet Explorer
Tap Alt+T and choose Internet options.
Click on the General tab and click Use default.
Press OK.
Mozilla Firefox
Tap Alt+T and go to Options.
Stay in the General panel.
Click Restore to Default.
Google Chrome
Tap Alt+F and select Settings.
In the On Startup section, click Open a specific page or set of pages.
Click Set pages.
Add a new URL address as your home page.
Delete the undesirable URL from the list.
Press OK.
In non-techie terms:
Search.searchbtorr.com is a search website that can appear in your browsers as your new home page after a browser hijacker manages to crawl onto your system. Although, at first sight, you may believe that this is a reliable search engine since it may remind you of Google, you should not trust any results displayed by it. Unfortunately, this hijacker may present to you potentially unsafe content, including ads and links. Engaging with these could lead to further infections and being scammed by cyber crooks. If you do not wish to get first-hand experience of these, we suggest that you remove Search.searchbtorr.com from your computer. In order to protect your PC more effectively, we recommend that you employ a professional anti-malware program.