Do you know what Search.searchbind.net is?
Search.searchbind.net is a new search provider our specialists have come across recently. It was not active at the time of research, but it is only a question of time when its authors start actively promoting it. Unfortunately, we cannot confirm that it will be a fully legitimate search provider, so if you ever discover it set as your new search tool on your browsers (it should be compatible only with the most popular browsers, i.e., Internet Explorer, Mozilla Firefox, and Google Chrome), you should replace it with another reputable search tool, e.g., Google or Yahoo right away, especially if you have found those changes applied to your web browsers without your knowledge. Not all the users see Search.searchbind.net set on their browsers as a default search tool, specialists say. According to them, it might also come as a redirect. That is, your all searches might be redirected to it from another domain. In such a case, you will no longer see it only when you erase that domain set on your browsers. We do not think that all the search results Search.searchbind.net will open for you will be fully reliable, so you should get rid of it mercilessly.
Our malware researchers do not think that Search.searchbind.net is one of those fully reliable search providers. According to them, the chances are high that it will show some untrustworthy search results. In other words, users might be presented with the so-called modified search results, specialists say. In the worst-case scenario, they will take them straight to pages administered by cyber criminals. They might contain a ton of harmful malicious applications, and users might allow them to enter their PCs by simply browsing such websites. What is more, we also cannot promise that this search tool will not collect certain details about your activities, e.g., search results you click and search queries you enter in the search box. Yes, these are not personal details, but they might still tell something about you to third parties, so, in our opinion, you should eliminate a suspicious search tool from your browsers as soon as possible. If it has been set as your default search tool, simply go to set a new URL in its place. If your searches are redirected to it from another domain, you should remove it right away as well because it is definitely not a reputable search engine if it redirects users' searches to Search.searchbind.net.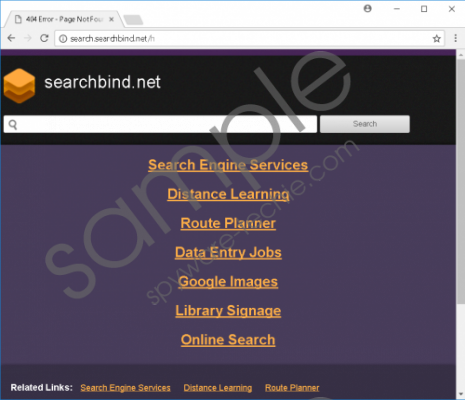 Search.searchbind.net screenshot
Scroll down for full removal instructions
As you already know, Search.searchbind.net might come as a redirect; however, if you see it open for you each time you open your web browser, it means that your browsers' settings have been altered. Speaking specifically, Search.searchbind.net has been set as your start page. Most likely, it has changed your default search provider as well. You could have agreed with the changes yourself without even realizing that. This usually happens when users download software from dubious pages and install it on their PCs together with undesirable software distributed together with it. We are sure Search.searchbind.net is not the only search provider you will encounter if you do nothing to ensure your system's maximum protection today. The easiest way to prevent untrustworthy software from entering the system and protect web browsers from unauthorized changes these programs can apply is to install a powerful security tool. You should do this as soon as possible if now your PC is unprotected because it is only a matter of time when security-related problems arise if you do nothing.
You should go to reset those affected browsers to default settings if you see Search.searchbind.net when you open them or your all searches are automatically redirected to this search tool. If you need guidance, follow our manual removal instructions – you will find all the removal steps listed below this article.
How to delete Search.searchbind.net
Internet Explorer
Open Internet Explorer.
Press Alt+T.
Select Internet Options.
Click Advanced.
Click Reset.
Put the check mark in the Delete personal settings box.
Click Reset.
Mozilla Firefox
Start Mozilla Firefox.
Press Alt+H on your keyboard and click Troubleshooting information in the Help menu.
At the top, click Refresh Firefox.
Click the Refresh Firefox button again when the confirmation box is opened.
Google Chrome
Launch Google Chrome and go to its main menu (press Alt+F).
Click Settings.
Go to the bottom and then click Advanced.
At the bottom, click Reset.
If you are asked to confirm the reset, click Reset.
In non-techie terms:
Search.searchbind.net is, without a doubt, not one of those search tools that can be trusted, so if you ever notice it set on your browsers, or your all searches start being redirected to this search tool automatically out of the blue, go to eliminate it as soon as possible. It should be enough to reset browsers to default settings (the step-by-step manual removal guide above will help you to make it gone).