Do you know what Search.renewitnow.co is?
If Search.renewitnow.co is opened for you when you launch any of your browsers, this indicates that you have downloaded the Renew It Now extension from its official website renewitnow.co or it has slithered onto your computer illegally. Those users who download it from its official website can notice that they agree by clicking on the Download button "to set your home, new tab page and your default search" to Search.renewitnow.co; however, others are not even informed about that and, consequently, find those changes applied to their browsers undesirable. According to our experienced specialists, users must eliminate this Polarity Technologies, Ltd product no matter what is the story behind its appearance on browsers because it is not a reputable search tool – it is not safe to use it to perform web searches. In fact, we do not know a single reliable search tool that can appear on users' browsers without permission, so if, after getting rid of Search.renewitnow.co, you will ever find a new search tool set without your knowledge, remove it without any hesitation.
Renew It Now, an extension promoting Search.renewitnow.co, promises to help users find free printable forms on the web easier; however, users only find a new search tool set on their browsers after installing it. It has a button located on the bar at the top that opens a third-party page with online forms, but it is the only useful feature it has. Yes, this page it sets contains the search box in the middle and other quick-access buttons too, but this, without a doubt, does not make it a useful search tool. Also, our experienced researchers have revealed that it might present users with hundreds of sponsored search results if they use it to search for the information on the web. They remind of ordinary search results the way they look, but, unlike decent search results, they redirect to third-party pages which are in no way associated with the entered search query. In other words, their main purpose is to promote those websites by driving traffic to them. Unfortunately, users might be taken to corrupted pages too, so clicking on those links is a very bad idea. Sadly, it is basically impossible to avoid them – you will no longer see them only if you disable Search.renewitnow.co. Do this today because this search tool might also cause issues associated with the online privacy, recent research carried out by our experienced specialists has shown.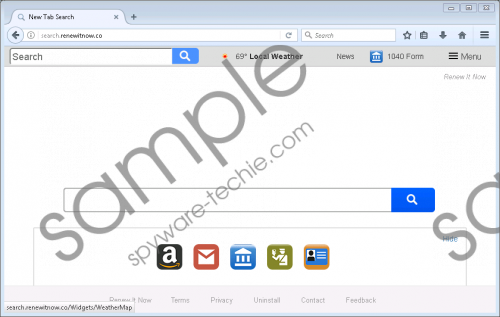 Search.renewitnow.co screenshot
Scroll down for full removal instructions
It has been found that this search tool records non-personally identifiable information which consists of the following details: the type of browser, operating system type, IP address, Internet service provider (ISP), URLs and websites users visit, search queries, and a bunch of other details. This information cannot identify users personally, so we do not find the fact that Search.renewitnow.co records it very disturbing. Unfortunately, it is not the only type of information that will be recorded if you use Search.renewitnow.co – its Privacy Policy document informs users that personally-identifiable information from search queries will be collected too. Although Search.renewitnow.co promises not to share this information with anyone, it might be disclosed to third parties and, consequently, this might have devastating outcomes.
Some users find Search.renewitnow.co set on their browsers because they download the extension promoting this search tool from its official website; however, there are still more users who discover it set on their browsers without their permission. As our researchers have managed to find out, it tends to travel together with software promoted on such websites as filewon.com, malavida.es, and filewin.com. Therefore, it could have sneaked onto your computer in a software bundle too. Do not let any other undesirable software to change your web browsers' settings again – install security software on your computer.
A search tool is not necessarily trustworthy if it looks good. The same can be said about Search.renewitnow.co – its usage might result in serious problems despite its legitimate-looking interface. Therefore, specialists recommend erasing it as soon as possible. Below-provided instructions will help you. If not, use an automatic scanner to eliminate it.
Remove Search.renewitnow.co
Mozilla Firefox
Open Mozilla Firefox and tap Alt+H.
Select Troubleshooting information from the drop-down menu and find Refresh Firefox at the top.
Click on this button.
In the pop-up window, click Refresh Firefox again.
Google Chrome
Open Google Chrome.
Tap Alt+F to open its menu.
Click Settings.
Scroll to the very bottom.
Click Show advanced settings.
Locate the Reset settings button and click on it.
Click Reset.
Internet Explorer
Open your browser.
Open the Tools (press Alt+T) menu and click Internet Options.
Click on the Advanced tab and select Reset.
Mark the box located next to Delete personal settings.
Click Reset.
In non-techie terms:
Browser hijackers can enter systems packed with third-party applications, as was mentioned in this article, so, theoretically, other dubious programs could have been installed on your computer next to an undesirable search tool without your permission. Luckily, you can find out whether or not it is true – perform a system scan with an automatic scanner. If it finds active bad software, it must be deleted as soon as possible too. The same automatic tool could eliminate those untrustworthy applications for you if you use its full version.