Do you know what Search.protectedio.com is?
Search.protectedio.com is one of those search engines that act like browser hijackers. This search provider is classified as a browser hijacker because it can replace homepage without a user's permission. According to our security experts, it is very likely that this search engine will affect Internet Explorer only, so if you use this browser and Search.protectedio.com browser hijacker manages to enter your system, there is no doubt that you will notice that. If you want to remove Search.protectedio.com, you should read through this article. We will not only explain you why is it necessary to delete this search engine, but will also help you to remove it.
We do not recommend keeping Search.protectedio.com and searching for the information via it because this search engine is untrustworthy and might even cause harm to your PC. Research has shown that you might encounter malware if you do not remove Search.protectedio.com because this search provider might provide you with sponsored search results. Various third-party links might take you to corrupted websites, which means that you might encounter malicious software very quickly. We do not think that you want to cause harm to your PC, so we suggest that you remove Search.protectedio.com as quickly as possible. Never keep suspicious search engines because it is unclear whether they are really capable of helping you to find the necessary information on the web.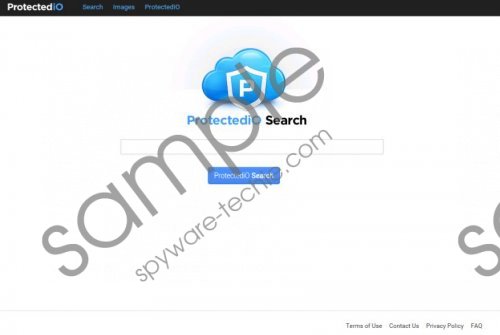 Search.protectedio.com screenshot
Scroll down for full removal instructions
If you want to protect your browsers from unauthorized changes, you should always keep your antimalware tool enabled. In addition, you should download and install only trustworthy programs on the system. In case you detect suspicious software on your computer, you should remove it without further consideration because serious malware might slither onto your computer with a help of other untrustworthy programs. We want to help you to protect your system from malware, so we recommend installing an antimalware tool, such as SpyHunter, on the system. Keep the tool enabled if you do not want to encounter serious computer threats.
You can remove Search.protectedio.com from your browser manually or automatically. The manual removal should not seem difficult for experienced computer users; however, we have still prepared the instructions that will help you to remove Search.protectedio.com. If you want to delete this search engine more easily, you should know that you can do that automatically. You simply have to scan the system with a trustworthy antimalware tool.
Remove Search.protectedio.com
Internet Explorer
Launch your browser.
Tap Alt+T and select Internet Options.
Click on the General tab.
Change the URL of your homepage and click OK.
In non-techie terms:
You should be aware of the fact that browser hijackers tend to travel together with other programs, for instance, adware, potentially unwanted applications, and others, so it is very important that you check your system's condition and then detect and remove unreliable programs. It might be rather difficult to delete them all one by one, so we definitely recommend that you scan your PC with a trustworthy antimalware tool after the manual removal of this browser hijacker. A trustworthy tool will remove all the existing infections for you.