Do you know what Search.powersearch.online is?
Search.powersearch.online is a strange one. Although our research team identifies it as a browser hijacker, this search engine is pretty much in the grey zone, and whether or not you delete is completely up to you. The thing is that this engine acts as a sub-domain to the popular, widely-used eanswers.com engine. It is considered to be legitimate, but the fact that it uses questionable tactics to promote its services cannot be ignored either. Our research team has thoroughly inspected this suspicious sub-domain, and the findings are represented in this report. If you believe you know everything you need, and you have already decided to remove Search.powersearch.online, check out the instructions that are available below. If you have questions, and you need more information before you can make the decision on whether or not you want to get rid of it too, continue reading.
The suspicious Search.powersearch.online is identical to search.searchtheweb.today, and, most likely, several other engines that are identical to eanswers.com. Although the latter engine is used by many, that does not mean that you should not pose any questions regarding its activity. Our research team informs that the creators of the engine and its sub-domains are likely to be using potentially unwanted programs (PUPs) to expose users to what we identify as hijackers. Some of the PUPs that have been found to promote Search.powersearch.online lookalikes include videoCenter Search, FilmsApp Search, and OnlineMusic Search. Reports discussing the removal of these programs have been posted on this website already, and you can check them if you want to learn more. Needless to say, it is quite strange that eAnswers are using such a questionable tactic to gain "customers," and that is one of the main reasons you should consider deleting the sub-domains.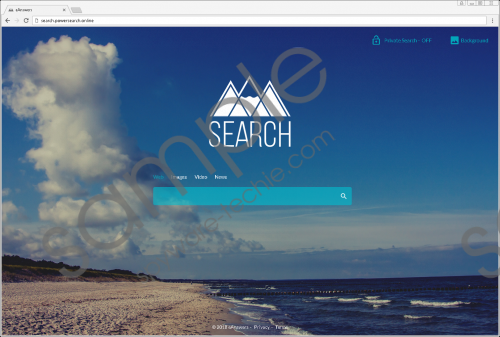 Search.powersearch.online screenshot
Scroll down for full removal instructions
The interface of Search.powersearch.online looks very professional, and that is because its creators did not need to invest any time in creating it. It looks exactly the same as that of eanswers.com. An image of a beach is represented in the background by default, but you have an option to change it using the "Background" feature. Right next to it, you can find the "Private Search" feature, and you can turn it ON/OFF to, allegedly, make your searches incognito. At the bottom of the home page, you can find links to pages that represent Privacy Policy and Terms of Use statements, which you should always check. In the center, Search.powersearch.online displays a search field, and if you enter keywords into it, you are routed to Yahoo Search. The results can be adjusted by the hijacker, which means that additional links could be injected, and these could promote questionable sites and advertisements. If you do not want to be exposed to that, removing this search tool is the way to go.
What will you do? Will you delete Search.powersearch.online, or will you stick with it? This decision is yours to make, but our research team recommends thinking about the fact that PUPs could be used to distribute it. Also, remember that it works exactly like eanswers.com, and that it redirects to Yahoo Search where modified results can be shown. These are the reasons our research team advises removing Search.powersearch.online. Since a potentially unwanted program is likely to be involved, scanning the system to check things out is recommended. Needless to say, you should remove everything that a reliable malware scanner identifies as a threat. If you want to erase the suspicious search tool manually, use the guide below. If you need help – especially if other threats exist – employ a legitimate anti-malware program.
Remove Search.powersearch.online
Mozilla Firefox
Launch the browser, tap Alt+T, and choose Add-ons.
Move to the Extensions menu.
Look for extensions associated with the hijacker and Remove them.
Tap Alt+H and select Troubleshooting information.
Click Refresh Firefox and reset your web browser.
Internet Explorer
Open the Control Panel menu (Windows XP/7/Vista/8 users can find it in the Start menu and Windows 10 users can find it using the search filed on the Taskbar).
Navigate to the Uninstall a program menu.
Look for applications associated with the hijacker and Uninstall them.
Launch the browser, tap Alt+T, and select Internet options.
Go to the Advanced tab and click the Reset button.
Mark Delete personal settings and then click Reset.
Google Chrome
Launch the browser and tap Alt+F to open the Chrome menu.
Click More tools to access more options and then select Extensions.
Look for extensions associated with the hijacker and Remove them.
Tap Alt+F again and choose Settings.
Click Advanced at the bottom of the page and then scroll down to Reset and clean up menu.
Click Reset settings and then RESET.
In non-techie terms:
Whether or not you identify Search.powersearch.online as a threat, you must agree that it is suspicious because it shows modified results after redirecting a third-party search engine, that it was created by a company that is known to have created many identical search engines, and that it is most likely spread using PUPs. If you think this is strange, you will, most likely, choose to delete Search.powersearch.online from your web browser. Use the guide above to see how you can eliminate it yourself, or install an anti-malware program to do it for you. Doing this is recommended if you discover PUPs or malicious threats. If you are not sure about this, quickly install and run a legitimate malware scanner.