Do you know what Search.playzonenow.com is?
Search.playzonenow.com is a search engine that is categorized as a browser hijacker by our researchers. This search engine is used by a number of Chrome extensions from the same family. It means that several applications could use this site to change your browser's settings. However, a browser hijacker is not a severe malware infection, so it is not complicated to remove it. You can get rid of Search.playzonenow.com if you follow the manual removal instructions below this description. For further details, do not hesitate to leave us a comment. Our team is always ready to assist you.
As mentioned, there are several applications that might make use of this browser hijacker. So far, we know at least four browser extensions that will change your browser's settings. The extensions include MoviesNow Search, GamersZone Home, PlayMusic New Tab, and FilmsZone Home. All of these extensions can be found at playzonenow.com or at the Chrome Web Store. It clearly shows that the extensions are not direct computer infections. After all, users download and add them to their browsers willingly. At the same time, you may argue that you do not remember adding anything to your browser lately.
To that, we would tell you more about the potential distribution methods that can be employed by similar applications. You cannot possibly think that the official websites are the only sources that spread similar software across the web. Freeware applications, adware, browser hijackers, and other random software programs often have several ways to reach you. While they can be downloaded from their official sources, there are also third-party sources that spread them. It is usually file-sharing websites where you can find many freeware applications and download them for free. The problem is that those freeware applications often come bundled with additional features and programs.
Likewise, the program that uses Search.playzonenow.com might have entered your PC piggybacking on some other application you have recently downloaded. You should have seen a pop-up that informed you about the extension and what it can do right before the installation was complete, but we believe quite a few users do not pay attention to it because they are too focused on this other program that they downloaded and they want to set up. Hence, random extensions that use intrusive search engines like Search.playzonenow.com end up getting added to your browser. As a result, you experience certain changes.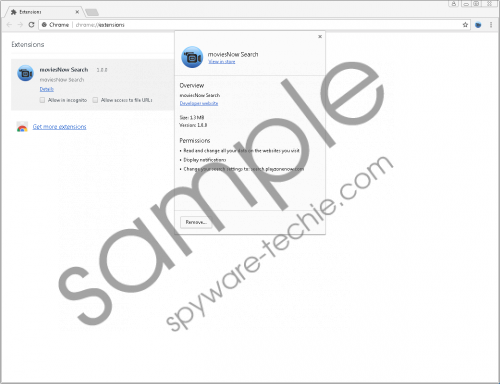 Search.playzonenow.com screenshot
Scroll down for full removal instructions
The changes include modifying your default search engine to Search.playzonenow.com. Also, by adding the extension behind this browser hijacker, you also allow it to "read and change all your data on the websites you visit" and display notifications, along with the permission to modify your search engine settings. It might sound very intrusive, but most of the extensions nowadays require such permissions in order to provide you with the best customer experience. What users fail to notice, however, is that those extensions can also track their online activity for monetary purposes. In other words, all the modifications performed on your browser are done for money.
Luckily, Search.playzonenow.com does not and cannot steal your money directly. This search engine usually just displays modified search results that are often customized according to your likes and preferences. The extension in question is able to provide you with such custom content because it employs tracking cookies to collect information on the websites you visit and the search keywords you use. What happens when you encounter custom search content? For the most part, you are more inclined to interact with it. And this is exactly what Search.playzonenow.com needs. After all, you help the browser hijacker generate a financial profit with each click you make.
This kind of experience is honestly more annoying than dangerous, but you have to make sure that you do not get exposed to other severe cyber security threats. Thus, you need to remove Search.playzonenow.com from your browser. You can do it by deleting the extension via your browser's settings.
If you think that there might be more potential threats on-board, you can scan your PC with the SpyHunter free scanner. In fact, that is something we would most definitely recommend for all the users out there. You have to do everything in your power to keep your system safe.
How to Remove Search.playzonenow.com
Open the Chrome browser.
Press Alt+F and click More tools.
Go to Extensions.
Delete the unnecessary plug-in.
Restart your browser.
In non-techie terms:
Search.playzonenow.com might not look like much of a security threat, but this search engine could inadvertently lead to severe computer security issues. It is usually added by a third-party extension that comes bundled with freeware. Hence, to remove Search.playzonenow.com, you need to delete the extension too. If you do not know which browser plug-ins could be harmful, you can rely on a licensed antispyware tool to do the job for you.