Do you know what Search.otwexplain.com is?
Search.otwexplain.com is not just a search engine. It is much more than that and not in a good way. Our malware analysts have classified it as a browser hijacker. Thus, you might want to remove it, and we very much encourage doing so. However, if you are after more information about this infection, then we invite you to read this full article. In it, we are going to discuss its origins, how it is distributed, how it works, what the dangers it poses are, and how to get rid of it. So without further ado let us dive right into it.
Search.otwexplain.com does not state its developer, and with good reason because it would receive much flak for this product. However, we want to put everything in order. So our research has revealed that it is most likely a product of Genieo Innovation Ltd. This company is a known malware developer that specializes in creating malicious applications that render advertisements and track users' online activities. In the past, this company released a program called Genieo (exclusively for Windows) which used advanced content customization technologies to display the targeted advertisements. However, since then that application had passed its prime. It might still be around, but as we have found, software.informer.com does not allow users to download it on grounds of a potential threat to system security.
Search.otwexplain.com does not have a dedicated distribution website. However, we believe that this hijacker may come with Genieo or some other program, but we cannot confirm that at this point in time. Whatever the case may be, it uses software installers for distributing it and is probably automatically installed without asking the user for permission or giving a prior warning about the installation.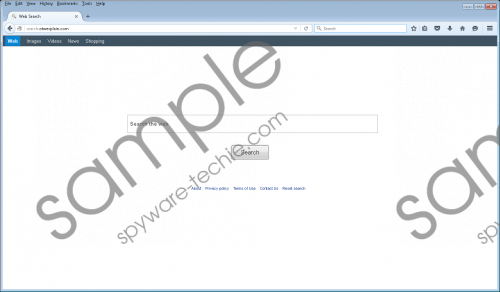 Search.otwexplain.com screenshot
Scroll down for full removal instructions
Once on your computer, it will change the homepage and possibly the search engine and new tab pages for Safari, Chrome, and Firefox. Thus, inattentive users start using it for their daily searches. In truth, Search.otwexplain.com works rather well as a search engine, but this is thanks to Yahoo.com to which all of the search queries get redirected. Regardless of it redirecting to Yahoo, its search results can feature promotional links among the search results and on the right side of the window. We want to warn you that in some cases, it may promote misleading content and scam websites since Genieo Innovation Ltd is an unreliable company and is bound to do business with other dishonest businesses that are after a quick buck. So consider your computer's security when starting to use a new search engine, especially when it comes out of the blue.
We also want to spotlight Search.otwexplain.com's scope of information collection. As stated in the privacy policy, "We do not collect personal identifiable information (PII) including user name, email address, telephone etc. We may collect none personal identifiable information on an aggregated basis, such as country/region, installed applications etc." However, according to our sources, Genieo uses personalization algorithms and text mining, among other things to collect sensitive information about you to tailor the ads accordingly. This may have serious implications, especially if they share the collected information with third-parties.
So all things considered, we think that it is in your best interest if you delete Search.otwexplain.com from your browser altogether. Even though Mac computers are not prone to become infected with malicious software, scam websites work the same on all platforms because they rely on human error. Besides, you probably want to get your old search engine back so that you could browse uninterrupted. Please follow the comprehensive removal instructions provided below. Take note that we took the liberty of including instructions on how to remove Genieo, but Search.otwexplain.com might also come with other applications.
Remove Search.otwexplain.com from the browser
Apple Safari
Launch the Safari browser and click Preferences.
Select General and enter a new address in the Homepage section.
Click New windows open with menu and select Homepage.
Click New tabs open with menu and select Homepage.
Done.
Google Chrome
Launch Chrome.
Click the Chrome menu.
Select Settings.
Click Show advanced settings and locate Reset browser settings.
Click Reset browser settings.
In the dialog box, click Reset.
Done.
Mozilla Firefox
Launch Firefox.
Click the menu button.
Select Help and click Troubleshooting Information.
Click the Refresh Firefox.
Click Refresh Firefox again in the dialog window
Click Finish.
Done.
How to delete Genieo's files
Go to Disk Utilities and open Activity Monitor.
Find Genieo click the Force Quit button.
Quit Activity Monitor and use Go to Folder to find and remove /private/etc/launchd.conf.
Restart the PC.
Then, select Go to Folder and delete the following files.
/usr/lib/libgenkit.dylib.
/usr/lib/libgenkitsa.dylib.
/usr/lib/libimckit.dylib.
/usr/lib/libimckitsa.dylib.
/Applications/Genieo.
/Applications/InstallMac.
/Applications/Uninstall Genieo.
/Applications/Uninstall IM Completer.app.
/Library/PrivilegedHelperTools/com.genieoinnovation.macextension.client.
~/Library/Application Support/Genieo.
~/Library/Application Support/com.genieoinnovation.Installer.
In non-techie terms:
Search.otwexplain.com is a browser hijacker for the Mac OS X operating system. It was programmed to hijack and replace the homepage, search engine and new tab page For Safari and two third-party browsers — Chrome and Firefox. Its developers want to make money by subjecting you to advertisements which may be misleading as they come from unknown sources. Therefore, we suggest that you get rid of this infection as soon as possible.