Do you know what Search.officeworksuite.com is?
Search.officeworksuite.com is a featured search website that does not really live up to its name since it has nothing to do with "office" or "work" at all. In fact, this new browser hijacker from Polarity Technologies Ltd. provides you with easy access to free online gaming pages basically. Well, if you can afford to play online while you are in the office "working," you may consider such a browser extension beneficial; at least, until you get busted. However, we are here to warn you that this tool can pose a threat to your computer. In fact, this extension has been labeled as a browser hijacker by our researchers, who also say that this malware infection can affect your main browsers, including Google Chrome, Internet Explorer, and Mozilla Firefox. It is also known that this browser hijacker can mostly appear on your system under suspicious circumstances. All in all, we recommend that you do not hesitate to remove Search.officeworksuite.com from your PC. For the details, please continue reading our full report.
Basically, there is no official promotional page that would make this browser extension available for download. This is quite suspicious practice because it also involves the possibility that this tool is spread in deceptive ways, such as via freeware bundles. This also implies that this hijacker could be one of several threats on your system right now since a bundle can pack a couple of malware infections like browser hijackers, adware programs, fake alerts, Trojans, keyloggers, and potentially unwanted applications as well. Such a lot is definitely bad news because you could experience increased number of questionable third-party advertisements while you are browsing and other types of exposure to potentially harmful web content. In this situation it may not be sufficient to delete Search.officeworksuite.com alone if you want to restore your system security level.
You can infect your system with such a bundle very easily. It is enough for you to download a free program from a suspicious file-sharing website (filewin.com, malavida.es, or descargar.es) and you could end up with a bundle packed with malicious software installers. This is why it is important to always download software and updates off of official websites only. But you can also install this browser hijacker if you click on the wrong third-party content. For example, you may be presented with a pop-up on a page that tells you to install the latest Flash driver or else, you will not be able to watch your desired content. Most inexperienced users would probably click to install because they may not know yet that this is just a scam to spread malware infections like this one. You need to be very careful when you are exposed to third-party ads anyway because landing on suspicious websites is not always how you can infect your system. If your computer is already infected with adware, for instance, there is more chance that you will infect your system more. Thus, we recommend that you run a reliable malware scanner after you delete Search.officeworksuite.com.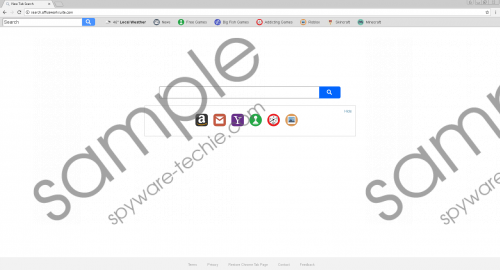 Search.officeworksuite.com screenshot
Scroll down for full removal instructions
As we have mentioned, this browser hijacker offers you easy access to online gaming pages like terraarcade.com on its fake toolbar as well as a search engine that you should not trust. These gaming pages usually promote a lot of questionable third-party ads, which makes it quite risky to even visit them. One click on the wrong ad and you can easily drop further infection or end up on a new tab with a malicious page loaded. Please note that you can always add webpages to your bookmarks bar so that you can reach them with a single click; you do not need an unreliable tool like this to be able to do that. This search engine redirects your queries to a modified Yahoo search results page that can be filled with questionable promotions of affiliates. Again, if you click on unreliable content, you could end up being scammed by cyber criminals on a fake website. No wonder why we suggest that you remove Search.officeworksuite.com as soon as possible.
We have prepared easy-to-follow instructions for you below so that you can manually restore your homepage settings. This should be enough to eliminate this browser hijacker. Nevertheless, if you should still see it coming up in your browsers, you should reset them all. But the truth is that there could be several other threats as well. If you want to feel secure in your virtual world, we recommend that you install a trustworthy malware removal application, such as SpyHunter.
Remove Search.officeworksuite.com from browsers
Google Chrome
Tap Alt+F and select Settings.
Choose Manage on startup pages under On Startup.
Select Open a specific page or set of pages.
Fromthe menu next to the unwanted homepage URL, go to Edit and modify the URL.
Press Save.
Mozilla Firefox
Tap Alt+T and choose Options.
Open General on the left.
Click on the Restore to Default button.
Internet Explorer
Tap Alt+T and choose Internet options.
On the General tab, click on the Use default button.
Press OK.
In non-techie terms:
Search.officeworksuite.com is the newborn child of the notorious Polarity Technologies Ltd who is responsible for dozens of identical browser hijackers. This browser extension can affect the three most popular browsers: Mozilla Firefox, Internet Explorer, and Google Chrome. This means that you could be exposed to questionable third-party content if you use any of these browsers because this hijacker changes the homepage settings. Our researchers say that this again is a totally redundant tool since you can always use the bookmarking feature of your browsers to store preferred websites on your bookmarks bar, one click away. This is obviously much safer, not to mention that the search engine itself cannot be trusted either since it can show you modified results. All in all, we believe that it is important for you own safety that you remove Search.officeworksuite.com from your browsers. For best protection, we suggest that you install a professional anti-malware program.