Do you know what Search.nextmediatabsearch.com is?
Search.nextmediatabsearch.com is a questionable search engine that cannot be claimed to be a dangerous threat but it is one that may still pose a threat to your virtual security. This malware infection is not a new invention really. In fact, it is a newcomer in an infamous family of browser hijackers that include Search.newtabtvgamasearch.com and Search.yourmediatabsearch.com to mention a couple from the dozens of identical and similar clones. If you keep this hijacker in your browsers, you could be exposed to questionable third-party content, which is always risky because even an accidental click on the wrong link or ad could take you to malicious websites and you could also drop infections onto your system. If you find this malware in your browsers as your home page, it is quite likely that your system is facing multiple security issues and your computer could go from vulnerable to crippled before long. This is why we recommend that you remove Search.nextmediatabsearch.com ASAP.
When you click on questionable content, it is always risky and possible that you drop some uninvited guests onto your machine or end up on a new tab loaded with a malicious website. Such content can be all kinds of third-party advertisements, including banner ads, pop-up ads, pop-under ads, video ads, transitional ads, interstitial ads, fake buttons, and fake notifications. These can be introduced to you by adware programs that could be hiding on your system already. You can easily recognize being infected by such threats because whenever you go online and browse the web, you will see all kinds of annoying ads. It only gets worse and more dangerous when after some time adware apps can get to know you and start showing you customized commercials. The problem with these ads is that they may not always be reliable. In fact, when it comes to ads generated by adware programs, it is more likely that they are corrupt and redirect you to malicious pages or infect you with malware directly.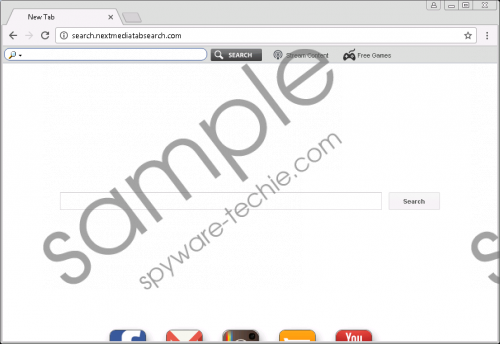 Search.nextmediatabsearch.com screenshot
Scroll down for full removal instructions
If you are not flooded with such ads and only encounter them occasionally, it is possible that you visit suspicious file-sharing or gaming websites and these present you with such unsafe third-party content. Landing on shady websites is always dangerous because you can easily infect your machine with a bundle of malware threats at the click of a button. If you end up on an unfamiliar torrent site, for example, you can easily download malicious bundles containing adware programs, browser hijackers, keyloggers, Trojans, and other threats. So hopefully it comes as no surprise that you need to scan your system with a reliable malware scanner after you delete Search.nextmediatabsearch.com from your browsers if you want to use a safe computer.
When you launch your browser and you are infected with this hijacker, you will find this questionable search engine as your home page. This means that every time you open your browser, this page will greet you and thus expose you to its potentially unreliable third-party content if you happen to use it to search the web or use its fake toolbar. You can find the usual search tool on the left and to its right, the easy-access links to Stream Content, Free Games, Sports, News, and other useful-looking websites. However, you should be careful around these pages because you may be asked to register or sign in with your Facebook account, but you may also be exposed to unreliable third-party ads.
You can also find thumbnail links below the main search box that lead to popular websites, including Facebook, Gmail, Netflix, IMDb, and so on. The main feature is clearly the search engine, but this is also the one that you should trust the least. This browser hijacker redirects your queries to plusnetwork.com, which in turn may show you manipulated search results that can be filled with third-party ads and links that are not safe for you to click on. For example, cyber crooks may promote fake webpages pretending to be webshops or bank login pages. Engaging with such malicious sites could result in your sharing your precious banking details or personal information that could be used to commit online crimes. It is possible that you may simply drop a few more malware infections onto your system, but the longer you keep this hijacker in your browsers, the more opportunity it has to offer you questionable content until one day you may hit your left mouse button over the wrong third-party content. This is why we believe it is important for you to delete Search.nextmediatabsearch.com from your computer.
Our researchers say that it could be enough for you to restore the home page settings in your infected browsers because this seems to be the only one that this browser hijackers modifies. We have included the necessary instructions for you in case you are not familiar with the steps. If, for some reason, this would not be sufficient, you can always reset your browsers because it is quite possible anyway that you will find other browser-related infections as well, such as bad toolbars, ad-supported extensions, and so on. But even this may not be enough for you to restore the previous security level and make your computer feel safe again. For that, we advise you to apply a reliable malware remover, such as SpyHunter that will automatically take all the burden of system security off your shoulders.
Remove Search.nextmediatabsearch.com from browsers
Mozilla Firefox
Tap Alt+T and select Options.
In the left panel, choose General.
Press Restore to Default below the Home Page field.
Google Chrome
Tap Alt+F and pick Settings.
Mark Open a specific page or set of pages under On Startup.
Click Set pages.
Set a new home page in the pop-up.
Remove the unwanted URL.
Click OK.
Internet Explorer
Tap Alt+T and select Internet options.
Choose the General tab and click Use default.
Press OK.
In non-techie terms:
Search.nextmediatabsearch.com is a new malware threat that can slither onto your computer and appear in your browsers as your new home page. Our researchers call this infection a browser hijacker because it can modify your browser settings either with or without your knowledge. This infection can redirect you to potentially unreliable websites with third-party ads but it may also introduce you to questionable search results that can lead to malicious websites. In addition to all these risks, this browser hijacker can come on board alongside other malware infections. So it is important that you do not remove Search.nextmediatabsearch.com alone, but all other threats as well. We suggest that you use a reliable malware removal application if you are looking for an effective automated solution.