Do you know what Search.newtabtvsearch.com is?
You might think that Search.newtabtvsearch.com is a program for watching video streams, but it is actually a search engine that you get after installing a browser extension. You might want to remove it, because its developers do not state that it just features links to various websites that you can access without needing this search engine/browser extension. Our security analysts say that both the search engine and its accompanying extension are unreliable, because they are set to collect information about you. On top of that it may contain promotional links inside its search results which may be unreliable. We advise caution when using Search.newtabtvsearch.com and even suggest that you delete it.
Search.newtabtvsearch.com was created by a software developer called Imali Media Ltd. This same company is also responsible for releasing Internet Quick Access which is a browser that our researchers have classified as a potentially unwanted program. However, this search engine has dozens of clones that include Search.searchinsocial.com, Search.emaildefendsearch.com, and Search.myemailxp.com, but they appear to come from different developers. Regardless, the connection is easy to see. Therefore, the origins of this particular search engine are of questionable reliability.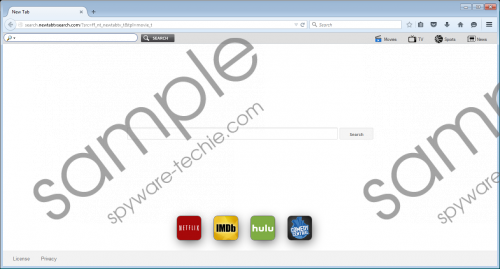 Search.newtabtvsearch.com screenshot
Scroll down for full removal instructions
Means of distribution are very important to know in order to avoid a certain unreliable program. Our security analysts were trying to find how Search.newtabtvsearch.com is distributed and their effort was not in vain. This search engine can be downloaded from its dedicated download website at Newtabtv.com. In addition to that, Search.newtabtvsearch.com is known to be promoted via commercial advertisements displayed by adware programs. So be sure to scan your computer if you do not know how you got Search.newtabtvsearch.com.
Once installed, the extension automatically changes the browser's search engine and new tab page to Search.newtabtvsearch.com. However, all of its searches are redirected to Plusnetwork.com. This search engine contains download links of potentially unwanted programs, such as Reimage and Messenger Plus Toolbar. It must be noted that both of these website collect anonymous information about you which might include your approximate geographical location, search and browsing history. This and other information is used to present promotional links in the search engine's search results which we find very worrying, because one cannot be certain that the promoted links are reliable.
But what about turning your browser into a TV? you ask. Well the reality is a lot different than proposed. The toolbar located at the top of the browser window contains links to various websites that include Imdb.com, Netflix.com, Cbssports.com, Foxnews.com, and Facebook.com. The Stream Content bookmark opens a display of popular or top rated new movies that you can click and watch on a given selection of websites, such as Netflix.com. All of those links are legitimate, but they are not associated with this search engine in any way. We think that the links are there to attract users. All in all, this search engine offers no improvements to your browsing experience and will not turn your browser into a TV – it's a fantasy.
It is all of the information available about this search engine at this time. We think that you will agree that it is a useless piece of software that you can do without, because it is just a cluster of links and an unreliable search provider. It is only installed as a browser extension which is compatible with Google Chrome and Firefox. So all you have to do is remove Search.newtabtvsearch.com from their list of extensions that is it.
Remove Search.newtabtvsearch.com from the browser
Google Chrome
Simultaneously tap Alt+F.
Click More tools and select Extensions.
Find Search.newtabtvsearch.com.
Click the Remove button.
Mozilla Firefox
Simultaneously tap Ctrl+Shift+A.
Click Extensions.
Remove Search.newtabtvsearch.com.
In non-techie terms:
Search.newtabtvsearch.com is a somewhat unreliable search engine, because its developers try to trick you into thinking it has something to do with playing videos. Even though there is some truth in it, this program does not offer anything useful. It just features links to legitimate video and movie-related websites that you can access without having Search.newtabtvsearch.com. Furthermore, this search engine is set to gather anonymous information about you in order to present tailored promotions in its search results. So you can remove this search engine are free will.