Do you know what Search.myweatherxp.com is?
Search.myweatherxp.com is a search engine that may look like the next best thing out there, but you should think twice before using this search provider because it is associated with potentially unsafe software. What's more, users often think that Search.myweatherxp.com is a dangerous infection because it seems that the search engine appears on their browsers out of nowhere, and so they think it is a browser hijacker. It is true that you should remove Search.myweatherxp.com from your computer, but to go as far as say this search engine is a browser hijacker is a bit far-fetched. The point is that you install this program on your computer yourself.
You might say that you had no intention of having Search.myweatherxp.com on your system, but the thing is that this search engine is usually distributed bundled with other freeware applications, and it is highly possible that you have not noticed how it managed to enter your system. You must have downloaded something via the InstallCore installer, because the guys at our research lab say the search engine gets distributed with these installers. Thus, if you have recently downloaded some freeware app from a third-party source, and the app had some additional features you have overlooked during the installation, it is very likely that Search.myweatherxp.com was installed on your PC at the time as well.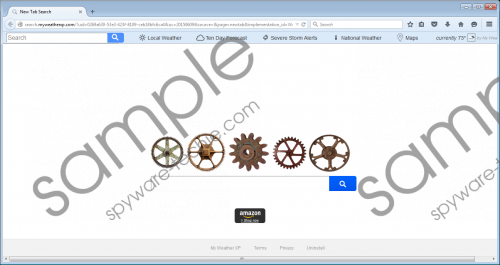 Search.myweatherxp.com screenshot
Scroll down for full removal instructions
To be honest, Search.myweatherxp.com is more annoying than dangerous, but that does not mean you should not take this program seriously. Such applications can eventually be used by malevolent third parties to collect information on your web browsing habits. Most of the time, this information is used for commercial purposes, generating financial profits via the pay-per-click system when you click affiliated links. But it is possible for these links to be embedded with corrupted content because Search.myweatherxp.com certainly does not check whether the third-party links are trustworthy.
This is the main reason we recommend removing Search.myweatherxp.com as soon as possible. Not to mention that the search engine cannot even provide you with an authentic search service. If you were to enter a search query into the MyWeatherXP search box, you would see that you get automatically redirected to search.yahoo.com. This means that Search.myweatherxp.com makes use of a customized Yahoo! Search engine, and there is a good chance that most of the search results are rigged.
If you do not know how to remove Search.myweatherxp.com from your system, simply follow the instructions below this description, and you will be able to get rid of the search engine manually. Yet, we would like to remind you that there might be multiple other programs that need your attention. After all, Search.myweatherxp.com comes in the InstallCore bundle, and it means that a number of adware and potentially unwanted programs get installed on your computer at the same time.
An experienced user would recognize unreliable programs without much difficulty, but if you do not really know how to tell reliable and potentially harmful programs apart in your Control Panel, it would be for the best to run a full system scan with the SpyHunter free scanner. The full system scan will help you detect all the potential threats, and you will be able to get rid of them in no time.
How to Delete Search.myweatherxp.com
Windows 8 & Windows 8.1
Slide the mouse cursor to the bottom right of your screen.
Once the Charm bar appears, click Settings and go to Control Panel.
Select Uninstall a program and remove My Weather XP.
Windows Vista & Windows 7
Click the Start menu and select Control Panel.
Go to Uninstall a program and remove My Weather XP.
Windows XP
Open the Start menu and select Control Panel.
Go to Add or remove programs and uninstall My Weather XP.
Reset Your Browser Settings to Default
Google Chrome
Press Alt+F and go to Settings.
Scroll down and select Show advanced settings.
Go down and click Reset Settings.
Press Reset on the confirmation box.
Internet Explorer
Press Alt+T and click Internet options.
Go to the Advanced tab and click Reset.
Select Delete personal settings and press Reset.
Click Reset.
Mozilla Firefox
Press Alt+H and click Troubleshooting information.
When the new tab appears, click Refresh Firefox.
Press Refresh Firefox again and click Finish.
In non-techie terms:
Search.myweatherxp.com works as a search engine when it gets set as your default homepage on your browser. It happens when you accidentally download this program along with other potentially unwanted applications. Computer security experts say that it is for the best to remove Search.myweatherxp.com from your compute if you want to avoid various security issues that might be caused by unsolicited exploitation. Should you have any further questions about spyware removal or computer security in general, do not hesitate to ask us by leaving a comment.