Do you know what Search.mystartabsearch.com is?
Search.mystartabsearch.com is a search tool that will change your search engine on the Google Chrome browser if you ever install the MyStartab extension from the web. This extension works on Mozilla Firefox and Google Chrome only; however, if your default browser is Mozilla Firefox, you will definitely not see the presence of Search.mystartabsearch.com. Instead, another search engine plusnetwork.com will be set as your new search tool. To be frank, you should remove both of them because they do not seem to be reliable search tools. There is, of course, a reason why specialists do not consider these search tools very trustworthy. You will find out what they have to say about them if you read this article. We hope we will help you to decide whether or not to let these search tools stay on your Mozilla Firefox and Google Chrome browsers.
Neither Search.mystartabsearch.com nor plusnetwork.com seems to be bad search engines at first glance; however, our team of specialists has managed to reveal that they are not trustworthy despite the fact that they do not differ much from reputable search tools the way they look. Even though these search engines return search results, and you can access third-party websites and popular places on the web with a click of a button on a quick access link put on the start page, specialists do not think that it is a very good idea to keep these search engines and use them as default tools for finding the information on the web. Even though Search.mystartabsearch.com and plusnetwork.com are completely different search tools, the reason you should get rid of them is the same – it is very likely that you will be provided with ads and links promoting untrustworthy third-party websites, various products, and services that are bad or do not even exist. To be more specific, you might cause harm to your PC or experience other problems if you decide to keep Search.mystartabsearch.com or plusnetwork.com, depending on the browser you use.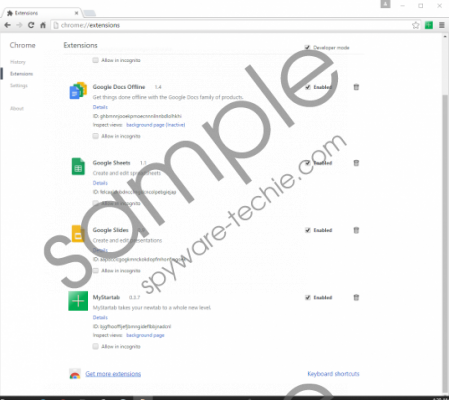 Search.mystartabsearch.com screenshot
Scroll down for full removal instructions
You need to know that both Search.mystartabsearch.com and plusnetwork.com collect all kinds of details about users and then share them with third parties. The technical data about your PC will be recorded if you keep any of them. In addition, the developer of MyStartab extension will know what your interests are, links you tend to click on, advertisements you pay attention to, and even search queries you enter into the search box. Even though details Search.mystartabsearch.com and plusnetwork.com are interested in can be considered non-personally identifiable, the non-personally identifiable data might still contain personal information, for example, search queries might contain personal details if you have ever entered them yourself, e.g. address, name, surname, etc. in the search box. You can do only one thing to ensure the safety of your privacy – delete the MyStartab extension. Once you are done with it, you will notice that questionable search tools have left your browsers alone as well.
Research has shown that the MyStartab extension not only sets a new search engine, but also makes other modifications. For example, it will create the file MyStartab-the-extension1@mozilla.com.xpi in %AppData%\Mozilla\Firefox\Profiles\.*\extensions (* - user profile, e.g. u8p3r2ck.default) to change the settings of Mozilla Firefox. On top of that, you will see a new folder bjgfhooffijefjbmngideflbbjnadcnl in %LOCALAPPDATA%\Google\Chrome\User Data\Default\Extensions or %UserProfile%\Local Settings\Application Data\Google\Chrome\User Data\Default, depending on the version of your Windows. As you can see, even though it is a simple extension, it still makes quite many changes that you will have to undo if it is already inside your PC.
Fortunately, the MyStartab extension can be erased from Mozilla Firefox and Google Chrome browsers rather easily despite the changes it makes. All you need to do is to remove those extensions through the Add-ons manager or reset your browsers to their default settings. Find the manual removal instructions and let them help you; however, if it happens that you do not find our guide helpful, you should scan your system with an automatic scanner SpyHunter. It will take care of untrustworthy software within seconds.
Delete Search.mystartabsearch.com
Mozilla Firefox
Open your browser and tap Alt+T.
Open Add-ons and click Extensions.
Locate the MyStartab extension and then remove it.
Google Chrome
Open your browser.
Tap Alt+F.
Select More tools from the menu and then open Extensions.
Select the extension you wish to erase from your computer.
Click on the recycle bin button next to it.
Click Remove.
In non-techie terms:
It does not mean that other infections are not hiding on your system if you do not know anything about them. Therefore, you should scan your computer with a diagnostic scanner after the deletion of this unwanted extension or try to find these threats yourself. Keep in mind that only very experienced users will be able to find malicious components, so if you are not one of them, you should download the diagnostic SpyHunter scanner and use it instead.