Do you know what Search.MySocialHubXp.com is?
Search.MySocialHubXp.com is promoted as a search engine that doubles as a sort of a toolbar that contains links to social network websites. However, our researchers have classified it as a browser hijacker and recommend that you remove as soon as possible. You have to do it urgently because its search results are apt to contain links to third-party websites of unverified legitimacy. Therefore, your computer and your privacy might be in danger as this hijacker can promote keyloggers, spyware, and other malicious programs. On top of that, it may collect information about you for adverting purposes. So, in short, it has nothing to offer to you. Therefore, the sooner you get rid of it the better.
If your computer becomes infected with Search.MySocialHubXp.com, then it will modify your browsers' settings to fit its needs. To be more specific, it will change the search provider/engine of Internet Explorer, Firefox, and Chrome. It will also change Chrome's new tab page and Firefox's and Internet Explorer's homepages with its address to redirect web traffic. Apparently, it is set to redirect web traffic for a reason, and that reason is to subject you to this hijacker.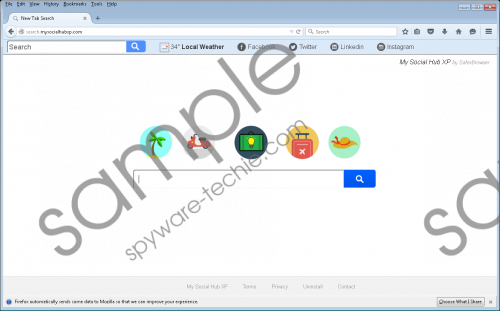 Search.MySocialHubXp.com screenshot
Scroll down for full removal instructions
As mentioned, this search engine contains promotional links. However, officially, it offers you easy access to social networking websites, such as Facebook, and Twitter. Of course, this trivial function is unimpressive since you can create your custom bookmarks for social networking websites using the browser. So this search engine has nothing to offer especially since all of its search queries are processed by Yahoo.com. Indeed, Search.MySocialHubXp.com redirects all search queries to a server at Extsearch.maxwebsearch.com that injects all of the ads and then redirects the queries to Yahoo.com. This cycle, however, may have undesirable consequences on your computer as there is just no way of knowing which promotions are legitimate and which are fake and can inject your system with malware such as Trojans. For example, this hijacker may promote fake Java updates or antivirus programs that can infect your PC with malware such as JS.Crypto Ransomware, 7ev3n Ransomware, and so on. However, the possibility of this happening is rather slim but not impossible since its developers are apt to cooperate with all kinds of shady entities.
It is also worth mentioning that Search.MySocialHubXp.com can gather information about you to customize its ads and make more money. The collected information includes Internet Protocol address, Internet Service Provider, search and browsing history, and so on. As you can see, this information is anonymous, but you would not want to see malicious ads tailored based on your browsing preferences. So you should be skeptical about this hijacker keeping tabs on you. Now let us move on to how this hijacker is distributed.
Search.MySocialHubXp.com was classified as a browser hijacker for a reason. It must be said that it is distributed in a rather dishonest manner. It has three distribution sources that we are going to discuss. The first one is, of course, software bundling. Search.MySocialHubXp.com comes with a dedicated browser extension that can be bundled with third-party installers. Note those third-party installers are set to be installed without your knowledge or consent. Another method used to distribute it is the dedicated website at Mysocialhubxp.com. It is also featured on Google's Chrome Web Store for the Chrome browser which may imply that it is a legitimate search engine which it is not.
From the information we have gathered about this search engine, it is safe to say that it has rightfully been classified as a browser hijacker since it changes the homepage, new tab page, and search provider without your permission. Furthermore, it may promote questionable content. So if you have decided to delete Search.MySocialHubXp.com, be sure to consult our removal guide. Note that if you installed it via Internet Explorer, then you do not need to remove its extension after uninstalling via Control Panel.
Remove this browser hijacker manually
Windows XP
Click the Start menu button and select Control Panel.
Click Add or Remove Programs.
Find undesirable app and click Remove.
Windows Vista and Windows 7
Click the Start menu button and select Control Panel.
Click Uninstall a Program.
Find the program and click Uninstall.
Windows 8 and Windows 8.1
Right-click the Start screen and select Control Panel.
Go to Uninstall a program.
Find the software and click Uninstall.
Windows 10
Press the Windows+X keys and open Programs and Features.
Find the malicious program, double-click on it and click Uninstall.
Remove this hijacker's browser add-on
Mozilla Firefox
Press Alt+H and click Troubleshooting Information.
Click Refresh Firefox.
Once the confirmation window appears, click Refresh Firefox again.
Then, click Finish.
Google Chrome
Open your browser and press the Alt+F keys.
Select Settings and click Show advanced settings.
Select Reset browser settings.
Click Reset.
In non-techie terms:
Search.MySocialHubXp.com is not just a search engine. Our researchers have classified it a browser hijacker that features ads in its search results. But the ads might come from malicious sources and damage your computer. It is set to automatically modify your browser's settings after it has infected it. So you ought to get rid of if you do not want to use its view its unreliable search results.