Do you know what Search.mysafetabsearch.com is?
We want to warn you about a new security threat that comes neatly packaged in a browser extension named MySafeTab that contains a fake search engine called Search.mysafetabsearch.com. You should remove this search engine because it is nothing more than a browser hijacker dedicated to generating advertising revenue from promotional links featured in its search results. Now, you can use it as a search engine if you are so inclined, but we do not recommend it because the promotional links featured on it come from unknown and therefore unreliable advertisers. We are going to cover the most crucial issues regarding this hijacker, so if you have it on your browser, please take the time to read this description.
Browser hijackers can be disseminated using a number of ways. However, Search.mysafetabsearch.com comes from an established malware developer, so it follows a predetermined dissemination program. Our malware analysts have found that it is nearly identical to browser hijackers such as Search.socialnewpagessearch.com, Search.funtvtabplussearch.com, and Search.funsecuritytabsearch.com that comes from a developer known as Imali Media Ltd. this company is bad news because it is known to do business with shady entities and it identifies itself as a creative web monetization guru. This company prides itself a leading force in web monetization and having developed in-house technologies that maximize profits. However, the reality is that Imali Media is a small-time company that specializes in creating browser hijackers — malware that is considered illicit. Therefore, you should not trust this company.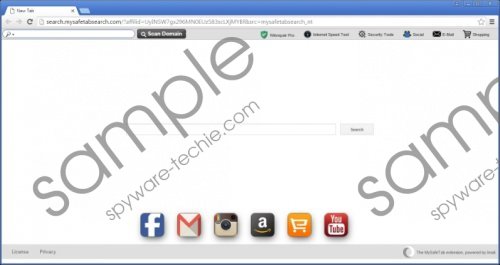 Search.mysafetabsearch.com screenshot
Scroll down for full removal instructions
Still, this company is well connected as it has made its hijackers, including Search.mysafetabsearch.com, widely available to millions of users. However, it is not that popular with its user base being more than 80, 000 users. This number is impressive nonetheless, and we intend to reduce it as much as possible with this and other articles that show Imali Media Ltd for what it really is.
Our malware analysts say that when you install MySafeTab its automatically sets Search.mysafetabsearch.com as your web browser's homepage or new tab page, depending on whether you use Google Chrome or Mozilla Firefox. As a result, this hijacker redirects web traffic to its address, and if you use it, then you will be subjected to all kinds of promotional material that comes in the form of search results. It is important to note that this hijacker redirects all search queries to a custom Yahoo search engine. It is not the same as the original Yahoo search engine because it features the said promotional links. There no way of knowing whether the promoted content is legitimate due to the fact that Imali Media's advertising partners are unknown.
You may be interested to know that Search.mysafetabsearch.com is set to collect information about you and use it for commercial purposes. Our security analysts have found that this hijacker has been configured to collect information that includes your IP address, Internet Service Provider name, browsing history, entered search queries and so on. You might not want to share this information with this hijacker's developers as they are not to be trusted and recommend that you get rid of it to ensure your computer's safety.
In closing, Search.mysafetabsearch.com masquerades as a legitimate search engine, but it is, in fact, a browser hijacker dedicated to redirecting web traffic and generating advertising revenue. Our researchers have tested it and found that it comes with an accompanying browser extension that manages the hijacking process. This extension is absolutely useless, so we recommend that you remove it, and Search.mysafetabsearch.com using the guide featured below. Furthermore, we recommend that you scan your system for malware as there is no way of knowing what you might have clicked if you used this hijacker for searching the Internet.
How to remove this browser hijacker
Mozilla Firefox
Press Ctrl+Shift+A on your keyboard.
Select Extensions.
Identify MySafeTab and click the Remove button.
Google Chrome
Press Alt+F on your keyboard.
Select More tools.
Click Extensions.
Identify MySafeTab and click the Remove button.
In non-techie terms:
Our malware researchers have analyzed Search.mysafetabsearch.com and concluded that it is just another browser hijacker developed by the Imali Media Company. Therefore, we can confidently say that this fake search engine is a potential security threat as it features links in its search results that can redirect to infected websites. So be sure to delete this hijacker as soon as you can and do not forget to scan your system for malware.