Do you know what Search.myprivacyswitch.com is?
Search.myprivacyswitch.com is a search engine that comes with a Chrome Extension. It might seem that this program is a browser hijacker, but the truth is that it merely has an additional feature that modifies your browser's settings. In a way, the program could also be considered an adware application because it displays commercial advertisements while you browse the Internet. The bottom line is that keeping this type of application on your computer is not safe, so you will do yourself a favor if you remove Search.myprivacyswitch.com and the extension associated with it from your system immediately.
When we deal with such applications, we always have to note that they are not malicious computer infections. Likewise, Search.myprivacyswitch.com is not an extremely dangerous threat that slithers into your system behind your back. In fact, the program has an official website, and you can access it via myprivacyswitch.com. The website looks professional and user-friendly. You can also find more information about the extension on the site. It says that "Privacy Switch helps protect you by stopping your searches from being tracked." In other words, this application should help you take control of your privacy.
Fine, you might say. But why is Search.myprivacyswitch.com on my computer when I have never visited myprivacyswith.com? That is because the official website is clearly not the only source of distribution. Adware, freeware, browser extensions, browser hijackers, and other small pieces of software always employ more than just one method to spread around. So, if you had no intention to add Privacy Switch to your browser, but the extension is still there, it is very likely that you downloaded it bundled with freeware applications. Software bundling is probably one of the most common ways freeware apps spread around on the web.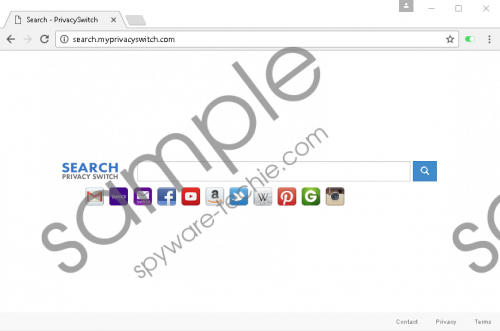 Search.myprivacyswitch.com screenshot
Scroll down for full removal instructions
Is it possible to avoid it? Of course, it is. You simply need to be more careful about the apps you download and the websites you visit. If you are about to download a program, it would be for the best if you downloaded it from its official homepage. Getting apps from third-party sources is not as safe as it might look. What's more, sometimes programs downloaded from official sources might contain additional apps, too! So it is always better to be safe than sorry. Finally, if you are still going to launch a third-party installer, check all the installation steps carefully. There is often a clause in the installation wizard that informs you about additional features (like search engines) that are about to be added to your browser. And, for the most part, you should be able to deselect the feature if you do not rush through the installation process. Thus, be responsible about the software you install on your computer!
However, now that this search engine is on your browser, are you perhaps wondering if it would be okay to leave it there? Of course, this domain and the extension it comes with will not try to destroy your computer, but that is also no reason to keep it. If you did not want to have this program on your system, it is about time to remove Search.searchwti.com for good because eventually the extension could expose you to potentially harmful content.
For instance, if we take a closer look at the program's terms of use, we would find quite a few disturbing statements. It says that the program can display commercial third-party content, and we know from experience that adware programs do not review that content. Thus, when Search.searchwti.com shows third-party links or modifies search results, you can never know where you will land if you click any of that.
It presents too many security issues to be ignored. Luckily, you can delete Search.searchwti.com by removing the extension from your browser. After that, check out the list of installed programs in Control Panel, to see if you have more unfamiliar apps. If you cannot tell which programs could be potentially harmful, you can always scan your PC with the SpyHunter free scanner.
A full system scan with a security application will definitely help you detect all the unwanted applications, and you will be able to remove them at once. Finally, when your computer is clean, protect it from similar intruders in the future.
How to Remove Search.searchwti.com
Open the Chrome browser.
Press Alt+F and click More tools.
Open Extensions and delete Privacy Switch.
Restart your browser.
In non-techie terms:
Search.searchwti.com will not present you with the greatest cyber threats of all time, but this search engine can cause particular security concerns. If you did not add the Privacy Switch extension to your browser on purpose, perhaps it is time you scan your computer with an antispyware tool of your choice. We think there might be several unwanted applications installed on your system, so you need to remove them along with Search.searchwti.com, to protect your personal information and your computer from harm.