Do you know what Search.myprivacy.zone is?
Our research team says that Search.myprivacy.zone is a browser hijacker that can interfere with your web browsing habits. You must have added the extension associated with this program to your browser when you installed some freeware application. While it is possible to add the extension from its homepage directly, it is far more likely that you did not intend to have this search engine. It is necessary to remove Search.myprivacy.zone from your computer if you want to protect your system from various intruders. Please scroll down to the bottom of this description for the manual removal instructions.
Sometimes it is rather hard to say that programs like Search.myprivacy.zone are potential security threats because they have their own official homepages, and they do not try to hide their presence. For instance, you can find more information about the application via search.myprivacy.zone/about. The official homepage says the following:
Take back control over your Google Chrome search settings. Select one of the top search engines as your default: Google, Bing, Yahoo.
It tries to make the impression that you do not have a full control of your search settings. Search.myprivacy.zone is supposed to improve your web search experience, but the extension is only compatible with the Google Chrome browser.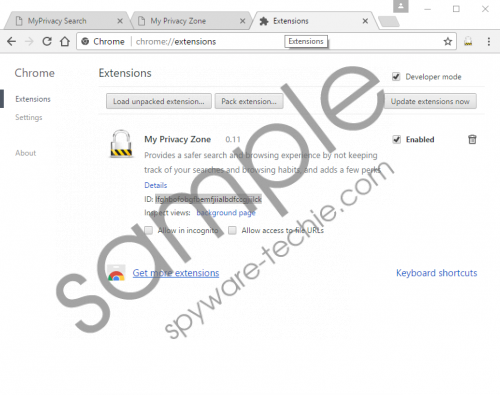 Search.myprivacy.zone screenshot
Scroll down for full removal instructions
It is highly unlikely that you would come across this homepage and add the extension directly. Our team suggests that this browser hijacker usually spreads around in software packages. Software packages can be found on file-sharing websites. For instance, if you need to decide between downloading a program from its official homepage or a third-party page, you should definitely go with the official source. While file-sharing websites do not intend to infect you with malware or anything like that, at the same time, they also do not care about the reliability of the programs they host.
Technically, it should be possible to avoid adding Search.myprivacy.zone if you were to check all the steps in the installation wizard. Normally, third-party installers notify users of the additional programs or features that are about to be set up. Unfortunately, users tend to breeze through the installation without paying any notice to most of the steps because they there is nothing much to it. As a result, it is not just this hijacker that modifies your browser's settings. There are also quite a few other unwanted programs that get installed on your computer, too.
So what happens when Search.myprivacy.zone enters your computer? First, the application will change your browser's settings. It modifies the new tab page. It also comes with a built-in search engine, so it means that most of your web sessions will be monitored by this application. It will log the websites you visit and the search keywords you enter. Usually, such information is collected in order to provide you with customized commercial content. This browser hijacker can display modified search results via a custom version of the Yahoo! Search engine. Of course, Yahoo! Search has nothing to do with this application; the engine is simply used one-sidedly.
So when modified search results appear, there might be a lot of outgoing links there. These links can be embedded by the browser hijacker, but the program does not review them. What does that entail? It means that almost ANYONE could make use of the program's advertising space, and you can be sure that the malevolent third parties will do just that. In the worst-case scenario, it would not be surprising if Search.myprivacy.zone gets exploited in a malware distribution scheme.
Therefore, it is important that you remove Search.myprivacy.zone from your browser right now. Luckily, it is rather easy to delete this extension from the Chrome's extension menu. When you are done with that, please look for other unwanted applications that might be slowing down your system. If you need help with that, invest in a reliable antispyware tool that will do the job for you.
When your system is clean again, protect it from other threats, and make sure you stay away from unfamiliar websites that might be part of malware and spyware distribution networks. If you are hesitant to open a specific file, you can always scan it with a security tool. It is always better to be safe than sorry.
How to Delete Search.myprivacy.zone
Launch Chrome browser.
Press Alt+F and select More tools on the drop-down menu.
Click Extensions and remove My Privacy Zone.
In non-techie terms:
Search.myprivacy.zone looks like your average search engine, but this application can be a start of some serious security issue. Please remove this browser hijacker from your computer at once. If you allow it to stay, the program can eventually redirect you to dangerous websites or expose you to corrupted content. While Search.myprivacy.zone does not intend to infect you with malware (it merely wants to make some money), you should take all the potential threats seriously.