Do you know what Search.myonlinecalendar.co is?
Cyber security specialists at Spyware-techie.com have classified Search.myonlinecalendar.co as a browser hijacker because it was intended to be distributed via dishonest methods in order to replace your browser's homepage address secretly. Therefore, you ought to remove it from your browser if you got it unintentionally. Also its promoted links can be misleading and redirect you to dangerous websites. On top of that, this hijacker can collect information about you and use it to customize the search results in an effort to present you with personalized links that should bring Search.myonlinecalendar.co's owners more money.
Our security experts have concluded that this particular browser hijacker is compatible with Google Chrome, Mozilla Firefox, and Microsoft Internet Explorer. Its sole purpose is to replace your browser's homepage. If you use Search.myonlinecalendar.co then all of your search queries will be redirected to a modified Yahoo search engine that will feature promoted links in the search results. These links are supplied by this hijacker and can be misleading. In the worst case scenario, they can redirect you to infected websites, scam or phishing sites that can compromise your computer's security or your privacy. Therefore, we advise you against using this hijacker as a regular search engine.
You should also know that this hijacker was configured to collect some information about you to increase ad revenue by customizing the promoted links you see. Collecting this anonymous information is legal, but you might not want to do that because this hijacker will misuse it. The information collected includes data such as your Internet Protocol (IP) address and, by extension, your approximate location, Internet Service Provider (ISP) domain name, browser type and version, operating system type and version, links clicked, search history, search terms entered and so on. The information is collected legally using browser cookies, web beacons, and other information collection technologies.
Research has revealed that that Search.myonlinecalendar.co is a product of the infamous Polarity Technologies, a company dedicated to making dozens of hijackers each month. This company is responsible for releasing hijackers such as Search.searchfaa.com, Search.searchbtorr.com, and Search.searchdirex.com. It is in the web monetization business, so it tries to subject unwary users to as many promoted websites as possible to make money.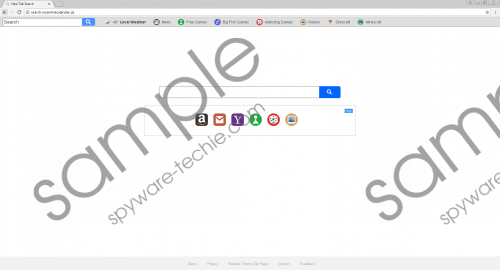 Search.myonlinecalendar.co screenshot
Scroll down for full removal instructions
As far as the methods used to distribute Search.myonlinecalendar.co and its counterparts, our researchers say that this company favors Filewon.com, Filewin.com, Malavida.es, and Descargar.es which are freeware websites that bundle their applications with third-party content that, incidentally is the likes of Search.myonlinecalendar.co. The bundled installers may have been configured to inject this hijacker into your browser by stealth. Furthermore, the installers may not allow you to deselect the installation of this hijacker and install it onto your browser whether you want it or not. This is the primary reason our researchers have classified Search.myonlinecalendar.co as a browser hijacker. If you got it unintentionally and want to reestablish your PC's security, then we strongly recommend that you delete it.
In closing, Search.myonlinecalendar.co is one highly malicious search engine that can infect your PC secretly and replace your browser's homepage address. Its search results can feature links to unreliable and unsafe websites that you ought to avoid. Therefore, we recommend that you remove this hijacker and you can do that by following the instructions featured below.
Removal Guide
Google Chrome
Open the browser.
Simultaneously press Alt+F.
Select Settings.
Switch on Show home button.
Enter a new homepage address.
Click OK.
Mozilla Firefox
Open the browser.
Simultaneously press Alt+T.
Click Options.
Erase Search.myonlinecalendar.co
Change the homepage address.
Microsoft Internet Explorer
Open the browser.
Simultaneously press Alt+T keys.
In the Tools menu, select Internet Options.
In the General tab, erase http://search.myonlinecalendar.co/
Enter a new homepage URL.
Click OK.
In non-techie terms:
Search.myonlinecalendar.co is by no means a legitimate search engine as our researchers have found that it is a browser hijacker. It can replace your browser's homepage address secretly and show you customized search results that can feature unreliable links. If you want to get rid of it, then follow the instructions provided above.