Do you know what Search.mynewswire.co is?
As you can probably tell from the name, Search.mynewswire.co is a search provider that should improve your web search experience. Unfortunately, our security researchers say that this program is a browser hijacker. It means that it changes your browser's settings without your permission. Although it does not try to infect you with malware, browser hijackers could eventually expose you to potential security threats. You have to take all the risks into consideration and remove Search.mynewswire.co from your system because this problem grows into something you cannot handle. If you need any help with software removal, please do not hesitate to contact us.
This browser hijacker is not something unfamiliar. It comes from a big group of similar applications, and all of them are complimentary parts of browser extensions. For example, such hijackers as Search.yourpackagesnow.com, Search.yourmapscenter.com, and Search.youremailnow.com also come from the same family, and they can be added to your browser via their official homepages. Search.mynewswire.co has an official homepage, too. The site can be accessed via mynewswire.co. The page offers to add an extension to your browser that will take your online news reading to a new level.
When a program has an official homepage, it is hard to call it a malicious infection. However, here you would come forth and say that you do not remember visiting mynewswire.co and you certainly do not recall installing either this extension or the search engine. That is probably because this hijacker employs other means to travel around. Surely, you cannot believe that the official website is the main distribution source, right?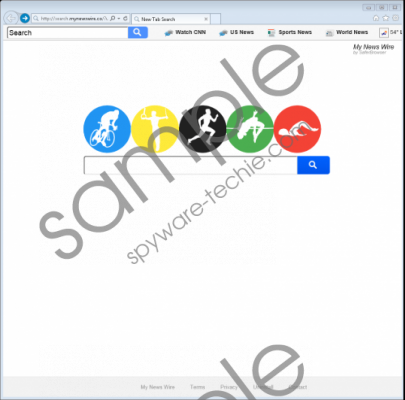 Search.mynewswire.co screenshot
Scroll down for full removal instructions
According to our research lab team, the hijackers from the SaferBrowser family usually make use of random pop-up ads to enter target system. How does that happen? The installer file for this program is usually embedded in some pop-up ad that appears on your screen when you browse the web. Albeit it is possible to encounter these pop-ups when you open affiliated websites, it is far more likely that the pop-ups are generated by some adware application that is running on your PC.
Consequently, it shows that your computer was compromised before this hijacker was added to your browser. Perhaps you downloaded some freeware app from a file-sharing website that contained adware programs, too. Perhaps you clicked on an upgrade page that actually was part of potentially unwanted software distribution campaign. Either way, it proves just how important it is to remain attentive and vigilant whenever you browse the Internet because potential threats might be lurking behind every corner.
What are the main security concerns associated with browser hijackers? As mentioned, Search.mynewswire.co does not want to steal your money or infect you with terrible malware. In fact, the only reason this program is there on your PC is to redirect you to affiliated websites and help the hijacker's developers generate a financial profit via the pay-per-click system. By itself, the system is not illegal. It might be annoying, but it is often employed by various bloggers to help them generate some revenue.
However, the problem occurs when this scheme is exploited by cyber criminals to promote their content. Search.mynewswire.co does not check what kind of content gets embedded into its search results, and other third-party content that is promoted by its pop-ups. Thus, almost anyone could make use of this hijacker for malware distribution, as long as they know how to.
Please remove Search.mynewswire.co from your system right now and then scan it with the SpyHunter free scanner. You obviously need to delete all the unwanted and potentially harmful applications from your PC, so relying on a powerful automated security tool is your best option in this situation. Also, having a powerful security application on-board will help you protect your PC from similar nuisances in the future, so do not hesitate to invest in your system's security when you have to.
How to Delete Search.mynewswire.co
Press Win+R and type regedit into the Open box.
Click OK and navigate to HKEY_CURRENT_USER\Software\Microsoft\Internet Explorer\Main.
On the right, right-click the Start Page value.
Choose Modify and change your startup page address.
Click OK to save changes and exit the Registry Editor.
In non-techie terms:
When your browser settings get modified without your permission, there is no need to panic. It can always be explained in one way or the other. In this case, however, it is clear that you have been infected with a browser hijacker and you need to remove Search.mynewswire.co along with its extension to prevent potential security issues. Luckily, it is not complicated to remove this application. While you are at it, make sure you get rid of other unwanted apps, too.