Do you know what Search.mymoviesxp.com is?
If you download an extension called "My Movies XP" represented by SaferBrowser, you will also have to deal with a suspicious search tool, Search.mymoviesxp.com. You do not have the option to decline this additional offer, and, depending on the browser you use, you will have it replacing your homepage, default search provider, and new tab tools. The extension associated with this suspicious search tool is promoted at mymoviesxp.com, but you can also download it from the Chrome web store (the add-on's Chrome ID is "iigkidgnhoippgjjmkncajfjkkpagfmk") or using third-party installers. Although this extension is introduced to you as the "must-have" for movie streaming, we can assure you that you are better off without it. If you do not have enough information about this suspicious search tool, we advise reading the report. At the end, we will show you how to remove Search.mymoviesxp.com from your browsers.
The suspicious Search.mymoviesxp.com hijacker belongs to the SaferBrowser family. This name is associated with a ton of browser extensions that come packaged with nearly identical search tools, such as Search.mymoviesxp.com and Search.easyradioaccess.com. Although they showcase different links, their interfaces are similar – if not identical, in some cases – and they all redirects search queries to a third-party search engine, Yahoo. Although redirecting is often considered illegal and malicious, users are likely to forget about that when they are routed to this popular search engine. Well, this is a trick to fool you into interacting with the search results provided. In reality, although the main portion of the links shown to you are the same ones you would find if you directly used search.yahoo.com, sponsored links are likely to be mixed in as well. My Movies XP cookies will continuously track your activity and your search requests to select seemingly relevant ads and links. Will they be relevant in all cases? Unfortunately, there are no guarantees when it comes to this. In fact, it is possible the attractiveness will be used to camouflage worthless, unwanted, or even misleading sites and offers.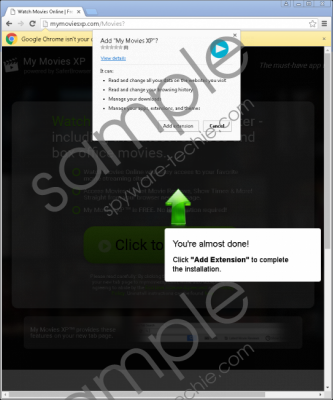 Search.mymoviesxp.com screenshot
Scroll down for full removal instructions
Although Search.mymoviesxp.com provides links to imdb.com and youtube.com, as well as provides access to the latest movie reviews and show times, you need to stop and think if this program is useful for you. Sure, these links might be legitimate and useful, but can't you add them to your safe bookmarks' bar? If you did, you would not need to deal with an unwanted browser hijacker and a search provider that can spy on you to expose you to promotional content. You should be particularly suspicious about this strange search tool if it is installed without any warning and if it comes packaged with other suspicious, questionable threats. Unfortunately, third-party malware could have invaded your operating system along with this hijacker, and it could even remain silent. Do not just assume that your operating system is clean if you cannot see threats or if suspicious programs "look" harmless. Instead of guessing, choose a malware scanner that will quickly separate reliable programs from malicious threats.
Once you know what kind of malware is active on your operating system, you need to create a plan that will help you remove all infections quickly and effectively. If you are inexperienced and if a malware scanner detects serious infections, it is advisable to employ automated malware detection and removal software. If the automatic option does not interest you, we advise that you research every single threat you need to delete to make sure that you know what you are doing. When it comes to deleting Search.mymoviesxp.com, we recommend following the simple removal guide below. If you have any concerns or questions about this operation, please comment down below.
Remove Search.mymoviesxp.com
Google Chrome
Launch the browser and tap Alt+F keys.
Select More tools and then click Extensions to find all add-ons.
Click the recycle bin next to the unwanted add-on and select Remove.
Move to the menu on the left and click Settings.
Go to On Startup and select Open a specific page or set of pages.
Click Set pages and overwrite the URL representing the hijacker.
Click OK and restart Chrome.
Mozilla Firefox
Launch the browser and tap Alt+T keys.
Select Add-ons and then move to the Extensions menu.
Identify the undesirable extension and click the Remove button next to it.
Tap Alt+T again and click Options.
Navigate to the General menu and overwrite the unwanted Home Page URL.
Restart Firefox.
Internet Explorer
Launch the browser and tap Alt+T keys.
Select Manage Add-ons and move to Toolbars and Extensions.
Disable the undesirable add-on and click Close.
Tap Alt+T keys one more time and choose Internet options.
Click the General tab overwrite the unwanted Home Page URL.
Click OK and restart the browser.
Uninstall via Registry Editor
Launch RUN (simultaneously tap Win+R).
Enter regedit.exe and then click OK.
Move to HKEY_CURRENT_USER\SOFTWARE\Microsoft\Windows\CurrentVersion\Uninstall\.
Right-click and Delete the key called MyMoviesXP.
Restart your operating system.
In non-techie terms:
Search.mymoviesxp.com is not a conventional hijacker. In most cases, users are warned about the entrance of this suspicious search provider, but the fact that they have no option to reject this piece is what has led us to classify it as a hijacker. We advise deleting this hijacker from your browsers not only because its entrance is suspicious, but also because it can initiate redirecting and showcase unreliable search results. The removal of this hijacker is fairly simple, but you should scan your PC after you think you are done just to double-check. Another reason to use a trusted malware scanner is the suspicious third-party programs that could have been installed along with this hijacker. If they exist, they must be removed immediately.