Do you know what search.mymapsxp.com is?
Browser hijackers are programs that may modify your browser settings without your permission; so, if you see search.mymapsxp.com as your new home page, it can be a sign that you have been infected by one, too. Search.mymapsxp.com advertises itself as some amazing free map application, yet all it does is offer quick links to popular third-party services. Since it is free, of course, the creators need to make money out of it somehow. What they can do is find a way to insert third-party advertisements and links, and get paid a certain amount every single time you click on those. There are several ways how this browser hijacker can affect your system, and do that in a harmful way. From this article you will learn more and also why we suggest that you remove search.mymapsxp.com from your computer immediately.
Although the application is available on its website, mymapsxp.com, unfortunately, this is not the only way it can travel and spread. Search.mymapsxp.com can also be found in freeware bundles packed with malware applications. Such bundles are most commonly available on P2P websites or on ones that host free software. Care should be taken every time you visit these web pages. We recommend staying away from unknown or suspicious file-sharing sites. But if you have already downloaded and installed such a package, you need to understand that this browser hijacker can only be the tip of the iceberg. There might be other more dangerous infections threatening your computer. Therefore, it is best to run a full system scan using a reliable online scanner after you delete search.mymapsxp.com.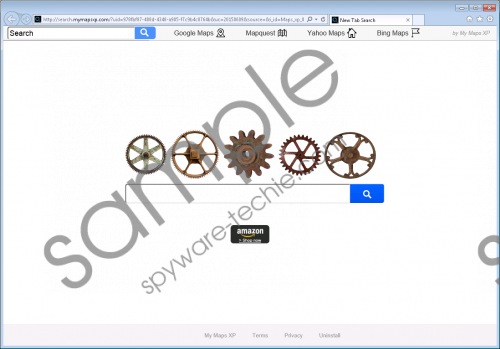 search.mymapsxp.com screenshot
Scroll down for full removal instructions
Search.mymapsxp.com provides users with easy-access links to Google Maps, Mapquest, Yahoo Maps, and Bing Maps on a toolbar. The search page itself also resembles Google quite a lot, which may be intentional in order to make users believe they are using a legitimate search tool. This hijacker collects all kinds of information about you in order to be able to present you with targeted ads and links. That is a trick that cyber criminals like to take advantage of due to the fact that people are more inclined to click on ads that give them the feeling of "Oh, that is what I need right now." Unfortunately, this hijacker may also collect personally identifiable data, which in the wrong hands might be used to commit a diversity of frauds. This is a useless application that is not worth keeping on your PC unless you want to risk more infections or even an OS reinstallation. So, if you want to stay safe, you should remove search.mymapsxp.com right now.
There are three stages to make sure you get rid of search.mymapsxp.com entirely as well as all other potential infections. The first two steps are manual; and if you follow our instructions below, you can easily perform them even if you are an inexperienced computer user. First, you need to uninstall the application via Control Panel using its uninstaller. Then, you need to reset your Mozilla Firefox and Google Chrome browsers since the first step already takes care of Internet Explorer. But at this stage it is still possible that you have other infections still at large on your computer. Therefore, we recommend using a reliable malware removal application, such as SpyHunter, to detect and remove all known threats. If you keep this security tool updated, you will also have all-time protection from future malicious attacks.
How to remove search.mymapsxp.com
Windows 8 and Windows 8.1
Tap Win+W and type in control panel. Hit Enter.
Select Uninstall a program.
Find the unwanted application and click Uninstall.
Windows Vista and Windows 7
Access the Start menu and go to Control Panel.
Open Uninstall a program.
Click on the unwanted application and click Uninstall.
Windows XP
Open the Start menu and go to Control Panel.
Select Add or Remove Programs.
Navigate to the unwanted application and click Remove.
How to reset your browsers
Mozilla Firefox
Press Alt+H and select Troubleshooting Information.
Click Refresh Firefox. In the confirmation window click Refresh Firefox again.
Click Finish.
Google Chrome
Tap Alt+F and select Settings.
Click Show advanced settings at the bottom.
Click Reset settings at the bottom again.
In the confirmation window click Reset.
In non-techie terms:
Search.mymapsxp.com is a browser hijacker that may arbitrarily change your browser settings and thus introduce you to potentially unreliable third-party websites through third-party ads and links it might display. Having or keeping this hijacker on your computer can easily lead to more malware infections, to say the least. If you are concerned about the safety of your PC and your privacy, you should delete search.mymapsxp.com from your system. You also need to make sure that there are no other threats on your PC that can further weaken your system's security. We advise you to use a legitimate antimalware tool to take this burden off your shoulders and protect your computer.